Sugar Free Chocolate Covered Strawberries
No sugar added chocolate covered strawberries are a healthy dessert that's perfect for Valentine's Day or a romantic treat for your sweetheart. Spice them up with marshmallows or nuts for other keto friendly toppings!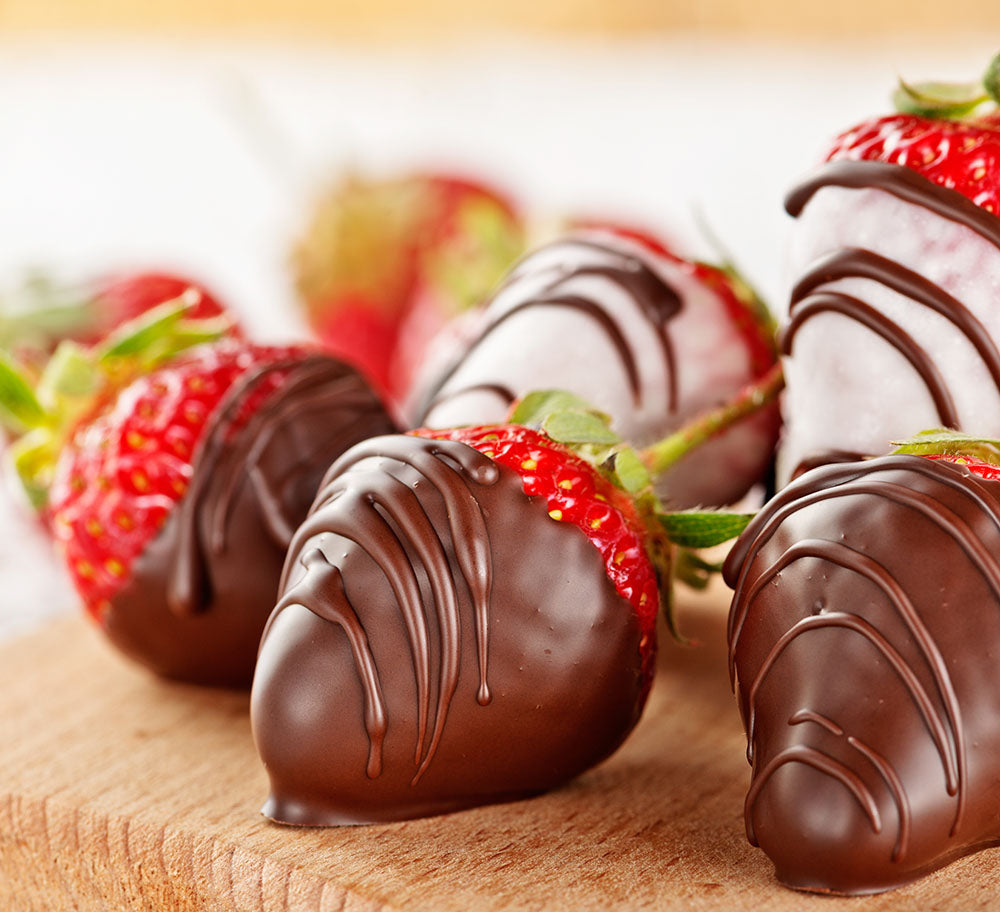 This recipe for keto chocolate covered strawberries is about to change your mind on this healthy dessert. Perfect for Valentine's Day dessert, our dipped strawberry how-to tells you everything you need to know about bringing berries into your low carb dessert repertoire and how to make them stand out from the crowd.
First things first: it's easy to make keto chocolate covered strawberries. But it's even easier to make them covered in alternative toppings, like sugar free marshmallows or our low carb Nutella inspired spread. This will add some extra love to your romantic dessert for that special occasion. That's why this recipe is flexible and easy for you to follow, giving you suggested toppings and substitutions.
We're also going to address the elephant in the living room: how do you marble chocolate strawberries like all those TikTok influencers do? It's easier to marble chocolate dips than you would think, and it makes this keto Valentine's Day treat extra special–especially when you use our sugar free white chocolate chips and keto friendly milk chocolate chips to create a unique swirl on your chocolate-covered strawberries!
Jump to recipe sections:
What ingredients can I use to make keto chocolate strawberries?
The best thing about chocolate covered strawberries is how simple they are to make. This sugar-free, low calorie alternative only requires 3 ingredients, perfect for a romantic date or a picnic with friends! You will need 1 LB of fresh strawberries, ½ LB of sugar-free chocolate chips, and a spoonful of coconut oil. Make sure to choose fresh berries for this recipe for the best results. If they aren't in season, you can always get creative and try other keto friendly fruits!
What is the best melting chocolate for dipped strawberries?
The most popular chocolate choice for dipped strawberries is milk and dark chocolate, but don't limit yourself. White chocolate can offer a fun alternative to make colored chocolate strawberries for Valentine's Day and other holidays–and even making a plate of all three to switch between can be extra fun. Also, don't be afraid to mix and match the different flavors by decorating them. For this recipe, we use our rich sugar free chocolate chips.
How do you get melted chocolate to stick to strawberries?
For best results for these delectable treats, make sure to wash your berries before dipping them into your melted chocolate, then carefully dry them as much as possible without damaging them. If they are not washed and dried, the chocolate will not stick to the berries, and you'll have to start over. In a microwave-safe bowl, microwave the chocolate chips and coconut oil for 30 seconds. Stir then repeat until melted. Alternatively, in a non-stick saucepan, heat the dark chocolate chips and coconut oil on low heat and stir: here is a how-to guide for melting sugar free chocolate without seizing it.
How do I decorate chocolate covered strawberries?
One of the best things about this recipe is how much freedom you have with how you want to handle the presentation. Dip the entire strawberry into the chocolate up to right below the stem to cover it. You can either hold it by the stem or insert a skewer/toothpick into the middle of the stem to dip. Then, dip the berry into a topping of your choosing. Our go-tos are sprinkles and chopped nuts. You can also mix different colors in a bowl and drizzle over or marble them! Check out our tips for marbling towards the end of this page.
How do I prevent my chocolate strawberries from sticking together?
Something to keep in mind when dipping your berries is to swirl in a circular motion to remove excess chocolate before placing them down, to prevent them from becoming too large and difficult to remove from the sheet. Make sure to use wax paper, parchment paper, or a silicone baking mat for best results. Leave the strawberries at room temperature for a few minutes so that the chocolate can set.
How do you make Nutella™ covered chocolate strawberries?
It's simple to add a bit of chocolate hazelnut to your dipped strawberries. Just follow the same steps, but dip into Nutella™ instead. For reference, you'll need about ½ lb of hazelnut spread per 1 lb berries. Of course, most hazelnut spreads are full of sugars and aren't something you can enjoy while following a low sugar diet. That's why we suggest checking out our Nutella™ inspired chocolate spread, a perfect way to add a fun hazelnut flavor to this classic chocolate dipped snack. To take the flavor further, we recommend rolling the berries in chopped hazelnuts to finish them off! Delish!
Do I have to refrigerate chocolate covered strawberries?
Your chocolate covered treats don't have to be put into the refrigerator. In fact, it can make them sweat (gain water droplets) if you do which can ruin their pretty appearance! The best way to retain the most flavor in these decadent desserts is to keep them at room temperature. However, if you are hoping for them to have a longer shelf life, or to have a refreshing, cold taste, refrigerating is the way to go! Don't wait too long to devour these and feel free to snack on them to your heart's desire, as fresh fruit expires quite quickly.
How do you create a marble effect on strawberries?
Creating a marble swirl on chocolate strawberries may look hard, but it's quite easy. To do it, you simply need to use white chocolate as your base for this recipe. Once you melt the white chocolate, put about 3 tbsp of dark chocolate into the mix. Do not combine. Instead, swirl the two chocolate flavors with a toothpick to make a marbled pattern–be careful not to overmix, or you'll end up with just lighter colored chocolate! Then dip the berry and lift while twisting to create a marble pattern! Swirled berries look amazing even if they barely take any extra time.
Can strawberries be delivered for Valentine's Day?
Yes, you can buy chocolate covered strawberries for Valentine's Day. Places like Edible Arrangements ship chocolate dipped fruit for Valentine's Day. However, it is prohibitively expensive. Strawberries delivered on Valentine's Day are also not sugar free. Likewise, Costco sells Belgian chocolate covered strawberries for Valentine's Day. However, they are also full of sugar. This is why we suggest showing your sweetheart you care and making handmade chocolate covered strawberries. That way, they will know you really cared about them and their keto diet needs for the holiday. After all, what is more romantic than respecting someone's desires to cut sugar and giving them a healthy dessert they want?
How do you make marshmallow covered strawberries?
A spin on a classic chocolate covered strawberry, sugar free marshmallow strawberries are a little like a fruit s'more! To make a marshmallow coated strawberries,you have to make a marshmallow spread. Luckily that's easy. All you have to do is melt marshmallows to the quantity desired in the microwave, microwaving on med-high in 30 second intervals and stirring as needed. Let cool for about 1 minute. Then simply dip your dry strawberries in it, then dip them in a layer of chocolate, and you're done!
How do you make chocolate covered marshmallows?
Chocolate covered marshmallows are a fun alternative to chocolate covered strawberries, and have a longer shelf life to boot. Follow the instructions stated before to melt the chocolate; you'll need 12 oz sugar free chocolate chips, 3 tbsp coconut oil, and 1 bag of sugar free marshmallows. Check out our bag, the perfect sugary alternative sweetened with monk fruit! On skewers, dip the marshmallows into the melted chocolate, circle off excess, and use a fork to gently take the mallow off of the skewer and place onto the wax paper. Simply follow the strawberry instructions, and enjoy!
Sugar Free Chocolate Covered Strawberries
Sugar Free Chocolate Covered Strawberries