Keto Biscotti Cookies
We've covered these low carb biscotti cookies in chocolate and then drizzled them with our sugar free caramel syrup.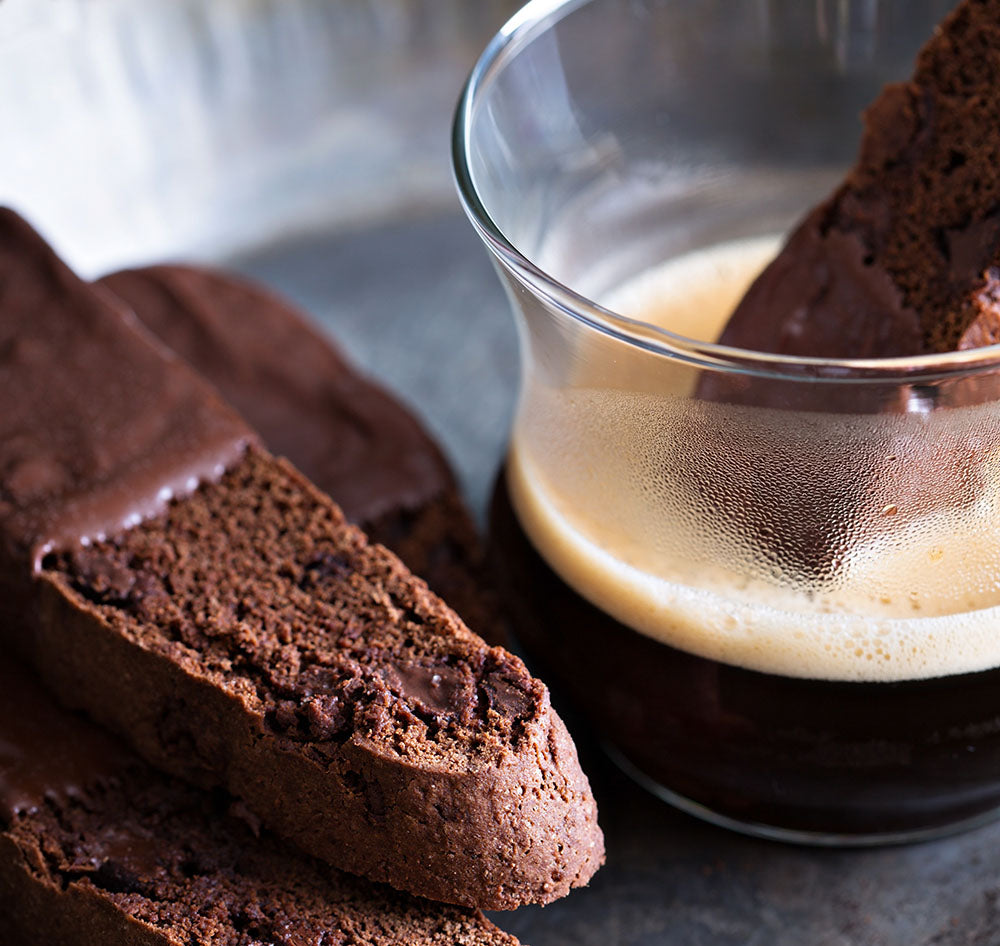 A naturally almond flavored Italian cookie, keto biscotti are easy to make into a low carb recipe. With a light flavor of almonds thanks to the flours used, our sugar free chocolate biscotti cookies pays homage to the traditional biscuit that came from Tuscany.
Also known as cantucci in Italy, biscotti come in a wide variety of flavors. From pistachio to caramel, almost any sweet dessert taste can be an inspiration for easy biscotti recipes! We chose to make our crunchy cookies with chocolate, but the cookie dough base can be used with any ingredients. Consider dipping your homemade biscotti in white chocolate and sprinkling nuts on them for the holidays, or adding keto friendly berries like cranberries to create a pairing that's perfect for Christmas.
Remember that our grain free biscotti are great as a snack with your favorite barista beverage. So grab your espresso and get to the kitchen, we've got a traditional twice-cooked cookie to make that's extra crunchy!
Jump to recipe sections:
What are biscotti?
Biscotti is a traditional Italian cookie in a long log shape, about the length of a finger. They are a subtly sweet cookie that is meant to keep for a long time without going stale due to its low moisture content. You should know that biscotti cookies are twice baked to get the hard, crunchy texture that is a staple of this crispy treat. While they can be plain biscuits that are meant to be dipped in wine or espresso to change their texture as well as flavor, they can also be elaborately decorated with chocolate or sauces as well as filled with nuts, fruit, and other flavors.
What do you eat a biscotti with?
Since they are very dry, biscotti traditionally are served with a drink, into which they may be dunked. In Italy they are typically served as an after-dinner dessert with a Tuscan fortified wine called vin santo. Outside of Italy, they more frequently accompany coffee, including cappuccinos and lattes, or black tea.
How do you eat a biscotti?
Biscotti are best eaten with coffee or tea. By dunking a biscotti into your hot beverage of choice, you will transform its texture from a dry and hard cookie into a soft cookie cake. You can also use them to stir your beverage if they're covered in chocolate, flavoring your drink with their ingredients as they melt into your mug. In Italy, biscotti cookies are traditionally paired with after dinner glasses of wine.
Why do my biscotti biscuits crumble when I cut them?
These almond flour biscottis can crumble when you cut them if you leave the dough out for too long and it begins to harden. They also sometimes can get too cool in-between their first bake. When you first bake them, you should still leave the dough out after the first bake for about ten minutes to cool, but if you leave it for any longer it can become crumbly in texture when baked again. This in turn makes it a lot more rigid to cut through, and cutting the pieces while it is hot can make the slices crumble.
What do Italians call biscotti?
In Italian, the word biscotti just means cookie, and therefore it's only in America that biscottis refer to this specific cookie. In Italy, biscotti are called cantuccini–an old word that refers to the edge of a bread loaf that's harder. This makes sense as biscotti have a particularly hard texture that was invented in ancient Rome as food for the soldiers, something that kept well without spoiling during their long battle campaigns.
Are Nonni's Originali Biscotti Italian Cookies high in carbs?
Nonni's Originali Biscotti Italian Cookies are high in carbs because they are full of sugar and contain higher amounts of net carbs. One biscotti has over 20 grams of carbs, which is due to the fact that the ingredients themselves, such as flour and sugar, drive up the net carb content of baked goods. This is why we suggest making a homemade keto biscotti to keep to your diet plan!
Can I slice a keto biscotti log before baking it?
You should not slice a keto biscotti dough before baking it because this can lead to texture and color changes in your biscotti. It can lead to your individual Italian biscuit slices turning brown and stale in texture. You can reduce the temperature of the oven it's baking in to help if this does happen, just make sure to leave it for longer if you turn down the temperature.
What flavors can I use for keto biscottis?
Keto biscotti is traditionally an almond cookie that's plain to pair with drinks, but that doesn't stop this recipe from using chocolate and caramel to make a truly decadent low carb biscotti that pairs perfectly with a latte. Our keto cantucci is chocolate then dipped in caramel to create an extra special experience. One of the most iconic biscotti ingredient combinations however is white chocolate, cranberries, and orange. Use orange rinds with dried cranberries in the dough then dip them in a layer of white chocolate to create a perfect Christmas biscotti.
How can I decorate keto biscotti?
You can decorate keto biscotti with different keto toppings such as nuts (which we use in this recipe), crushed candies, and fruit. Typically dipped into chocolate, you can also make these low carb biscottis without the chocolate as well. The caramel sauce that we have in the recipe is a great way to balance out the pure sweetness of the sugar free chocolate, with its slight, cutting saltiness.
How do you store homemade biscottis?
You can store biscottis by placing them into an airtight container! These low carb biscotti cookies are already a bit hard in texture so it's fine if they get a bit stale. They have a longer shelf life than most homemade cookies which you can always prolong by freezing. You can have these homemade keto biscotti cookies within a few weeks if you keep them securely stored in a container in a cool, dry place.
Keto Biscotti Cookies
Keto Biscotti Cookies