Gluten Free Italian Rainbow Cookies
This gluten free Italian rainbow cookie recipe showcases brightly colored soft layers of almond flavored cookies.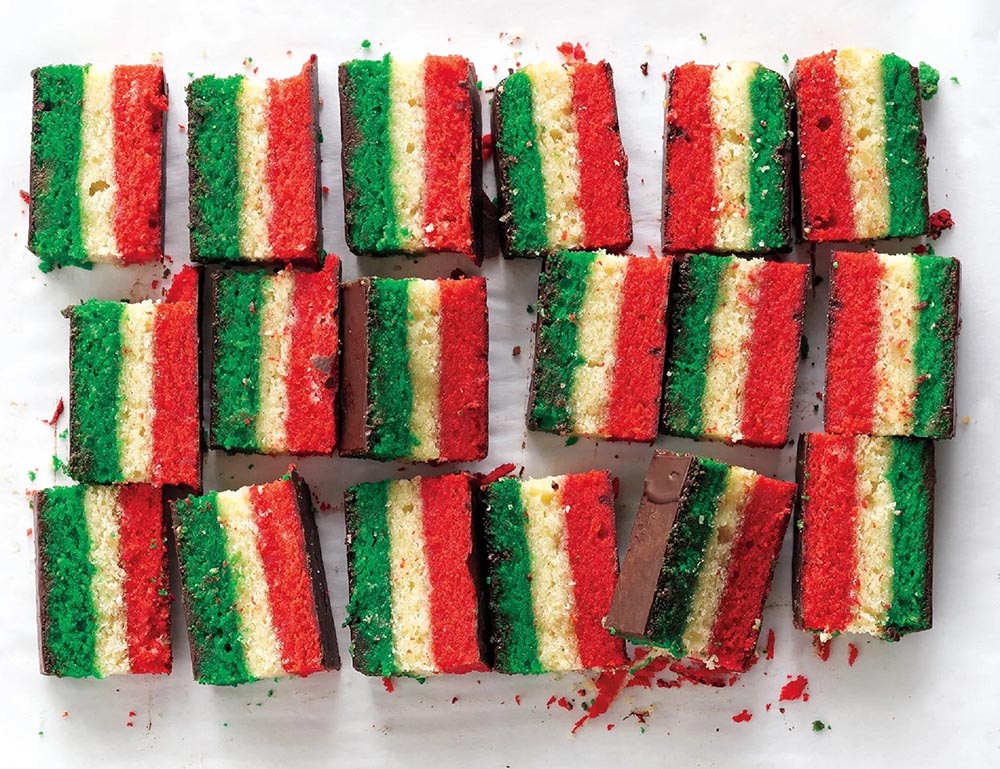 Make these tri-color layered gluten free Italian rainbow cookies. With soft cookie layers dyed to represent Italy's flag, these cookies are festive and beautifully delicious. While most Italian rainbow cookies use almond paste and almond extract for a marzipan type flavor, our cookies utilize gluten free almond flour to bring that nutty flavor to these cookies. For the jammy layers, we've used our sugar free raspberry jam, but we recommend trying our sugar free orange marmalade as well. Finally, these keto friendly rainbow cookies are topped with a layer of our sugar free chocolate.
What's iconic about these keto friendly tricolor cookies are their vibrant red, white, and green layers. They're not just an Italian delicacy, they're great for the holidays, too! That means they're elegant cookies to bring to a Christmas party or to wow the office during the holiday season. You could also use natural food coloring for these layered cookies, which will create a beautiful pastel colored cookie. You could also top these Italian rainbow cookies with a layer of white chocolate using our sugar free chocolate chips.
If you're looking for your next baking project, these gluten free cookies are for you. While they do take some time and have delicate layers, all you need is some time and patience. This recipe makes plenty of cookies, so you can share them or freeze for later.
Jump to recipe sections:
What are Italian rainbow cookies also called?
Italian rainbow cookies are also called Neopolitans, Tricolor Cookies, and Venetian. They're more commonly called Italian rainbow cookies because they look like the Italian flag.
Are Italian rainbow cookies from Italy?
Italian rainbow cookies date back to Italian-American bakers. The thought is that they took inspiration from a tricolored gelato that looks similar. Both could represent the Italian flag, which Italian-Americans were likely feeling nostalgic for.
How can I make Italian rainbow cookies gluten free?
The best way to make any recipe gluten free is to use gluten free flour such as coconut or almond flour. In this recipe, we use almond flour since the cookies traditionally have an almond taste to them.
How can I make Italian rainbow cookies with no almond paste?
Our gluten free rainbow cookies do not use almond paste. Instead, they use the naturally gluten free almond flour and almond butter. This creates a more gentle almond flavor, unlike almond paste. We think that the gentle flavor creates a delicious marzipan-like taste that reminds us of the holidays.
What kind of jam do I use for Italian rainbow cookies?
Traditionally, Italian rainbow cookies use raspberry or apricot jam. That's why we included our sugar free raspberry jam. While apricot jam might be something we make in the future, if you're looking for a zesty citrus layer, we suggest using our sugar free orange marmalade. Orange and chocolate go amazing together.
How do you cut rainbow cookies without making a mess?
These cookies have many colorful layers, so cutting into them might cause an unexpected mess. The trick to getting a clean cut is to chill the cookie layers before cutting. This will make the knife's work a lot easier and no crumbs to cry over.
Can I use natural food coloring with Italian rainbow cookies?
If you prefer to use natural food coloring for these cookies, that's totally fine! Just be aware that natural coloring tends to have a pastel tint. It'll be harder to get the vibrant red and greens with natural colors.
What are rainbow cookies made of?
Italian rainbow cookies are colorful layers of almond cookie that is fluffy like a sponge cake. In between the layers, there is raspberry or orange jam. On the top, there's a shiny layer of chocolate to make these cookies complete. Traditional Italian rainbow cookies can use almond paste as well, but since these are gluten free tri-colored cookies, we let the almond flour bring that flavor!
How to store Italian rainbow cookies.
Store your Italian rainbow cookies in an airtight container in the fridge or freezer for up to about a week in the fridge for up to 3 months. If you cut the cookies before storing, place parchment paper between the cookies, so they don't stick to each other. You can thaw frozen cookies on the counter for 20 minutes before eating. We recommend storing the cookies in the fridge or freezer because the layers can melt on the kitchen counter.
Gluten Free Italian Rainbow Cookies
Gluten Free Italian Rainbow Cookies