Sugar Free Hot Cocoa Bombs
Our zero sugar hot cocoa is a simple snack that transforms into the perfect mug of sweetness for a rainy day. Just add your favorite dairy-free milk!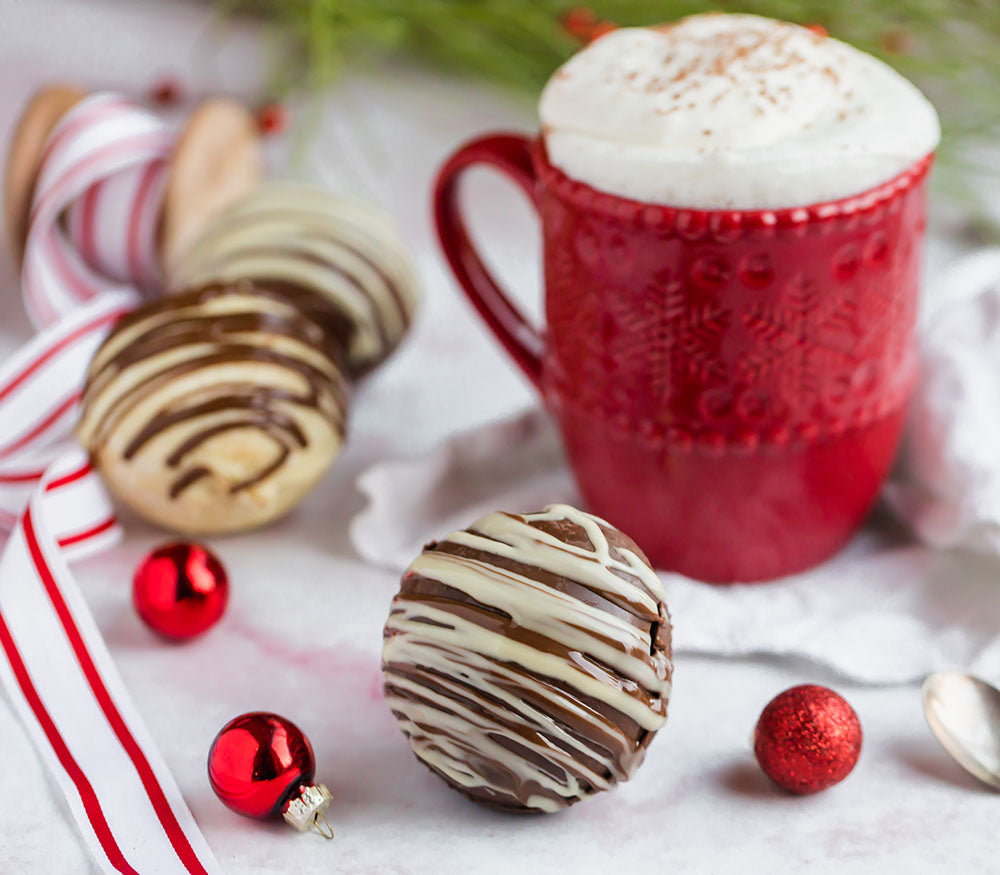 The joy in these sugar free hot cocoa bombs is watching them melt into your mug knowing you're about to experience perfect keto hot chocolate. Each sphere of chocolate is filled with keto hot cocoa instant mix and sugar free marshmallows so as it melts, it releases into your drink and infuses it with the taste of decadent chocolate.
The best part is that a cocoa bomb is surprisingly easy to make and can be a great homemade gift for the holidays or any time you want to jazz up traditional drinking chocolate while keeping it zero sugar! We're going to walk you through how to make one of these trendy and delicious chocolate bombs with only a few key ingredients. This is one of those recipes where the fun of watching this sphere disappear into your mug is so worth the simple recipe.
But before we get started, we know some of you may be wondering…What even are hot cocoa bombs? Well, we've got all of your burning hot cocoa bomb questions covered! For now, keep in mind that to make this recipe, you will need a hot coco bomb mold as well as a freezer or fridge to help it set. Got everything? Now let's get started!
Jump to recipe sections:
What are hot cocoa bombs?
Hot cocoa bombs are little orb-like molds filled that are typically made of hot chocolate mix and marshmallows. Drinking chocolate bombs became very popular in the past few years, partially due to their magical ability to make hot cocoa both a taste and visual event! They often contain elaborate additions to the simple cocoa powder and marshmallows, such as sprinkles and edible toppings. When placed in warm milk of any kind or heavy cream, they create a mug of hot chocolate to drink, and all you have to do is place them inside! They will unwind to show all the swirls of chocolate and marshmallow delight, and after a good stir, they're ready for consumption. This is a warm beverage that will brighten your spirits during the cold months of December and January!
How do hot cocoa bombs work?
Hot cocoa bombs work by melting decadent chocolate into a hot liquid. The bombs are typically spherical, and contain a hot chocolate mix and marshmallows inside with a hard chocolate shell around them. The cocoa bomb then is placed into the hot liquid, and the ball will "explode" into the drink, creating a hot chocolate as the chocolate melts and exposes the beverage instant mix! It's a fun way to make hot cocoa an experience and not just a drink.
Do you use milk or water for a hot chocolate bomb?
Typically, you use either dairy milk or water for a hot chocolate bomb. However, milk has a lot of sugar in it naturally, so it will offset the sugar free components in this recipe as well as make it no longer vegan. To combat this, you can use your favorite nut milk with less sugar and no dairy. Some nut milks, such as almond, come in unsweetened options. Also, you can use heavy cream as it has less sugar and mix it with water, half and half, in the ratio so that you get richness without the sugar. Don't fret, your drink will still be sweet from the cocoa bomb and marshmallows so you really don't have to use traditional milk. That said, there are now plenty of keto friendly milks at the grocery store, so finding a liquid for your homemade sugar free hot cocoa bomb should be easy!
Can you freeze hot cocoa bombs?
You can definitely freeze hot cocoa bombs! This is actually a great way to have your treats last longer than if kept at room temperature. Just make sure to store them in an airtight container that is big enough so that your hot chocolate spheres will not get damaged, and you can enjoy them at a later date. We recommend enjoying them within three months if you put them in the freezer immediately after making them!
How long are hot cocoa bombs good for?
Hot cocoa bombs are good for a good one to two months if stored in a cool area and stored in an airtight container. Great news, right? Also, make sure not to get them wet, as moisture will dampen the shelf life. If frozen, they will last up to three months. If you decide to freeze the hot cocoa bombs, make sure to do so right away if you'd like them to last as long as possible.
Can I buy sugar free hot cocoa bombs near me?
In terms of buying sugar free hot cocoa bombs near you, many stores carry hot chocolate or hot cocoa bombs. Every hot cocoa bomb naturally contains a lot of sugar. Also, marshmallows for topping your cocoa bomb concoctions tend to have a lot of sugar as well. That's why it's best to make these cocoa bombs yourself to ensure that they are low carb and zero sugar! Plus, our sugar-free marshmallows are the perfect way to keep the sugar content low and keep happiness high! And who doesn't like to give a handmade gift to someone special over the holidays?
Are hot cocoa bombs gluten free?
Hot cocoa bombs are not gluten free. A lot of retail products have additives that make them unfriendly to folks with celiac disease or other sensitivities! This is why we have a sugar free and gluten free hot cocoa mix as well as chocolate and marshmallows to make these homemade gluten free hot cocoa bombs.
Do hot cocoa bombs need to be refrigerated?
Hot cocoa bombs do not need to be refrigerated. In fact, they will stay good at room temperature for a couple of weeks. Freezing and refrigerating your hot cocoa bombs can be a great option for keeping them fresh for longer. Just remember, if you do so, it may be harder to melt frozen bombs in your hot chocolate and can make them less warm before drinking. If you do decide to freeze, make sure to let it thaw for a bit before using.
Do hot cocoa bombs have carbs?
Hot cocoa bombs have a lot of carbs due to their role as a sweet treat meaning they're packed with sugar! Of course, even our homemade sugar free hot cocoa bombs naturally have carbs. But the ones being made in this recipe contain only four grams of net carbs. That means that this recipe is low net carb, which is good for those on a keto diet and they're packed full of prebiotic fiber which is great for gut health.
Sugar Free Hot Cocoa Bombs
Sugar Free Hot Cocoa Bombs