Gluten Free Fluffernutter Bars
Fluffernutter bars are the perfect on-the-go mix of decadent marshmallow and peanut butter goodness!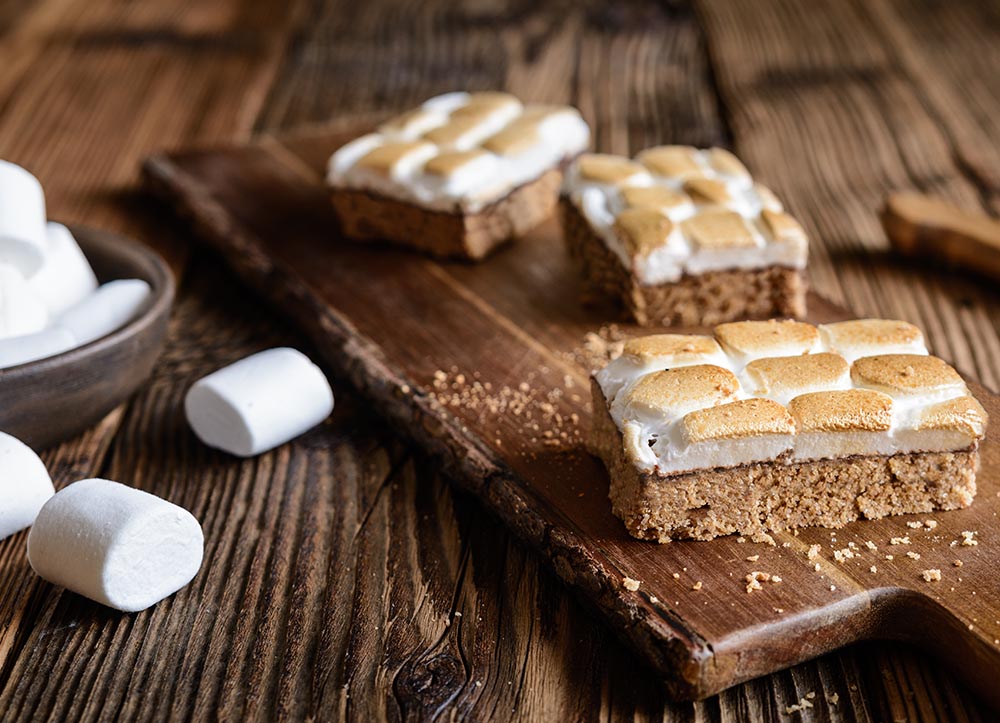 We have a simple, sweet, and mouthwatering dessert recipe that makes marshmallows shine: the fluffernutter bar! It's a blondie, peanut butter, and soft marshmallow combined to make one perfect mix of decadent salty and sweet flavor.
This homemade dessert bar is perfect for baking season and incorporates layers of spreadable, homemade marshmallow creme with ooey gooey nut butter. Fluffernutter fudge bars take two things that most people already love and levels them up by expertly combining them, similar to their original form. Fluffernutters are after all peanut butter and marshmallow sandwiches.
Also, for those of you with peanut allergies, we have some tips and tricks on how to make this recipe peanut allergy friendly by using almonds or other nuts! That means this Christmas dessert can be enjoyed by anyone. And even though it's perfect for winter holidays, these soft and chewy peanut butter bars are perfect for any time of the year since they're decadent and delicious.
Jump to recipe sections:
What does fluffernutter mean?
Fluffernutter most commonly refers to a sandwich that is made with a peanut butter and marshmallow fluff filling! This term is most common in New England. So, when we make recipes that are fluffernutter flavored, it means that it is peanut butter and marshmallow flavored.
What is the history of fluffernutters?
These sandwiches are called fluffernutter because a marketing team created the term in the 1960s. The point was to advertise the sandwich in a way that was catchy yet informative, which led to combining the word "fluffer" from marshmallow fluff (a type of marshmallow crème), and "nutter," from the word peanut butter! Creative, right?
What does fluffernutter taste like?
Fluffernutter has a sweet and savory taste, due to the combination of the peanut and marshmallow components. Often made in sandwiches with bread, these flavors pair nicely due to both flavors being slightly creamy, yet not overpoweringly sweet.
How do you make sugar free marshmallow fluff?
You can make sugar free marshmallow fluff with just two ingredients: our sugar free marshmallows & keto honey! This delicious dessert dip takes 2 cups ChocZero sugar free marshmallows and 3 tbsp ChocZero keto honey. Place the ingredients in a microwave safe bowl and heat for 30 seconds. Stir and if not fully melted, heat in 10 second intervals and continue stirring. If the mixture is too hard, add more honey 1 tsp at a time until smooth. Serve immediately.
What is a good keto topping for low carb fluffernutter bars?
A good keto topping for low carb fluffernutter bars is a sugar free spread! Some ideas that can keep your dessert low carb are sugar free white, milk, and dark hazelnut spread and cookie butter. Another idea you can use is one of our sugar free jams! This will make your bar taste similar to a PB&J.
Can I use marshmallows instead of marshmallow fluff?
Yes, you can use marshmallows instead of marshmallow fluff! You can simply place sugar free marshmallows on top of the batter to melt on top, and make a layer with just marshmallows.
Are Jet Puffed marshmallows low carb?
Jet Puffed marshmallows are not low carb due to their high sugar content. We recommend using our sugar free marshmallows instead by ChocZero, because they will still bake and roast like Jet Puffed marshmallows without the carbs!
Is Jiffy's peanut butter keto friendly?
Jiffy's peanut butter is keto friendly! However, we always suggest using a more natural peanut butter if you can as it will have less additives and be higher quality. And remember, peanut butter may be keto friendly–but only in moderation! Just eat the peanut butter in smaller portions. We recommend eating no more than a few tablespoons of peanut butter a day on a keto diet.
How do you store keto fluffernutter bars?
You can store keto fluffernutter bars in an airtight container for up to three days at room temperature. If you'd like them to last longer, you can refrigerate them for up to a week or freeze your bars for up to three months.
Gluten Free Fluffernutter Bars
Gluten Free Fluffernutter Bars