Low Carb Chocolate Mousse
Here's an easy & quick keto mousse dessert that is full of chocolate and is so decadent.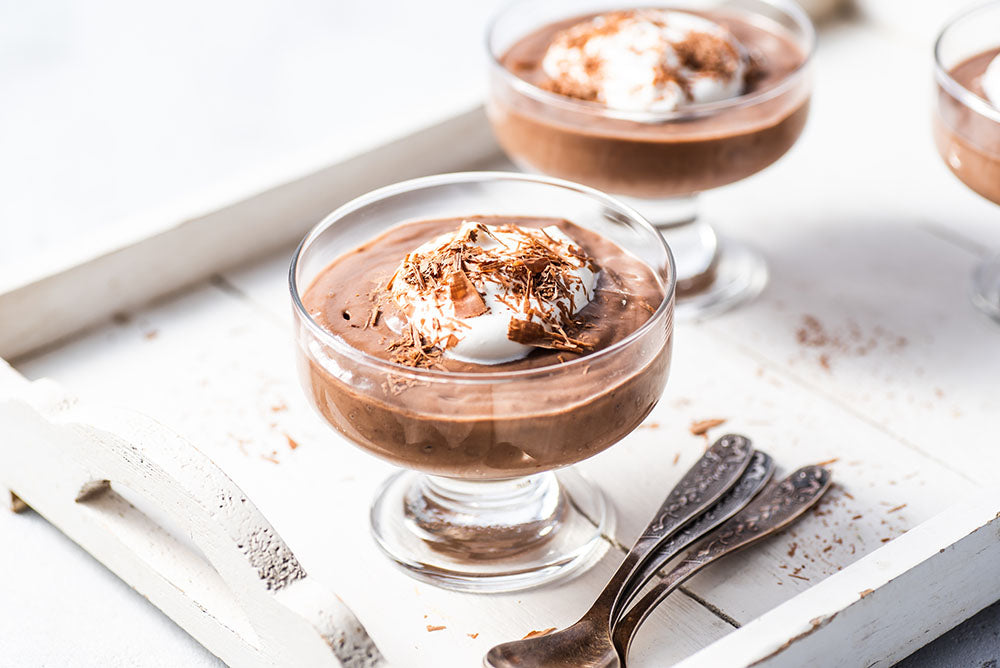 Craving a decadent chocolate dessert that's keto friendly? Try this low carb chocolate mousse that is so easy to make and totally customizable. Made with cream cheese and heavy cream, this chocolate mousse tastes decadent and feels like taking a bite out of a cloud. You'll love how fast it is to make this keto dessert with no oven and minimal ingredients. This is also a perfect low carb dessert to make ahead of time, since it can be chilled in the fridge overnight and served at dinner the next day.
This keto mousse recipe can be tailored to your taste buds. To give it an extra dark chocolate taste, we added melted chocolate chips to the top that create a drizzle chocolate shell that's fun to crack through to get to the fluffy mousse underneath. You can also add fruit such as sliced strawberries, broken up keto bark, or even a dollop of whipped cream.
If you're looking for a recipe to make that doesn't ask you to turn on your oven, or you need to make something that'll satisfy your chocolate cravings, this keto chocolate mousse will hit the spot!
Jump to recipe sections:
Is keto chocolate mousse a healthier option?
Chocolate mousse can come packed with a ton of added sugar, so this keto chocolate mousse recipe is a healthier alternative. Since we've taken out the added sugar, this is a low carb recipe that's perfect for anyone on the keto diet or trying to eat less carbohydrates. It's also very good for anyone who wants a dessert without all the sugar.
What makes this chocolate mousse keto friendly?
Those who love the keto lifestyle know that low carb and high fat is the way to succeed. The great thing about this keto chocolate mousse is that it has heavy cream and cream cheese, which are both high in fat. It also uses our sugar free dark chocolate chips as the chocolate drizzle shell. Desserts that are low in sugar tend to also be low carb if they don't have any wheat flour, so this is perfect for anyone on keto.
How to make sugar free chocolate mousse fluffy.
A perfect keto chocolate mousse needs to be light and fluffy like a cloud. What makes chocolate mousse so fluffy? It's air! When heavy whipping cream is beaten to create stiff peaks, it is folding air into the dessert, creating that amazingly fluffy chocolate texture. Once it is folded into the cream cheese mixture, the low carb mousse becomes smooth and creamy. From there, you can actually use a piping bag to put into a pretty serving dish and create perfect, fluffy layers.
For the best keto chocolate mousse, we recommend chilling the finished recipe before eating. This allows all the flavors to combine together and taste amazing. It also makes it easier to pipe into a glass if that's what you decide to do. A chilled chocolate mousse is perfect for any kind of toppings you desire. We suggest melting chocolate chips for a drizzle chocolate shell, but you can also crumble keto bark on top, add whipped cream, or even dip a chocolate square in it like an edible spoon.
Why use lemon juice in a chocolate mousse?
Lemon juice is an optional ingredient, but it does help keep the keto chocolate mousse from getting too dense. It is a tried and true addition to help whip up the mixture so it's light and fluffy. Don't worry: it doesn't add a lemon flavor to your chocolate dessert. It's just there to help make sure the texture is right.
Can you make low carb chocolate mousse ahead of time?
Yes, you can make low carb chocolate mousse ahead of time! It is a very quick recipe to whip together and you can keep it chilled in a bowl until it's time to serve up. We love this recipe for last minute dessert ideas for dinner parties or as a meal prep option for the week.
How to store keto chocolate mousse.
You can store this dessert in the fridge for up to 3-4 days. You can also freeze any leftovers for an ice cream-like treat.
Low Carb Chocolate Mousse
Low Carb Chocolate Mousse