Keto Fudgesicles
These cold and chocolate-y treats are so easy to make and the perfect creamy indulgence for a hot summer day!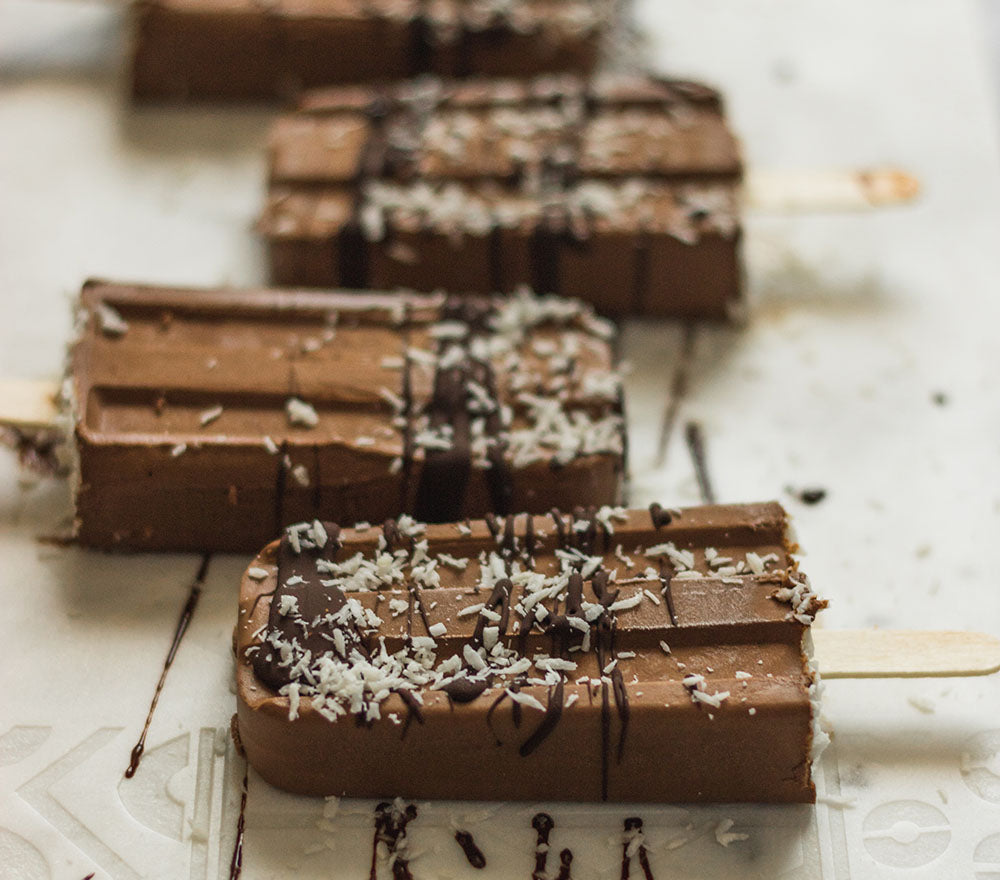 The perfect frozen sugar free treat for a warm summer day, these keto fudgesicles are a great alternative to low carb chocolate ice cream. Easy to make and creamy with a deep chocolate taste, each fudge pop is low in net carbs while also being significantly less calories than traditional ketogenic ice creams which are made with tons of add ons as well as a lot of heavy cream and are hard to fit in your meal plan as an everyday dessert.
And there's no need to worry if you don't have popsicle molds. You can use dixie cups for these keto fudge pops or even make it into a single rolled ice cream and simply scrape it into a bowl to eat it.
The best part about this sugar free chocolate popsicle recipe? You can add so many flavors to it, from strawberries to dark chocolate, making them a truly versatile summer frozen treat that's sure to please both kids and adults while also cutting the carbs. These taste better than frozen pudding pops and will be enjoyed by everyone!
Jump to recipe sections:
What is a keto fudgesicle made of?
A fudgsicle is a frozen dessert on a stick that is made with chocolate and cream! These can be made with either chocolate that is milk or dark. Most commonly you'll find fudge pops are made with milk chocolate. The summertime is when they are the most popular, but you can enjoy these treats any time of the year.
What is the history of fudgesicles?
In 1905, Frank Epperson invented the first ice pop when he was just 11 years old! He poured soda powder into water and mixed it with a stirring stick, and found that his drink had frozen like an icicle after leaving the mixture outside all night in the cold. It was completely an accident, which is a crazy and cool fun fact. He then went on to make all kinds of flavors and variations: from the double-stick popsicle invented in the Great Depression so you could split off a stick to give a friend to the iconic fudgsicle made with creamy chocolate instead of fruit flavored ice.
What's the difference between popsicles and fudgesicles?
The difference between popsicles and fudgesicles is pretty simple. Popsicles are ice cream or water ice on a small wooden stick, while fudgesicles are frozen chocolate and cream frozen desserts. That means that while fudgesicles are considered to be a type of popsicle, not all popsicles are fudgesicles–funny, right?
Are there sugar free Fudgesicles?
The Original Fudge Pops made by the Popsicle™ brand have no added sugar, but not zero sugar. They also use artificial sweeteners to reduce the sugar, adding in sugar alcohols and stuff like aspartame which is not keto friendly. That means that while it may be low in sugar, making a keto fudgesicle at home is the only way to truly have a sugar free fudgesicle.
Will sugar free fudgesicles raise blood sugar?
Sugar free fudgesicles do raise blood sugar. That is because they are not truly low glycemic due to the sweeteners added that are artificial. Breyer's CarbSmart™ Fudge Pops use maltitol and have a high sugar alcohol carb count while no sugar added fudgesicles contain sugar still. This recipe is the best way to not raise blood sugar since it doesn't contain artificial sweetener. Some artificial sweeteners can cause stomach issues, which can make enjoying them much more difficult.
What keto fudgesicle flavors can you make?
You can make other keto fudgesicle flavors by substituting sugar free chocolate chips. One of our favorites is peanut butter. Switch out the chocolate chips with our sugar free peanut butter chips, and keep the rest of the recipe the same. Or, make them into peanut butter and chocolate flavored keto fudgesicles by doing half and half!
What are some keto toppings for fudgesicles?
We have some great keto topping ideas for fudgesicles! Don't be afraid to get creative. You can drizzle some of our sugar free hazelnut spread, marshmallow spread, and different chocolates melted onto your fudgesicles right before serving them. We also love adding peppermint extract in for a peppermint fudge pop. Also, some extra topping ideas include nuts that are chopped up.
What molds can I buy for fudgesicles?
In terms of molds to buy for fudgesicles, there's no need to worry if you don't have popsicle molds. You can use 3 oz dixie cups for these yummy treats! If you really do want to buy some though, you can buy normal popsicle molds from grocery stores and some novelty craft stores.
How do you store keto fudgsicles?
You can store your keto fudgsicles for up to three weeks. Place your sugar free fudgesicles into an airtight container and place in the freezer. Make sure to not put them close together or else they may bind to each other and be harder to take out. Do not put them in the fridge, as they will melt!
Keto Fudgesicles
Keto Fudgesicles