Keto Chocolate Chip Cookie Mug Cake
This chocolate chip mug cake recipe is as delectable as it is low carb, and only takes 5 minutes to make!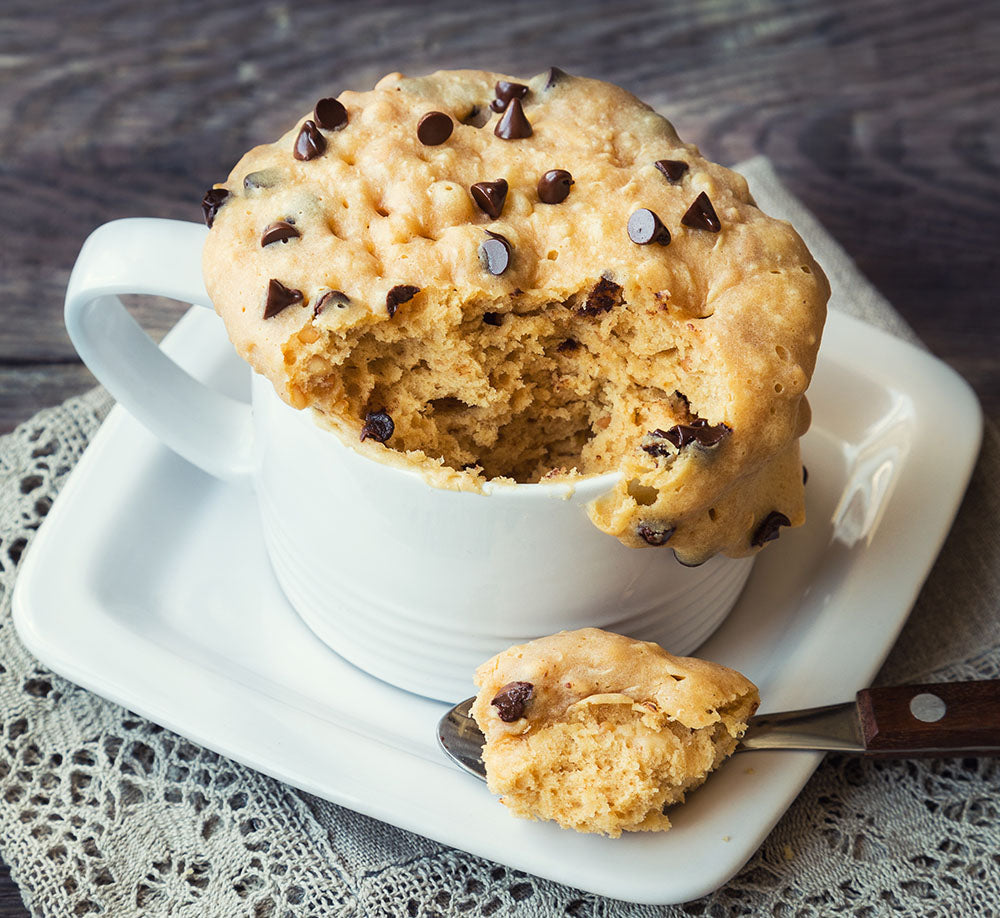 Keto mug cakes are very popular–and yep, it's just how it sounds. It's your favorite cake in a mug. Sometimes of course they're even cookies or other baked goodies, because once you have an easy to make microwavable dessert–you're going to keep making it and making new flavors of mini cakes. Already portioned out for you, this keto single serving cake is perfect for sticking your spoon in and getting a warm, gooey middle.
Mug cakes are one of the easiest and quickest desserts to make at home. They also are a no bake recipe, usually made in a microwave or airfryer. These chocolate chip mug cakes are full of our sugar free baking chips and we went with a classic: a vanilla cookie flavored mug cake studded with chocolate chips, just like those homemade cookies your grandmother used to make.
This grain free mug cake is low carb due to its low sugar content and the use of almond flour instead of regular flour. But different from other grocery store mug cake mixes, this low mug cake is delicious and doesn't sacrifice flavor for less carbs.
Jump to recipe sections:
What is a mug cake?
A mug cake is, in the most simple terms, a cake made inside of a mug! Usually, these treats are made in a microwave, which makes them very easy and quick to make! Also, a lot of mugs are not oven safe, so using a microwave is a good way to save your dishes. This easy 5 minute cake is not a heavy dessert, instead having more of a sponge-like texture.
Are microwave keto mug cakes safe?
Microwave keto mug cakes are safe as long as you use a microwave safe mug and cook your treat all the way through! You can check if the mug is safe by seeing if there is a label at the bottom of the mug that specifies whether it is microwave safe or not, often a "fume" sign with a slash through it if it's not microwave safe.
Are chocolate chips keto?
Chocolate chips are usually not keto. Most store bought chocolate chips contain a lot of sugar, which makes them higher in carbs. Also, most sugar free options for chocolate chips in grocery stores use sugar alternatives that can cause stomach issues, such as erythritol or maltitol. These tend to have weird after tastes as well. However, our sugar free chocolate chips help on both fronts, using natural monk fruit to sweeten them! We highly recommend using these for this recipe.
Are Duncan Hines™ mug cake mixes keto friendly?
Normally, Duncan Hines™ mug cake mixes are not keto friendly. They do carry keto cake mixes, but most of the online ones are rated very low and they do not have individual mug cake ones. The best solution to this is to make your own mug cake made with almond flour at home so you can control what ingredients are in it! Even if at first your mug cake isn't as good as you want it to be, practicing baking a recipe can help it become a lot better with time–and our chocolate chips will always help cover up a baking disaster with delicious gooey chocolate!
What other flavors can you make for keto mug cakes?
There are many other flavors you can make for keto mug cakes, and some of the most popular are peanut butter chocolate chip mug cake, banana chocolate chip mug cake, healthy chocolate chip mug cake, pumpkin chocolate chip mug cake, and even a keto brownie batter mug cake!
Can you replace the chocolate chips with other ingredients?
You can replace the chocolate chips with other ingredients, such as nuts and berries! We recommend crushing the nuts beforehand, such as pecans or walnuts, since the smaller size will create an easier bite in your low carb mug cake. Stir the ingredients into the batter in place of the chips, and proceed with the same steps.
Can you turn keto mug cakes into different desserts?
Yes, you can turn keto mug single serve cakes into different desserts like cookies or puddings! One of our favorites is turning it into Victoria sponge cake. To do this, use our sugar free jams. You can do this by turning out the cake onto a plate so it's upside down. Slice your cake in half, and place them face side up. Add the jam and a low carb whipping cream, and voila, you have two slices of sponge cake that was made in your microwave. Neat, huh?
Why is my keto mug cake wet?
If your keto mug cake is wet, that means that it is undercooked unfortunately. If it is wet, you can fix this by intermittently microwaving for intervals of 5 to 10 seconds. You can still eat your sugar free cake if it has a molten-like center though, and if your low carb cake is gooey, you know you've made it just right.
How do you store keto mug cakes?
You store keto mug cakes by taking your gluten free mug cake out of the mug and putting it into an airtight container. Also, you can put plastic wrap over the top of the mug if you will have the rest within the same day; just remember it may go dry quicker since air can get in. However, we recommend eating it within the day, especially since it is a smaller, more proportional microwave cake. To reheat your mug cake, microwave for 15-30 seconds until warm.
Keto Chocolate Chip Cookie Mug Cake
Keto Chocolate Chip Cookie Mug Cake