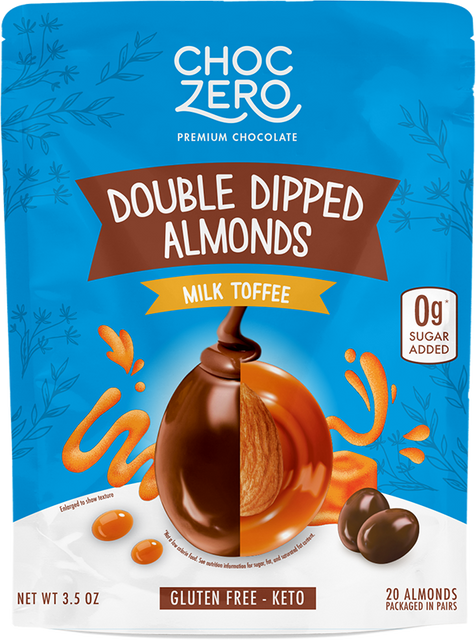 Keto Milk Chocolate Covered Toffee Almonds
Our keto toffee milk chocolate covered almonds are what crunchy dreams are made of. Each almond is covered in a layer of salted sugar free toffee then double dipped in a generous amount of creamy no added sugar milk chocolate.

Each bite of low carb toffee is sweetened with monk fruit. The hard, caramelized toffee is just like your grandmother used to make only without any sugar: with every bite, toffee crumbles then mixes with our creamy milk chocolate to create a unique sweet-and-salty delight in your mouth.  With our toffee caramel double dipped almonds, we've reimagined keto nut brittle and made it into the perfect on the go snack!
Low carb and keto friendly: every almond is dipped in a layer of salted caramel toffee and then dipped again in a layer of milk chocolate

Individually wrapped pairs for mindful snacking and portion control

Our zero sugar toffee is the star of this confection, salty and delicious
We're switching through packaging for this product. If you get an old package, please be aware the product no longer has allulose in it--it was removed during our last production. Everything else is the same!
Ingredients
Milk chocolate confection (unsweetened chocolate, cocoa butter, whole milk powder), cocoa butter, Non-GMO resistant dextrin, almonds, whole milk powder, sea salt, sunflower lecithin, monk fruit extract, natural flavors, arabic gum. Contains Almonds, Milk.
Not a low calorie food. See nutrition information for calorie, sugar, and saturated fat content.
Product Information
3.5oz bag of milk chocolate caramel toffee double dipped almonds wrapped in pairs.
Our refund policy: We're confident that you will love how our chocolate tastes and that it will arrive safe & sound. We're so confident that we have a 100% customer happiness policy--read more about our commitment to you.