Keto Whoopie Pies
This whoopie pie recipe is a sugar free take on our favorite sweet sandwich…Whoopie!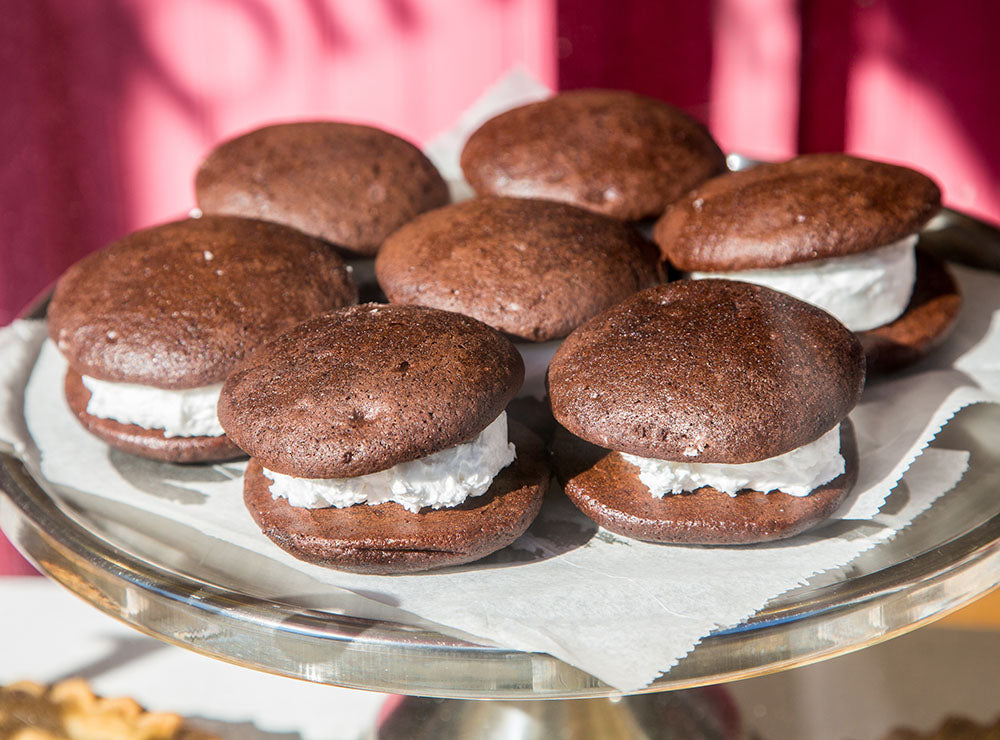 These low carb whoopie pies truly live up to the name: Two circular cakes filled with a light, fluffy filling, this keto sandwich snack cake will make you shout with joy. We took the carbs out of this dessert so that it's keto friendly and sugar free, making it a great snack on the go or dessert.
One of the most important parts of a whoopie pie is the filling. That's why we've created a whoopie pie filling that balances being light and fluffy with the perfect vanilla flavor. Take a bite out of this sweet treat like a sandwich, or pull the fluffy wafers apart and have the filling on its own.
Later on we're also going to teach you how to make peppermint chocolate whoopie pies to level up your snacking recipe list once you have the traditional one down. And of course, our recipe will keep things sugar free and low carb as with all ChocZero creations.
Jump to recipe sections:
Where does the name whoopie pie come from?
Whoopie pies come from the literal words husbands would shout when their wives made them this treat. Legend goes they were put in the lunch boxes of men who went off to work and when they would unwrap this dessert as their snack, they would let out whoops of joy. Cute, right?
What is a moon pie versus a whoopie pie?
A moon pie versus a whoopie pie is an important distinction, because they are quite different…and your bestie may be sad if they ask for whoopie pies for their birthday and you show up with moon pies! A moon pie is the shape of a sandwich as well, and is a sweet treat. However, it has a marshmallow center between soft graham cracker cookies, and not cake! This sandwich is coated in chocolate most commonly, but can also be encased in other flavors such as vanilla, salted caramel, banana, orange, lemon, and strawberry. It's crunchy whereas a whoopie pie is like biting into clouds.
What are traditional fillings for whoopie pies?
There are many whoopie pie fillings, from raspberry mousse to marshmallow fluff. However, for this recipe we chose a traditional vanilla buttercream. We made it sugar free by substituting sugar.
Can I buy keto whoopie pies at a store near me?
It is impossible to buy keto whoopie pies at stores because most stores bake their desserts and that means they only use sugar. That's why you have to make them at home, so you can truly ensure they are low in sugar and net carbs.
How do you store keto whoopie pies?
You store keto whoopie pies by putting them into airtight containers! You can choose to either keep them at room temperature or in the refrigerator, depending on how quickly you are going to eat your leftovers. At room temperature, they will keep for two to three days, but in the fridge you'll get up to five.
How to make peppermint chocolate whoopie pies?
We love this recipe for Christmas, and what we do is add 1 TSP of peppermint extract to the cookie batter--then when they are done, we roll them in crushed peppermint candies. You can find sugar free peppermint candies easily in stores or you can use our Peppermint Keto Bark which is filled with tiny mint candy bits.
How do you keep whoopie pies from spreading?
You must chill the batter for your whoopie pies before baking, or else they may spread too much. The other possible problem is you've added too much liquid or you have not mixed your dough properly.
Keto Whoopie Pies
Keto Whoopie Pies