Keto Strawberry Cake with Sugar Free Frosting
Easy summertime Keto Strawberry Cake with Strawberry Sugar Free Frosting.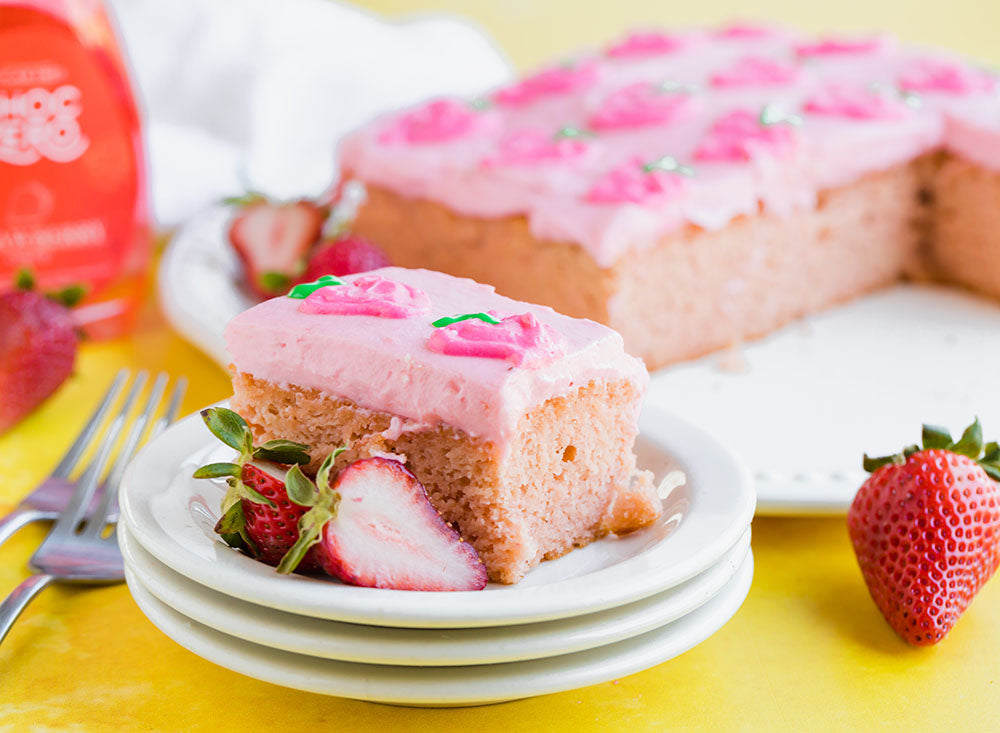 Make this keto friendly traditional strawberry cake with sugar free frosting for a light dessert this summer. It's the old fashioned strawberry cake taste you might remember from your childhood made low carb thanks to our sugar free strawberry jam and sugar free honey. This cake has actual strawberry jam in it to make the cake very moist, because strawberry shortcake and other strawberry cakes need to be light for the summer season. We love a good decadent and rich dessert, but there's nothing like relaxing with a light treat on a warm summer night.
Did you know that strawberries are keto friendly? It's true, strawberries are the perfect fruit for anyone on the keto diet because they are low in carbohydrates and high in fiber. That makes them a great snack and baking companion for anyone on their low carb journey. Strawberries are one of the best low carb fruits to eat on the keto diet, so we wanted to make a keto friendly strawberry cake with them!
To top it off, we've created a strawberry cream cheese frosting that works perfectly for this low sugar strawberry cake recipe. We've looked at the old fashioned strawberry cake recipes and decided that sugar free cream cheese frosting is the best bet for this cake. Plus, keto cream cheese frosting is a great recipe for any keto baker to keep in their back pocket. We've customized this sugar free frosting to include a little of our keto strawberry jam, so that it has a delicious strawberry flavor all the way through the cake.
Jump to recipe sections:
How can I make a keto friendly strawberry cake?
We loved having a slice of our grandma's traditional strawberry cake, so we wanted to make a version that was low in sugar and keto friendly. This keto strawberry cake with cream cheese frosting is low in carbs thanks to our sugar free jam. Sweetened exclusively with monk fruit, these ingredients create a sweet strawberry cake that's so enjoyable.
If you don't have any sugar free strawberry jam on hand, you can also roast strawberries to make this keto strawberry cake. Simply take 4 large strawberries, 2 tsp of granulated sugar substitute, and a pinch of salt. Mix them together, spread out on a parchment lined tray and bake at 350°F for 10 minutes. Then puree roasted strawberries in a blender until smooth.
Making an old fashioned strawberry cake without gelatin.
If you've ever dusted off a retro cookbook and found a strawberry cake recipe with gelatin, you're not alone! This was a secret ingredient used by home cooks to make the recipe moist. We don't mind a little Jell-O in a dessert, but this cake doesn't need it thanks to our sugar free strawberry jam. It brings a fresh strawberry flavor and helps keep the keto cake crumb moist.
Did you swear off baking because your last keto cake was dry? Try this low carb strawberry cake instead! The addition of jam and honey makes it perfectly moist and a delicious dessert for summer.
How to make keto cream cheese frosting.
Keto cream cheese frosting is the perfect topping for your next keto baking project. It's super easy to make and full of fat, so it's ideal for the keto diet. For this recipe, we'll be making keto strawberry cream cheese frosting, which uses a little jam along with our sugar free honey to give it a delicious berry taste.
Will jam make my keto strawberry cake soggy?
No, jam will not make your low carb cake soggy! Actually, sugar free strawberry jam helps make this cake perfectly moist. Almond flour can sometimes create a dry cake, so the inclusion of sugar free jam keeps the crumb decadent and moist like a cake should be.
Decorating a low carb strawberry cake.
If you're in a rush, this keto strawberry cake with cream cheese frosting is perfect because the bright pink colors don't need much decoration. You can absolutely just frost the cake and serve it up, it'll look pretty as is! But, if you want to put a snazzy decoration on it, we suggest putting a bit of the frosting in a piping bag, adding a little more red food coloring and creating strawberry designs on top of your cake. They're super easy to shape and look amazing.
Storing a keto sheet cake.
We suggest storing the cake in the refrigerator for up to 5 days to keep it nice and cool for the summer season.
Keto Strawberry Cake with Sugar Free Frosting
Keto Strawberry Cake with Sugar Free Frosting