Classic Keto Pecan Pie
This sugar free pecan pie is the best dessert for any holiday gathering. Without any gluten and low in net carbs, it's a keto friendly delight you won't be able to tell apart from the traditional pie.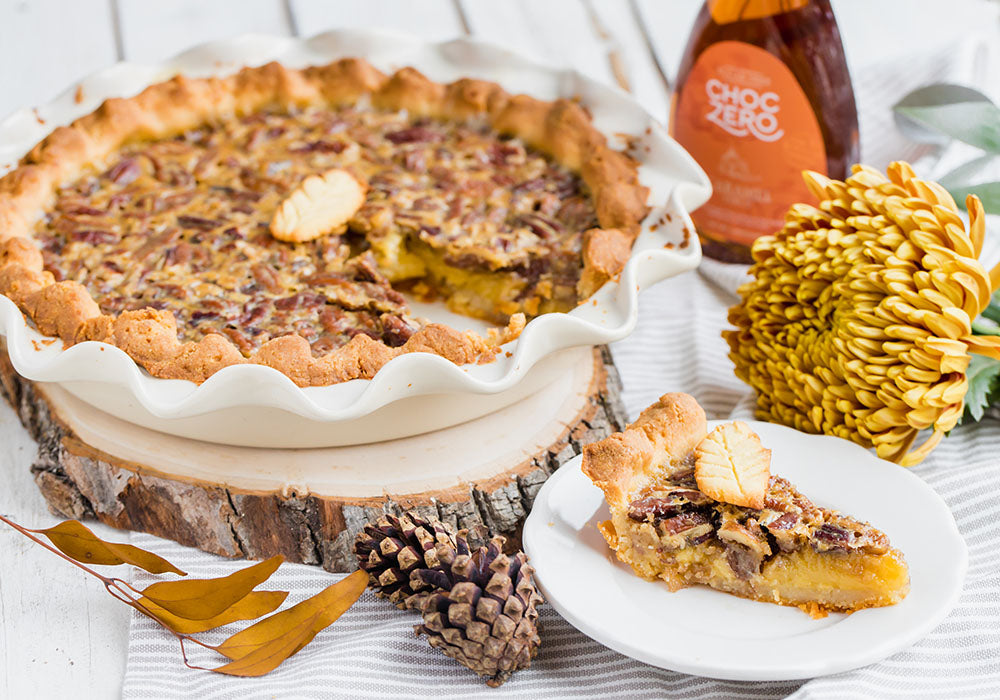 A keto pecan pie is perfect for your Thanksgiving and holiday dessert option. You won't miss the sugar at all because we've replaced its traditional sugary pie filling with a completely sugar free pecan pie filling: it's crunchy, just as sweet, and exactly the same as the real thing. In all honesty, as an insider tip: making a keto pecan pie is easy because they already use a buttery crust so making one with almond flour instead of all-purpose flour just makes sense. It also makes it a gluten free pie! And by using a sugar free keto honey, you can make it with zero sugar so it's friendly for your healthy diets.
There are many types of pecan pie recipes. The most popular pecan pie is a Southern pecan pie. Besides how they pronounce pecans, Southerners also know a thing or two about baking pies. People from the South have amazing pecan pie recipes. In the South, a pecan pie is also known as a Karo™ pie. It's named after the Karo™ syrup, which is a dark corn syrup that's very thick and sweet. Sometimes folks will use molasses instead. But because we don't want to eat sugar, however, we've made a perfect keto Karo™ pie: a southern pecan pie that's low carb by using our  sugar free keto honey instead.
Another secret to making a great keto pecan pie is to pick the best nuts. You will want to toast them in the oven before baking them then coarsely chop them to create the true star of a keto southern pie recipe. Our rich almond flour crust for pecan pie also helps and we've even added some cream cheese to help our pie from crumbling.
Overall, a sugar free pecan pie is a delight for Thanksgiving. It can be repurposed into so many things, including mini keto pecan tarts and even sugar free pecan bars.
Jump to recipe sections:
Is pecan pie keto friendly?
Traditional pecan pie is not keto friendly because it uses corn syrup. A Karo™ pecan pie uses either light and dark corn syrup and both can kick you out of ketosis and are worse for you than sugar. That is why our keto pecan pie recipe uses our sugar free keto honey for its sugar free pecan pie filling so it can be keto friendly.
How to fix a runny pecan pie?
Sometimes your pecan pie won't become as rich and thick as you hoped. A firm pecan pie is the goal, but it is easy to repurpose your pecan pie if it does not work out. Pecan pie is only done once the center reaches 200°F. To ensure a proper oven temp, make sure you use an oven thermometer rather than relying on the oven dial.
Once the baking time is up, the center of the pie will spring back slightly when tapped, but will fully set as it cools. If you check your pie and the center is still runny, put it in the oven to cook for longer. Sometimes it just needs to cook more so it can become thick enough.
However, if extra heat does not work, you can try repurposing your pecan pie! Scoop out the runny pecan pie filling and use it as a topping for a bowl of ice cream. Another tasty pie filling option is to use it in a shake! Simply chop up the keto pecan pie and add to a blender with vanilla ice cream, a touch of milk or dairy alternative like almond milk & cinnamon. You can even add in some bourbon or whiskey for an adult style dessert shake. Voila!
Can I make a pecan pie without corn syrup?
For our sugar free pecan pie, we use a low carb syrup that has 0g of added sugar. We find you do not need to use sugar or sugar substitutes in a good pecan pie recipe: by getting rid of corn syrup, you are cutting out a lot of the unhealthy parts of pecan pie.
We also know that using agave syrup is a healthier way to make it if you do not wish to make a low carb pecan pie–but since this is a recipe for a great pecan pie that's healthy, we instead use our bee friendly keto honey.
How to make a chocolate drizzle for a pecan pie.
Making a chocolate drizzle for your keto pecan pie is easy! Just taking our sugar free chocolate chips and melt them in a microwave safe bowl at 30 second intervals, stirring in between until completely melted. Then use a spoon to drizzle on top of cooled pecan pie.
How do I make a keto pecan pie that's Southern?
Unlike other classic pies, pecan pie is an American creation that originated in the southern states as far back as the 19th century! Traditional Southern pecan pies have a flaky, golden brown pie crust, real butter and are created with corn syrup, Karo™ brand being the most popular. A Karo™ syrup pecan pie has is a very rich, sticky and extra sweet, sometimes even being called a sugar pie, but because of this is not keto friendly. To make a healthy southern pecan pie, we substitute the corn syrup for our thick & sweet sugar free keto honey that adds the same level of sweetness without all of the sugar or corn syrup.
Can I freeze a pecan pie?
Yes, pecan pie can be frozen. All pecan pies are able to be stored in the freezer and thawed if stored properly. To freeze a pecan pie, ensure the pie is completely cooled after baking. Freezing a warm pie will cause additional ice and even frostbite on the pie. Once cooled, wrap the whole pie in plastic wrap or aluminum foil and place in an airtight container or pie box. Our keto pecan pie can be frozen for up to 3 months.
Does pecan pie need to be refrigerated?
Pecan pie needs to be refrigerated after baking. Because our sugar free pecan pie is egg based, has a custard-like filling, and doesn't contain preservatives, it needs to be stored in the refrigerator for food safety. Allow your pie to cool completely after baking, this can take up to 3 hours, and then wrap and store flat in the refrigerator. Pecan pie can last up to 3-4 days when refrigerated properly.
Why do we serve Pecan Pie at Thanksgiving?
Have you ever wondered why we serve pecan pie at Thanksgiving? Like most things in our world, it's all about marketing. Pecan Pie comes from the South and was made commercially popular by Karo™ Syrup. Due to a surplus of pecans, suppliers in the South pared these two as a way to sell things. In a way, it's the original pumpkin spice–creating something seasonal out of nothing! Pecan pie also became a Thanksgiving table staple because pecans are harvested between September and November making it the perfect time to have fresh pecan pie!
What is the best keto pecan pie crust?
There are a lot of options for low carb pie crusts. You can make an almond flour pie crust, a coconut flour base, or even a pie crust made out of pecans.
However, the best pie crust is our keto friendly pecan pie crust. It uses almond flour with a little bit of rice vinegar–rice vinegar is gluten free and celiac friendly, but please check the label to make sure there is no added grain tro your version. It will help the crust taste extra delicious and stay flakey, golden and a completely gluten free pie crust. This keto pie crust is perfect for our low carb pecan pie, but also other savory or sweet dishes.
Why can't I add pecans to my pecan pie crust?
Well, simply put, pecans won't hold up as well as almond flour. While you can add pecan meal to your gluten free pie crust, we really suggest just using our easy almond flour pecan pie crust recipe because it will be easiest and not have problems with cracking while you bake.
What else can I make besides pecan pie with pecan filling?
If you have enough pies for your Thanksgiving dinner, try making a keto pecan tart! The difference between a pecan pie and pecan tart is the crust! While our sugar free pecan pie uses a low carb flaky pie crust, a pecan tart has a cookie-like crust. To make a keto pecan tart crust, add 1 ½ cups of almond flour, ⅓ powdered alternative sweetener, ¼ tsp salt into a food processor and pulse in 1 stick of cold butter until coarse. Add in 1 large egg yolk, 2 tsp heavy cream and ½ tsp of vanilla and stir into a dough. Wrap in plastic wrap, chill for an hour and press into pie mold. Use our keto pecan pie filling and bake at 325°F for 45-60 minutes.
Another idea is to make our Brown Butter Pecan Pie Bars for a quick low carb pecan treat). If you're a lover of Blizzards™ from Dairy Queen, you can easily make our low carb pecan pie filling to make a perfect dupe of a pecan pie Blizzard! Add filling, ice cream, heavy cream and vanilla extract to the blender and serve in a chilled glass–or use your favorite no sugar added ice cream.
Classic Keto Pecan Pie
Classic Keto Pecan Pie