Keto Bacon Chocolate Chip Cookies
Make these keto bacon chocolate chip cookies for the most decadent dessert ever. It's a cookie recipe that is high in fat and low in carbs.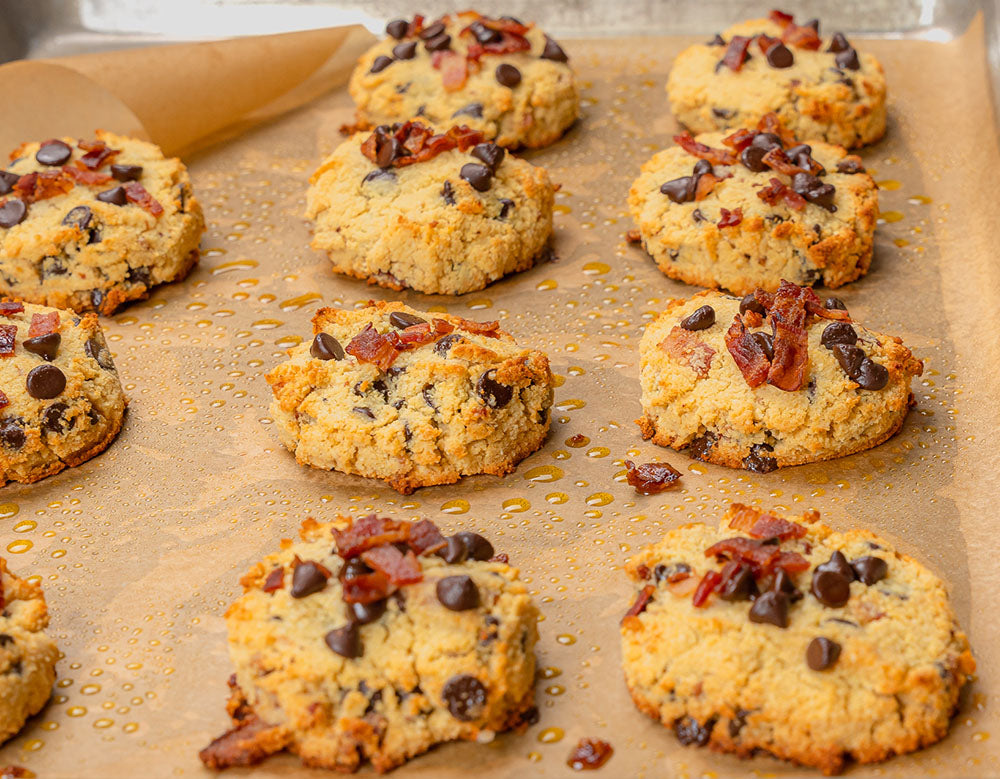 If you love bacon dipped in chocolate, these keto maple bacon chocolate chip cookies are for you. This sweet and salty low carb dessert is a unique crowd pleaser that tastes like candied bacon inside of a cookie. Some people would only use bacon and chocolate chips for this keto friendly cookie, but we think sugar free maple syrup is the best keto companion to bacon. We love to drizzle maple syrup on bacon, so why not put that breakfast flavor in a sugar free cookie?

We mix real pieces of crispy bacon into the batter with our sugar free dark chocolate chips to create a savory and sweet dessert that is perfectly balanced. If you're on the keto diet and you love bacon, you might have some bacon and bacon grease left over, so feel free to use that in this recipe. It turns out tasting amazing and you get to use up leftovers in a dessert!

The best part about this keto cookie recipe is that it's a sugar free treat. That means if you want to make a healthy dessert for Father's Day, this could do the trick. Plus, if you want to make it a little extra, you can dunk or drizzle more sugar free maple syrup all over these low carb bacon cookies!
Jump to recipe sections:
Is bacon a good keto snack?
Bacon is a tried and true favorite keto snack out there. When most people start on keto, bacon is one of the easiest snacks to start with. Why is bacon so great for keto? Bacon is high in fat and low carb, which is exactly what you need to start your low carb journey.
Since we love bacon so much, we wanted to create a dessert spin on this salty snack. We love bacon dipped in chocolate, so this bacon chocolate chip cookie brings it all together in one delicious keto snack.
Is chocolate and bacon a good combination?
While bacon and chocolate might seem a strange duo, they actually make a perfect pair. The salt and fat paired with the sweet and velvety chocolate creates a tasty balance of savory and sweet. If you've ever tried chocolate covered bacon at the county fair, you will love these cookies!
How can you keep keto cookies from crumbling?
There's nothing worse than a crumbly cookie when all you wanted was an ooey gooey masterpiece. Sometimes keto cookies can crumble because they're taken out of the oven too early or they're over mixed. Make sure to never over work the dough. Another great thing about these keto bacon cookies is that they are full of fat, which helps keep your cookie together.
Can you eat cookies on keto?
Yes, you can eat cookies on keto! Going low carb doesn't mean you need to give up baking. If you love baking, we have plenty of wonderful sugar free recipes for you to check out. We also have created a keto cookie guide so you can figure out what cookie works the best for you. The trick to baking cookies on keto is to use keto friendly ingredients, like our no sugar added chocolate chips. That way you can stay within your macros and still enjoy something sweet.
What makes this a keto cookie?
This bacon chocolate chip cookie is keto friendly because it was baked with low carb ingredients. The first step is to grab a bag of our sugar free dark chocolate chips. These are keto friendly because there's no sugar, which means it is low in carbohydrates. Next, you grab your favorite granulated sugar substitute, keto friendly flours, and of course bacon! Since bacon is a keto staple, it makes sense to add it to this delicious cookie.
This keto recipe has a secret ingredient: sugar free maple syrup. We think bacon tastes amazing with maple syrup. As kids, we would always dip our bacon in the syrup while eating a giant stack of pancakes. To bring back that nostalgic feeling, we've added our sugar free maple syrup. You can also use our sugar free caramel syrup for a more buttery taste.
What kind of bacon should I use for cookies?
We recommend using regular bacon for these cookies instead of center-cut or super thick bacon. If you want to add extra flavor, buy a pack of bacon that's been smoked.
How can I make a keto Elvis cookie ice cream sandwich?
We know what you're thinking: this is two ingredients away from being Elvis's favorite cookie. Elvis loved the combination of bacon, bananas, and peanut butter– which means his favorite cookie had all of those combined. While bacon, peanut butter, and our chocolate are all on the keto friendly list, bananas are high in carbohydrates and sugar. So, if you really want that over-the-top decadence of an Elvis cookie, we suggest using these cookies to make an Elvis ice cream sandwich!
All you have to do is buy keto ice cream that has peanut butter or banana (or both!) and spread it between the cookies. We suggest freezing your fully baked cookies for 20-30 minutes before assembling your ice cream sandwich, so the cookies can stay firm while you're spreading out your keto ice cream.
Make sugar free maple bacon cookies.
If you're wary about the combination of bacon and chocolate, don't worry. You can make these cookies without the chocolate chips for a delicious keto friendly maple bacon cookie.
Keto Bacon Chocolate Chip Cookies
Keto Bacon Chocolate Chip Cookies