DIY Keto Trail Mix That's Low in Sugar and Net Carbs
Keto trail mix makes your healthy adventures better by using low in net carbs ingredients like almonds and pecans.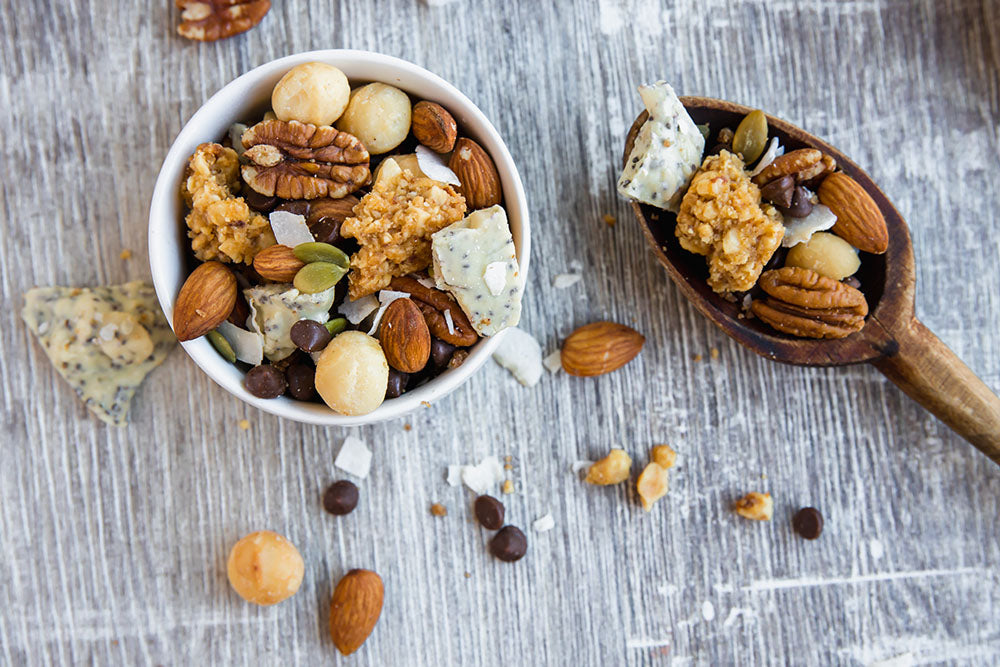 A healthy fat filled DIY keto friendly snack that takes less than 5 minutes to prepare is keto trail mix. Keto trail mix is surprisingly easy to make because a lot of key snack mix ingredients are low in net carbs. Keep it sugar free and adjust the ratio as needed to make it a salty, crunchy mix with a little bit of sweet to make your taste buds happy!
By using a variety of seeds, nuts, cheese, and ChocZero keto chocolate, this trail mix remains extremely low in sugar. Not only is it highly nutritious and energy boosting to keep you going while hiking or simply taking a stroll, the monk fruit sweetened keto trail mix will keep you satisfied to fight dessert cravings.
Jump to recipe sections:
Should I buy a premade mix?
You can, but making a trail mix that's ketogenic is very simple and easy. You can make this is under five minutes buy buying some nuts from the grocery store, coconut flakes, and our chocolate. Adding low sugar berries or dried cheese is easy too. There is no point in buying trail mixes like Orchard Valley if you can just make your own by grabbing some nuts and our keto chocolate!
Can you have trail mix on keto?
Yes, just skip higher sugar content sweets such as regular chocolate chips or dried fruit. Instead opt for unsweetened dried raspberries or blueberries due to their lower glycemic content. We have a variety of keto chocolate that can go inside as well, we find that our coconut chocolate no sugar added almonds work well due to their protein and fiber content--it's hard to say no to a cococa infused nut!
How can I add sugar free chocolate to this mix?
We have two really solid options for a keto trail mix. You can try our no sugar added chocolate chips or our chocolate covered almonds--both will more than meet your needs. They have only 2g net carbs per serving and use healthy prebiotic fiber.
Is coconut high in net carbs?
Be careful to get coconut flakes that are not sweetened. Coconut pieces that are unsweetened and lightly toasted are perfectly keto friendly and will work great for your diet.
What nuts work best in a trail mix?
The nuts we've listed are only suggestions. Pecans are a buttery nut and add a unique taste, but you can always add more almonds if you prefer roasted almonds. We also suggest a seed of some sort, as pumpkin seeds and sunflower seeds have a unique texture that helps make your trail mix have a great satisfying crunch and mouthfeel.
DIY Keto Trail Mix That's Low in Sugar and Net Carbs
DIY Keto Trail Mix That's Low in Sugar and Net Carbs