Keto Cranberry Bliss Bars
Make your own keto-friendly cranberry bliss bar with this delicious copycat recipe.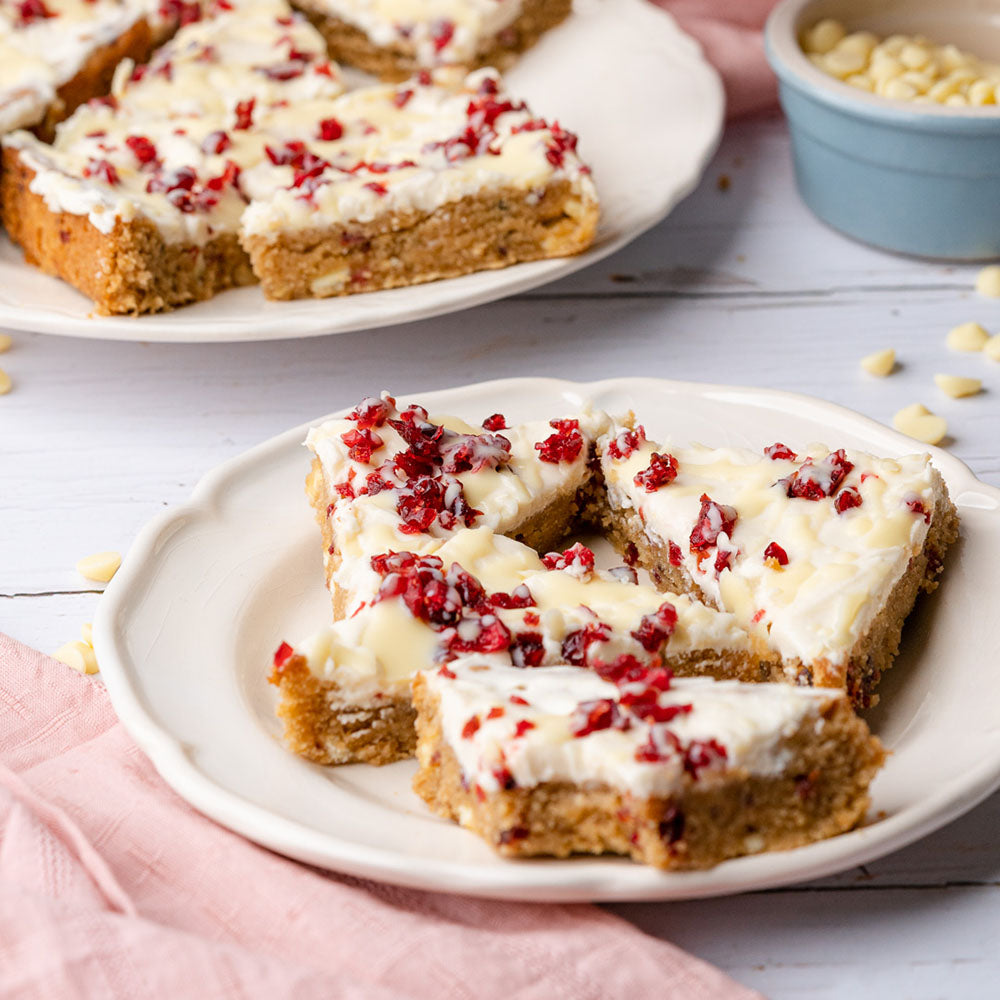 If you've been to Starbucks during the holiday season, you've likely seen these creamy and delicious cranberry bliss bars. They're cookie bars covered with yummy frosting and sprinkled with cranberries. While we've got our own favorite Starbucks keto hacks (ask for the iced London Fog Tea with heavy cream), you can't hack out the sugar added to the desserts behind their display glass. Or, can you? If you want to save money and cut the carbs, make this keto copycat cranberry bliss bar at home. Now you can enjoy this delicious treat without ever having to wait in line at the Starbucks drive-thru!
What is a cranberry bliss bar, anyway? It's a cookie bar packed with creamy white chocolate chips and covered in a buttercream frosting. It's a festive way to ring in the holiday season and a great companion to a cup of coffee. This homemade version of the coffee shop dessert is an easy sugar free holiday treat for gift-giving or even the office Christmas party. You can make the low carb dessert bars ahead of time so they're easy to share (or meal plan to eat them yourself, don't worry we won't tell Santa).
We love the mix of bright cranberry and yummy white chocolate, so we made sure there was plenty of both in these festive blondie brownies. Not only did we sprinkle these morsels of deliciousness into the bars, we've also melted our low sugar white chocolate chips to create a creamy frosting that's decorated with bright and beautiful red cranberries. Does that sound delicious? Then, it's time to bake!
Jump to recipe sections:
What are cranberry bliss bars?
If you've ever visited your local Starbucks during the fall season, you might have seen these white chocolate cookie bars sprinkled with cranberries. It's a blondie dessert that is full of cranberries and white chocolate with a cream cheese frosting. Nothing quite puts us in the holiday mood like this perfect coffee break snack. That's why we wanted to make it keto! These cranberry bliss bars are also totally gluten free. We use almond flour which does not overpower the other flavors of this bar. It's a perfect low carb flour to bake with.
What season are cranberry bliss bars from?
Just like the tangy cranberry sauce you might see on the Thanksgiving table, the cranberry bliss bars usually show up after Halloween and last through the Christmas season. If you ever feel the need to grab one for yourself, consider making this a homemade dessert. It'll taste better and be lower in sugar.
How are cranberry bliss bars different from brownies?
Cranberry bliss bars aren't brownies, but they have been called blondies. Cute name, right? So what's the difference between blondies and brownies? They're both classified as "cookie bars" in the sense that they're in between cookies and cake as far as texture. Blondies are all about that sweet vanilla flavor and usually contain white chocolate. Brownies are more focused on the chocolate flavor and they can range from dark to milk chocolate taste.
As you can imagine, we're fans of both kinds of cookie bars (and everything in between). But, we found that the blondie type of cookie bar is used for the cranberry bliss bar because it pairs very well with the bright cranberries and creamy frosting. We also couldn't resist adding our white chocolate chips because we love chocolate in just about everything.
What's the secret ingredient in cranberry bliss bars?
We like to say our sugar free white chips are the secret ingredient in our low carb cranberry bliss bar recipe. But, some might say the grated ginger is a secret ingredient, too!
Save money by baking homemade cranberry bliss bars.
Let's face it, regular visits to Starbucks can get a little pricey. While it's not always easy to make copycats of their various drinks, their baked treats are a different story. Don't waste money and energy on something you can make at home. The other great thing about making cranberry bliss bars at home is that you can make a whole batch for the week, so they're easy to grab and go. You can also make these bars for a party or to bring to the office to prove to Santa you're nice!
Why are these keto cranberry cookie bars better for you than the ones at Starbucks?
A cranberry bliss bar at Starbucks contains 28g of sugar! That's a lot of sugar all at once, especially in the morning with a coffee. Our keto friendly bliss bar contains no added sugar and has >3g Net Carbs. That way you can easily make this an afternoon snack or breakfast without worrying about a sugar crash.
How can I put a new spin on cranberry bars?
If you think the triangle shape of these bars are a little boring, you can always use cookie cutters to make the shape of Christmas trees or even turkeys. There's all kinds of cookie cutters out there to try.
How to store sugar free cranberry bliss bars.
Slice up your bliss bars and then keep them in an airtight container for up to five days. That way it's easy to grab one on your way out the door. If you'd like, you can also keep uncut pieces in the refrigerator covered with plastic wrap for up to five days as well.
Keto Cranberry Bliss Bars
Keto Cranberry Bliss Bars