Keto Christmas Fudge: Grinch Fudge
Create an easy keto mint chocolate fudge with sugar free ingredients and low in carbs.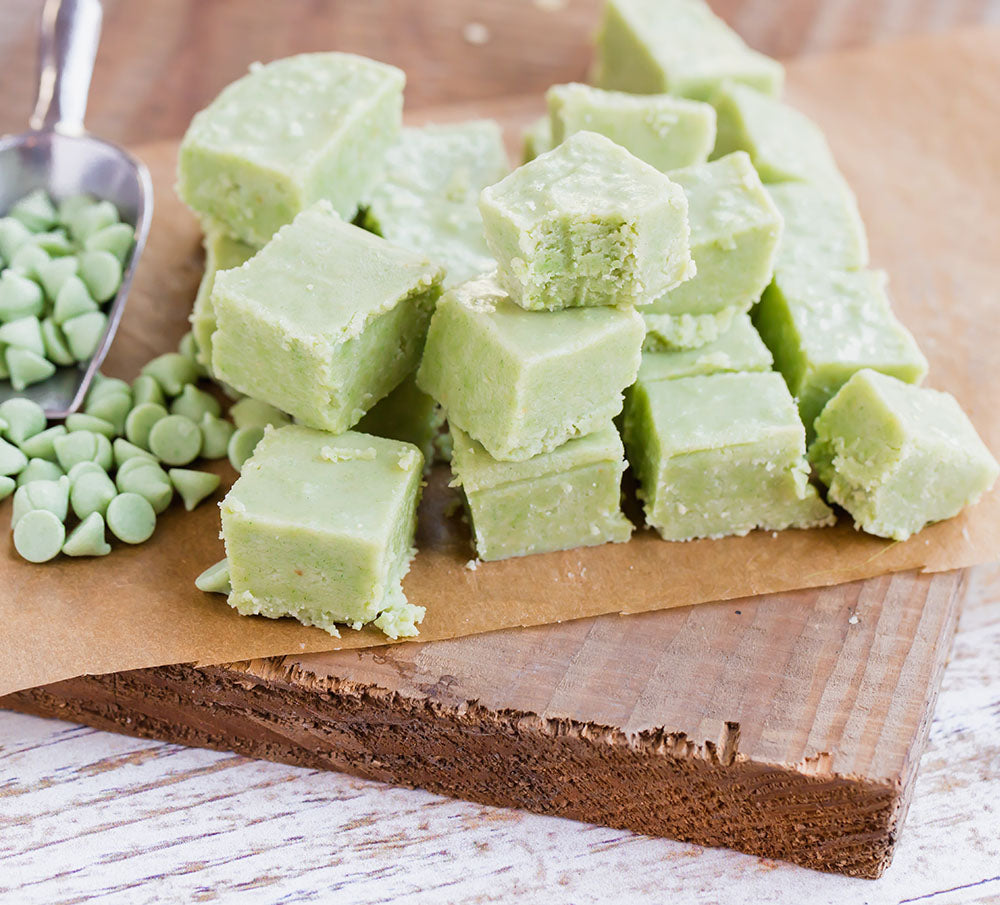 Fudge is a holiday dessert staple and this easy keto fudge recipe takes it up a notch with a minty flavor. It's green and it's called Grinch fudge! Christmas fudge is one of those blissful treats that people miss on a low carb diet because most store-bought fudges use ingredients that are high in carbohydrates and sugar. Our keto Grinch fudge is made with just a few ingredients and is keto friendly.
Our favorite part of this gluten-free Christmas fudge recipe is that it's a no-bake recipe for fudge but has all elements of a classic, creamy homemade Christmas fudge and is made minty with our sugar free mint chocolate chips. Not only does this give the fudge a classic green color that just screams holiday cheer, but the mint flavor is a perfect winter twist on traditional chocolate fudge.
Whether you're wanting to indulge or wrapping up some keto fudge for a Christmas gift, this is the best keto fudge recipe in all of Whoville!
Jump to recipe sections:
Is fudge gluten free?
Traditional fudge recipes are not gluten free. Most chocolate and store-bought ingredients are not gluten free, it is very hard to purchase fudge that is celiac friendly. Our keto grinch fudge recipe is gluten free because we use simple ingredients and our gluten free peppermint chocolate chips to make it. If you're looking for gluten free holiday fudge, make sure you follow a specific gluten free recipe and use gluten free chocolate like ChocZero to ensure there are no grains.
How to make Andes™ mint fudge?
While Andes™ mint chocolates have a delicious peppermint flavor, these chocolates are not keto friendly or gluten free. Not only that, many classic mint fudge recipes use sweetened condensed milk and creme de menthe oil to replicate the Andes™ mint flavor, making them unsuitable for a low sugar diet. If you're looking for the best mint chocolate fudge recipe, our keto grinch fudge hits all the marks.
We use our sugar free peppermint baking chips for the perfect creamy mint chocolate flavor without unnecessary ingredients. We also substitute sweetened condensed milk for heavy whipping cream to keep the creaminess of the mint chocolate fudge, while keeping it keto friendly.
How to make sugar free fudge?
To make a delicious sugar free mint chocolate fudge recipe, you can use sugar substitutes like Splenda™ or natural ones like monk fruit. Any granular sugar alternative that measures 1:1 with sugar and that can be baked with is best for a rich fudge. We choose to use a golden monk fruit sweetener in our keto grinch fudge recipe and we swapped traditional sweetened condensed milk for heavy cream to keep this fudge keto friendly.
What are different kinds of fudge?
Ever wondered what ingredients are in fudge? Fudge requires 3 ingredients: sugar, dairy, and butter. However, most recipes use chocolate or caramel. You can include mix-ins like marshmallows or nuts.
Grinch fudge is a Christmas seasonal fudge. It's green just like the grinch! It's a traditional fudge made with monk fruit instead of sugar, making it gluten-free and keto friendly.
Do you need to freeze fudge?
Since fudge is a cooked candy, it won't melt unless it's reheated to over 125 degrees. You can store your fudge at room temperature, in an air-tight container for up to 4 weeks, making it perfect for gifting during the holidays. You can also freeze keto mint chocolate fudge in an airtight container for up to 3 months, making it a perfect dessert to make in large batches.
Is fudge keto friendly?
Most traditional fudge recipes are not keto friendly. The standard ingredients for classic fudge call to use sweetened condensed milk which is high in calories and contains a staggering 166g of sugar per cup! Sweetened condensed milk is also high in sodium and high in carbs, making it not only an unhealthy option, but not suitable for those on a keto diet or diabetic. Our keto Grinch fudge recipe is made for diabetics and dieters who want to create a holiday keto fudge. It specifically is made with low carb ingredients like our sugar free mint chocolate chips and heavy cream to keep the carb count low & the flavor profile high!
Why is my fudge soft?
The softness of your mint fudge will depend on time and temperature. If you under cook your fudge, it won't have enough time to evaporate the cream, so you'll end up with extra soft fudge that doesn't set. On the other hand, if you cook too long or too hot, you can end up with fudge that is too hard. For the best fudge, you'll want to cook low and slow to ensure the proper temperature and cooking time.
How to make a mint swirl fudge?
Making a mint swirl fudge with our Grinch fudge recipe is easy! After pouring your sugar free peppermint fudge mixture into the loaf pan just lightly pour some melted white chocolate in and and use a wooden skewer to swirl it all over.
Why is my fudge grainy?
There are a couple of reasons for grainy fudge. Grinch fudge is candy, so one reason could be you're overcooking it. When you overcook fudge, it will cause it to not only become grainy but also have a hard texture. Another reason would be that you beat it or over mixed it before heating the mixture. When you over-incorporate the fudge ingredients, it doesn't allow the mixture to crystalize and become candy. This fix for grainy fudge is easy. Simply scrape the fudge back into the saucepan and add 1 ½ cups of water. Stir the mint chocolate fudge over low heat until it dissolves. Increase the heat to medium and bring it to a boil, but don't stir your fudge. Cook to temp and take off the heat for cooling.
Keto Christmas Fudge: Grinch Fudge
Keto Christmas Fudge: Grinch Fudge