Keto Chocolate Croissants - Sugar Free Recipe!
Enjoy these flaky and buttery keto croissants that have delicate layers and chocolate inside!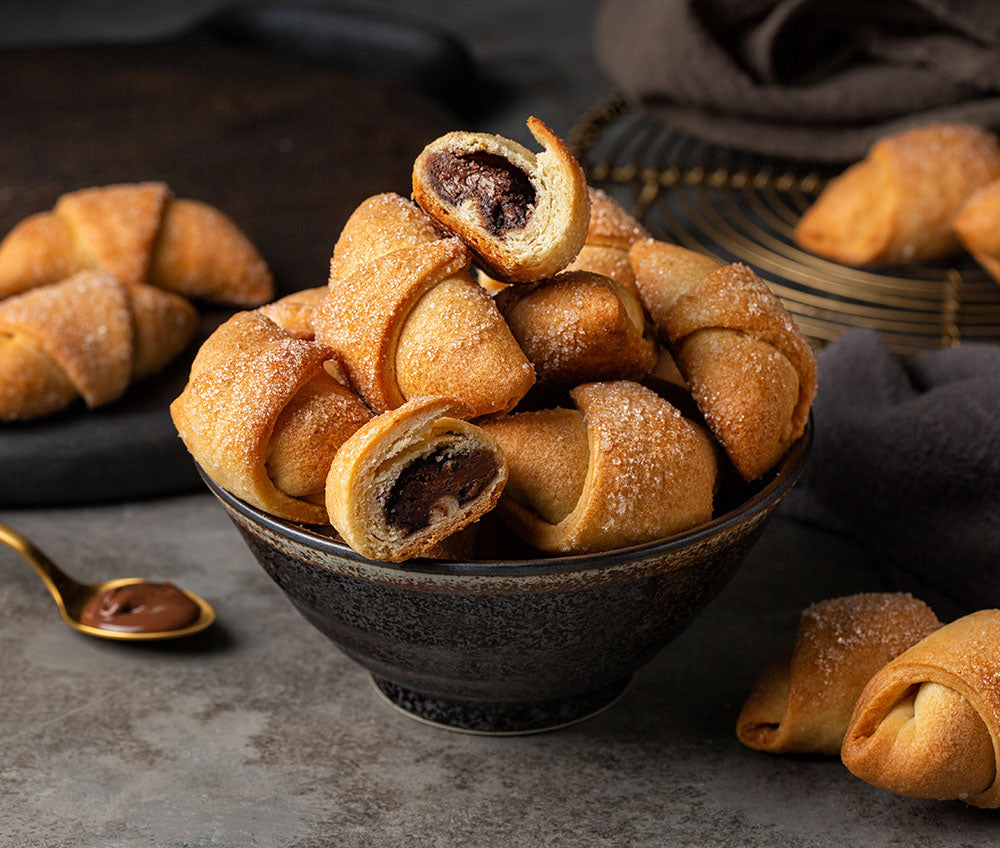 Nutella™ filled keto croissants are delicious, but the world's favorite chocolate hazelnut spread is filled with sugar. That's why we have a keto chocolate croissant recipe using ChocZero's sugar free hazelnut spread. Since it comes in milk chocolate, dark chocolate, and white chocolate the filling can be any of these flavors. You can even fill these puff pastries with our sugar free strawberry jam! Forget spending money on pastries at the coffee shop and make your own healthier version at home.
When is the best time to eat a chocolate croissant? Breakfast, snacks, and dessert: so basically whenever you want. The best part about these keto chocolate croissants is that they have no added sugar, which means this sweet pastry won't make you want to take a nap after eating it. Plus, it's full of healthy fat from the cheese in the fathead dough, which means it'll keep your energy going. It's a perfect recipe for anyone on the keto diet and for someone simply looking to cut down on sugar.
The trick to making truly flaky and buttery pastries is to make sure the ingredients don't get too warm while you're prepping them for the oven. If your kitchen tends to run a little hotter (especially in the summer) we suggest chilling the dough to make the cutting and folding process so much easier. That is also why we freeze the chocolate hazelnut spread before placing it in the pastry, so that it doesn't run out while baking. If you keep it cool, this low carb croissant recipe will be a breeze!
Jump to recipe sections:
Can you eat croissants on keto?
Yes, you can eat chocolate croissants on keto! While this coffee shop favorite is typically full of carbs and sugar, we have created a healthy croissant recipe that is keto friendly. These chocolate croissants are low carb because they don't include any added sugar and use a combination of keto friendly flour to bake the perfect, flaky treat.
The secret ingredient of these better-for-you pastries is our keto chocolate hazelnut spread that comes in three flavors: dark, milk, and white chocolate. We use the milk chocolate hazelnut spread in this recipe, but try dark chocolate for a rich flavor and white chocolate for a unique croissant.
Is Lupin flour keto friendly?
Lupin flour is a keto friendly baking flour that is high in protein and low in carbs. The lupin flour in this croissant recipe brings added protein to the mix so that the croissant can be soft and buttery while still being a healthy alternative. If you ever need to soften your keto bakes, consider adding in lupin flour to make low carb breads and other goodies.
Why use a combination of flours for keto croissants?
The best keto croissants use more than one low carb flour so that it can achieve the flaky, buttery texture that we know and love. Each flour has its own job while baking, so it's important to use all of them to make these low carb chocolate croissants turn out perfectly.
Does "fathead dough" work for croissants?
The classic keto fathead dough is perfect for baking croissants. It is a mixture of keto flour and cheese that helps create anything from pastries to pizza dough. Worried that fathead dough will taste too cheesy? If you use mozzarella, it will decrease the cheesy taste of the dough since mozzarella cheese is a neutral tasting cheese.
Why do you freeze chocolate hazelnut spread before baking in a croissant?
In a traditional chocolate croissant, the baker would use a chocolate baton in the middle, which is essentially a stick of solid chocolate. It helps ensure that the chocolate doesn't run out of the pastry while being cooked, so that's why we've frozen our chocolate hazelnut spread before folding it into a keto croissant. This allows the chocolate to bake evenly in the pastry.
Can you use other fillings for these low carb croissants?
Yes, you can fill keto croissants with many different fillings, or opt to make them totally plain. We like using our sugar free strawberry jam as a croissant filling, but you can also sprinkle in chocolate chips. If you're feeling very adventurous, try our keto cookie spread as a filling. It would be a perfect healthy treat for the holidays!
How to store chocolate croissants.
These low carb chocolate croissants are a meal preppers dream! You can make the dough and chocolate hazelnut batons the day before and store in the freezer and fridge until you're ready to bake. This will keep the croissant dough cold, which is essential for the flaky layers to form.
After baking, you can keep your leftovers in the fridge for up to five days. You can also freeze croissants and warm them up in the oven or airfryer before enjoying them.
Keto Chocolate Croissants - Sugar Free Recipe!
Keto Chocolate Croissants - Sugar Free Recipe!