Keto Breakfast Sandwich
Your next breakfast sandwich doesn't have to have a long wait in the drive-thru beforehand…you can make a keto version at home now!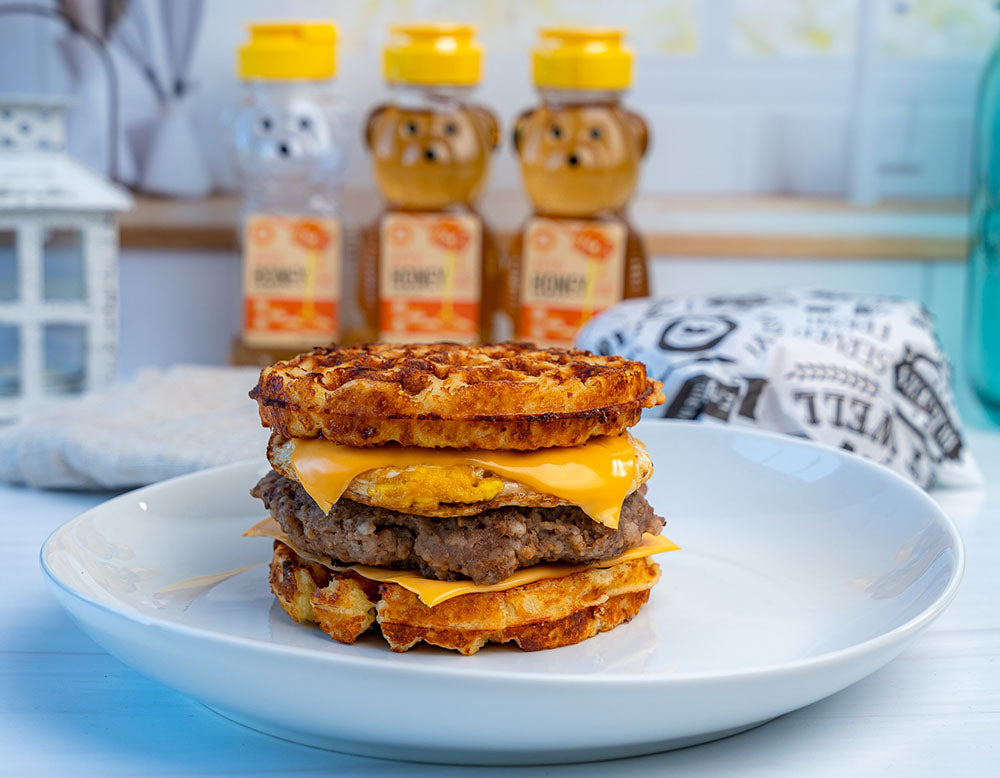 Looking for keto breakfast sandwich ideas? Let's face it, fast food restaurants have some of the best offerings in the early mornings: there's nothing like sausage, biscuits, and tons of cheddar cheese. But even if sausage patties are keto friendly and cheese is low carb, unfortunately it's always the McMuffin that breaks your macros for the day. That's why we've come up with a keto sausage breakfast sandwich recipe that's as easy as it's delicious–and you can even store them frozen for months at a time, helping meal prep your breakfasts of the future to be low in net carbs and completely gluten free thanks to the almond flour used in our breakfast buns.
We used the chaffle recipe that took the dieting world by storm a few years ago to make our low carb, fathead style biscuit in waffle form. You can always use store-bought keto friendly bread in a pinch, it toasts up great. But the real secret ingredient that no one else has is our sugar free maple syrup that's thick, heavy, and tastes sweet for a perfect contrast to the slight spice of sausage speckled with flecks of red pepper. There's nothing quite like this breakfast sandwich, perhaps we'll call it a McKeto!
The best part about this low carb breakfast sandwich is that variety is the name of its entire game. From what type of cheese you can use on a breakfast sandwich, to the type of protein, to even the style of egg. From scrambled eggs to sunny side up, a good breakfast sandwich can change daily. So go on, look for a bottle of our keto syrup, and go get some eggs–maybe bring along the cast iron and some butter to put on the sides of the bread or chaffle. Let's make a breakfast sandwich with bacon or sausage that's perfect for starting your morning off on track!
Jump to recipe sections:
What does a breakfast sandwich usually contain?
A breakfast sandwich usually contains breakfast meats, bread, cheese, and eggs. Cured meats are the most common as breakfast proteins, and some examples are bacon, sausages, and ham. In this recipe, we prefer to use sausage but you could do bacon or another protein easily with eggs.
What are chaffles made of?
A chaffle is made of eggs, almond flour, shredded mozzarella cheese, and baking powder to keep them keto. Chaffles are a portmanteau of cheese and waffle, combining to become the keto famous chaffle. Sugar free maple syrup is also used in this recipe to offset the salty flavor, adding a lot of sweet to this otherwise savory sammie. And then, the final ingredient is cheese, which is what gives most of the bread's body–and since you can't go wrong with cheese, it's a very tasty bread substitute! One bite and you'll be asking why did I enjoy McMuffins™ when I could just have a chaffle instead?
Are Jimmy Dean breakfast sandwiches keto friendly?
Jimmy Dean breakfast sandwiches are not keto friendly. Same with fast food options such as McDonald's Egg McMuffins™; usually the bread has many carbs and the sandwiches themselves are filled with processed ingredients and preservatives. Using almond flour and cheese makes the keto bread in these chaffles lower in net carbs, and making this recipe at home ensures that you can purchase your own ingredients that are not processed and don't contain the preservatives found in frozen and fast foods. The best part is with homemade breakfast sandwiches, you can still freeze them, so it'll certainly save you a lot of money in the long term!
What are the best keto meat options for breakfast sandwiches?
The best keto breakfast sandwich meat is sausage or bacon. But since keto is a carnivore diet, any type of meat works. If you want lower fat options, get out your lunch meat and have a turkey breakfast sandwich–or get chicken sausages for less calories and less fat! This Sausage chaffle contains all keto friendly meats, so you won't have to worry about following this one.
Can you make this keto breakfast sandwich vegetarian?
Yes, you can make this keto breakfast sandwich vegetarian! Simply remove the sausage patties and bacon, and voila! This sausage sandwich turns into a vegetarian breakfast sandwich. You can even add different layers of cheese, or a portobello mushroom which is keto friendly and can make up a meat-like consistency for extra texture!
Does McDonald's have keto breakfast?
McDonald's does not have a keto breakfast option. However, you can purchase low carb sandwiches from McDonald's such as the Egg McMuffin™, which contains a low level of net carbs if you need to make do. However, McDonald's biscuit sandwiches are not low carb, and therefore should be avoided. You can remove the bun/bread from McDonald's sandwiches to make them low carb as well!
How do I get my keto cheese waffle to have a more uniform texture?
You can get your keto cheese waffle to have a more uniform texture by using a more finely shredded cheese instead of shredded mozzarella! You can either use a smaller grater and shred it yourself, or try and cut up the pieces you already have.
What healthy keto breakfast fixings pair well with a low carb breakfast sandwich?
Healthy keto breakfast fixings that pair well with a low carb breakfast sandwich are avocado, a yogurt parfait, or nuts. You can either have the avocado inside of the egg sandwich, or on the side with salt sprinkled on top. A keto yogurt parfait made with plain unsweetened yogurt and sweetened with our sugar free honey is one of our favorite breakfast foods!
Can I freeze homemade breakfast sandwiches?
Store a low carb breakfast sandwich by placing it into an airtight container in the fridge. Consume your homemade refrigerated McGriddles™ for up to four days. Or, you can store them wrapped in the freezer for up to three months if you want them to last longer!
Keto Breakfast Sandwich
Keto Breakfast Sandwich