Keto Apple Cider Donuts
Fall is here and if you want the experience of visiting an apple orchard, these donuts are for you.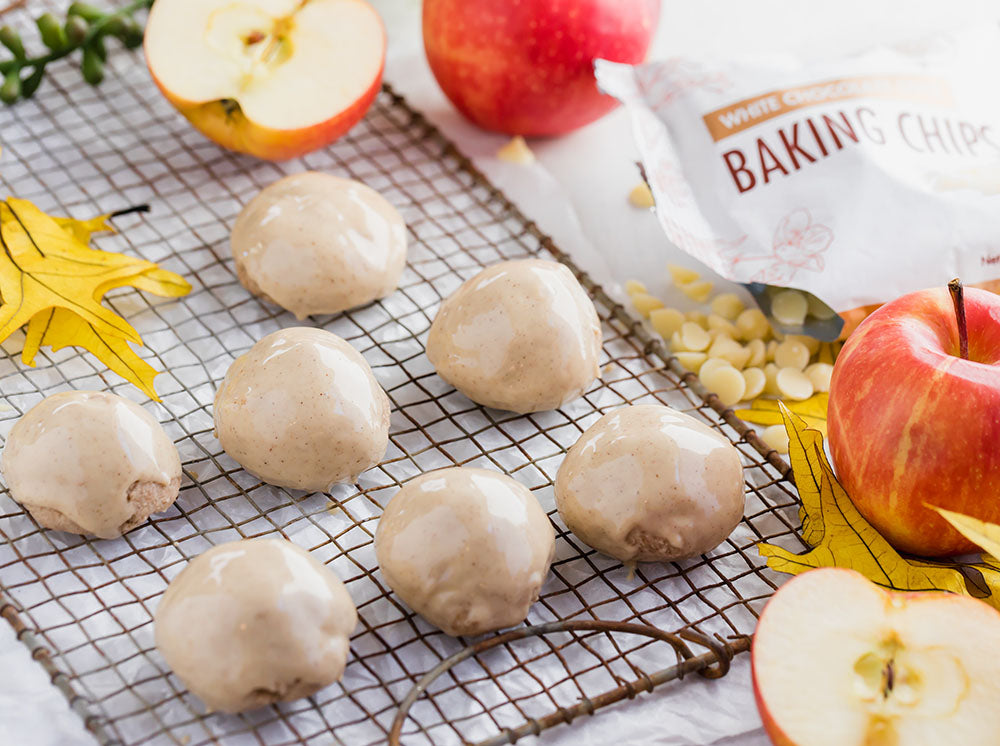 Hello, fall! 'Tis the season for visiting apple orchards and taking a sip of freshly squeezed apple cider. While apples are not keto friendly due to their high carbohydrate content, we like our lives to have the taste of autumn. The good news is that you can still enjoy the flavor of apples with these low carb apple cider donut holes. We added apple extract to replicate that taste of sugar cinnamon and sweet fruit all rolled into one delicious donut. The low sugar and carb count of these donut holes will put you in the fall vibe while still sticking to your macros.
What does a sugar-free apple cider donut taste like? It's like a keto apple fritter, but without the pieces of apple. This is a keto apple donut recipe that does not contain any zucchini or chayote, so if you don't enjoy the taste of those vegetables, no problem. We flavor these donuts with apple extract only. That leaves you with a low carb donut that is fluffy, a little cakey and overall delicious.
To top it off, we created a white chocolate cinnamon glaze to dip your keto donut holes in. We melted down our sugar free white chocolate chips and swirled in cinnamon to create the glaze. What's better than apples with cinnamon? Maybe a little chocolate, too.
Jump to recipe sections:
Are apples keto friendly?
Apples are not keto friendly due to their high carb count. One apple alone is enough to make a big impact on a keto dieter's daily carb allotment. That said, you don't have to give up the taste of apples completely! Recipes like this can bring that sweet taste back into your lifestyle.
Why are these called apple cider donuts?
Apple cider donuts are a seasonal treat that contain more than just the taste of fall, they taste like apples, too! Most are made with apple cider that's been freshly pressed at the local orchard, so we wanted to replicate that as much as possible. While apples are not keto friendly due to their high sugar content, you can use apple extract to add the taste to any of your baked keto goods.
Can you taste the apple in these low carb donuts?
Now, while some might say that apple cider donuts don't actually taste like apples, those people are wrong! The authentic apple cider donuts may not have as much fruit as an apple fritter, but they definitely still taste like apples. We made sure of that. Not to mention, this is a keto dessert that doesn't use chayote, so there's nothing getting between you and the flavor of apples.
What's the difference between apple cider donuts and other donuts?
Not all donuts are created equally. Whether you say "doughnut" or "donut" (like us), it takes one trip to the shop to see all the different kinds of fried dough. While your traditional donut is light and fluffy, this keto apple cider donut has a rich, cake-like consistency. Some might call these old fashioned donuts, but they're also known as cake donuts. We love these crumbly donuts and we like that you can bake them in the oven and they come out totally delicious.
What's the best way to bake apple cider donuts?
Donut holes can be baked on parchment paper so they don't stick to the pan. Once they're out of the oven, they actually continue to cook, creating a slightly crispy shell and a fluffy interior. If you want to check on the donuts, you can stick a toothpick in about a minute before the timer is up. If there's a couple crumbs on the toothpick, that means they are done.
Baked donuts do taste different from the ones you get at a shop. They're still delicious and fluffy, but definitely different! If you want to get closer to that deep fried taste, you can brush the donuts with melted butter as soon as they're out of the oven. It'll make the butter soak into the exterior of the donut, making it more decadent and crispy.
If you want to make full-sized donuts out of this recipe, we suggest using a silicone mold like this one. You can pipe the donut batter into the mold for a more even bake. These donuts will take longer to bake, try them at 9-10 minutes.
How do I glaze donut holes?
These low carb donuts have a white chocolate cinnamon glaze that's to die for. The first step to making a glaze is to melt down the white chocolate chips with coconut oil (or butter) by microwaving on a low setting for 30 seconds at a time and stirring in between intervals. Once the chocolate is melted, mix in the cinnamon and get ready to glaze.
The best way to glaze the donut holes is to pick each one up and roll them around in the glaze bowl. That way you can cover as much of the donut as you want. We suggest shaking off extra glaze and then placing it on parchment paper or wax paper.
If you're making this recipe into full sized keto donuts, we suggest sticking a thick skewer in the hole of the donut, placing the donut in the glaze, and then making circular motions with the skewer so the top of the donut is totally covered with the glaze. From there you can shake off excess glaze and transfer to a sheet covered with parchment paper.
How to store keto donut holes.
You can freeze donut holes by packing them in a Ziploc bag at room temperature. We suggest not frosting the donuts before freezing, since that can complicate the thawing process. Plus, the fresh glaze will make it hard for anyone to know that they were previously frozen. If you plan to eat them all, you can keep the donuts on the counter for up to two days and in the fridge for five.
Keto Apple Cider Donuts
Keto Apple Cider Donuts