Carbquik Keto Chocolate Chip Cookies
Make the perfect keto chocolate chip cookie with Carbquik mix.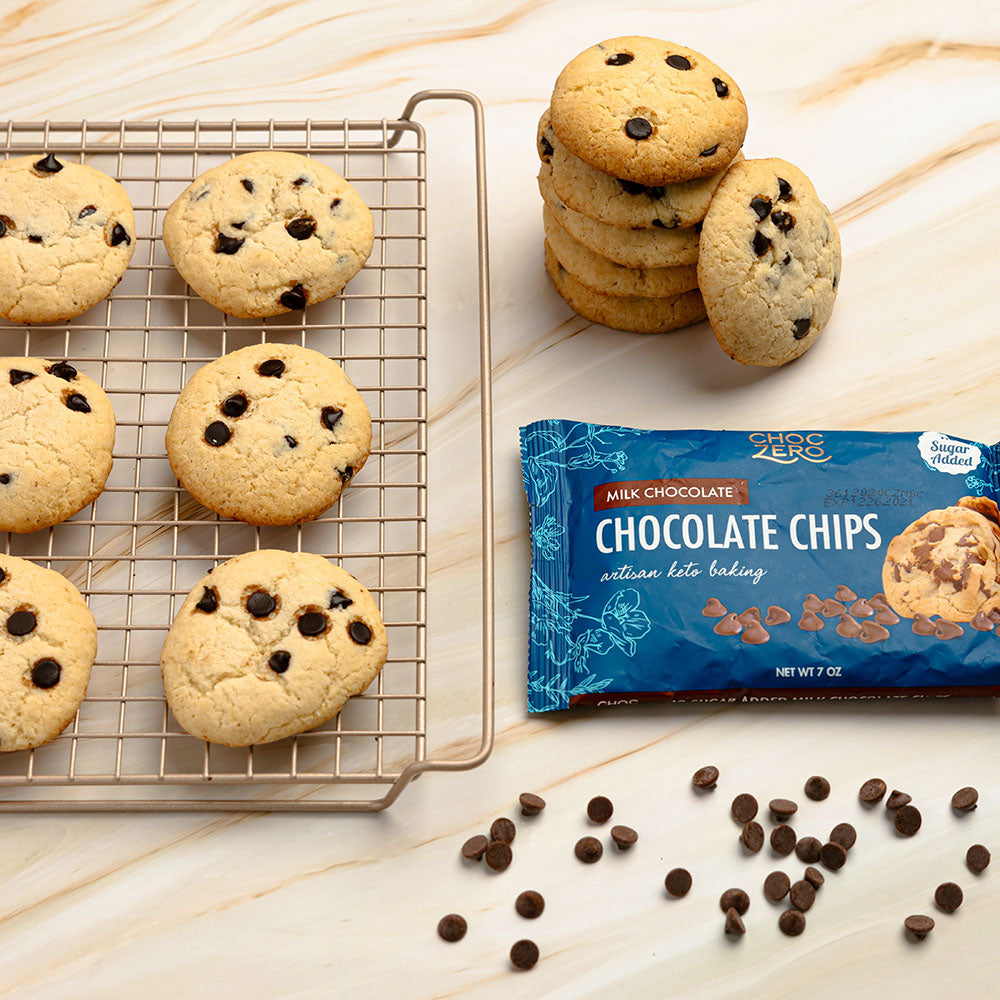 If you've got a box of Carbquik waiting for you in the pantry and you're not sure what to make with it, try these Keto Friendly Carbquik Chocolate Chip Cookies. They're soft and delicious, made with our sugar free chocolate chips. We love how easy it is to make these low carb cookies and how tasty they are. Carbquik is a keto-friendly flour made from wheat (known as carbalose flour), which helps make the cookies taste like the ones you remember from your childhood.
We love how Carbquik is an easy tool for those starting out on their keto journey. It makes low carb baking so much more accessible and creates cookies that have a similar taste and texture to regular flour cookies. Plus, it pairs amazingly well with our keto-friendly chocolate which is low in sugar and carbs thanks to our monk fruit sweetener. With zero added sugars, you can bake knowing that you'll be creating a tasty treat that will fit into your lifestyle perfectly.
And if you'd rather be gluten free or try a different kind of keto friendly chocolate chip cookie, we have great news for you! We've created the Ultimate Keto Chocolate Chip Cookie Guide that shows you every way to bake the perfect cookie.
Jump to recipe sections:
What is Carbquik?
Carbquik is a baking mix that is low carb and can be used in anything from chocolate chip cookies to pizza crust. It's a keto-friendly replacement for regular flour with the main ingredient being carbalose flour. What is carbalose flour? It has about 80% less carbs than regular, all-purpose flour. It's made from wheat flour, so it does have gluten, but has high fiber that helps bring the total net carbs down. If you don't have Carbquik, try other carbalose flour or King Arthur's Keto Wheat Flour.
Can Carbquik be used in place of flour?
Yes, you can use Carbquik in place of regular flour. Usually it can be one-to-one, but if you noticed that the batter is drier than usual, you might want to add a little moisture.
What does Carbquik taste like?
Carbquik tastes a lot like Bisquick!
What is boba tea?
Carbquik cookies made with our sugar free chocolate chips are low in carbs and sugar. That means you can enjoy the taste of chocolate chip cookies without worrying about messing up your macros or having a sugar crash. There's also lots of healthy fiber in this keto chocolate chip cookie recipe, so these cookies will make you feel more full than a regular cookie.
What are the best sugar free chocolate chips to use for keto cookies?
The best chocolate chips for your keto cookie creations are our sugar free baking chips. We don't use any sugar alcohols that might cause tummy issues or have a weird aftertaste. Instead, we sweeten with our monk fruit blend. We also use real cocoa beans, so nothing is getting in the way between you and your chocolate. We also have a bunch of flavors like milk, white, and dark chocolate. Not to mention some seasonal flavors like sugar free strawberry chips.
Can you use an alternative flour besides Carbquik?
Yes, you can use other flour besides Carbquik. If you want a gluten free option, check out our other chocolate chip cookie recipes here. You can use anything from almond flour to keto cake mix.
How to store your low carb chocolate chip cookies.
You can keep your cookies in an airtight container in a cool, dry place in your pantry. No need to refrigerate. If you want to freeze keto chocolate chip cookies, you can let them cool completely, place them in a freezer bag and freeze them for up to three months.
Carbquik Keto Chocolate Chip Cookies
Carbquik Keto Chocolate Chip Cookies