Adult Grilled Cheese Sandwich With Keto Bread
Make a keto grilled cheese sandwich more adult by adding in other cheeses like brie and using sugar free strawberry jam.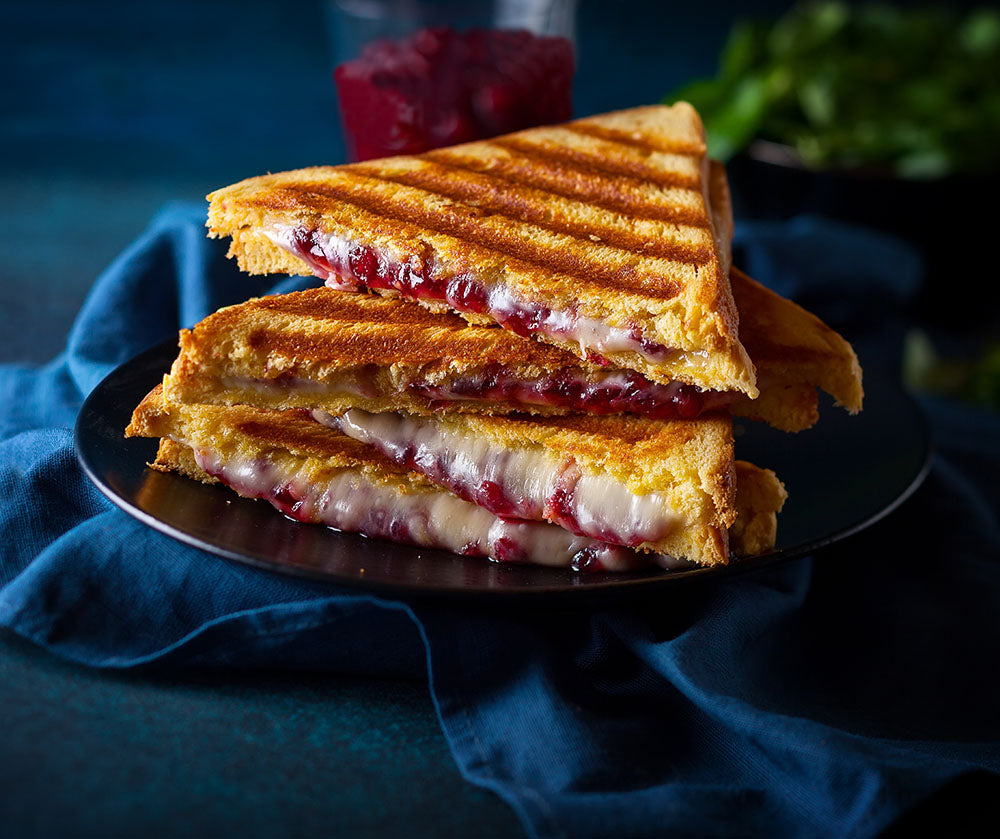 We took a traditional grilled cheese sandwich and make it low carb by using keto store bought bread. And if you want, you can ditch American cheese for a tangy brie or gorgonzola to make it an adult keto grilled cheese sandwich. We love the gooey, melty nature of brie cheese which has a mild flavor that works perfectly when paired with extra ingredients like bacon. That's right, this grown-up grilled cheese sandwich not only has brie and bacon, but we've also included our sugar free jam that helps cut through the decadence of the cheese and saltiness of the bacon.
This sandwich tastes fancy, but only takes minutes to make which helps grown-ups save time when making a healthy lunch on their office break. If you have leftover bacon you can add it to the sandwich instead of making a fresh batch or skip it all together, any ingredients work! You can also use whatever cheese you might have in your fridge, but we prefer brie because it melts well which means you won't burn your toasted keto bread!
Jump to recipe sections:
What's the best keto grilled cheese sandwich?
This brie and bacon grilled cheese sandwich is the best keto sandwich ever. It is salty, cheesy, and has a secret ingredient: our sugar free strawberry jam. The sweetness of the jam pairs perfectly with the silky brie cheese and salty bacon. It's the ultimate low carb grown up grilled cheese sandwich because it takes this nostalgic classic to the next level.
What goes good on a bacon grilled cheese sandwich?
If you're on the keto diet, you might have meal prepped a whole batch of bacon to eat as an easy snack or add to meals. This means naturally you want to make a low carb, high fat bacon sandwich! This keto grown up grilled cheese sandwich is perfect for any leftover bacon you might have in the fridge. Simply add your leftover bacon to the sandwich and skip the step where you make it on the spot!
The best part is you can get creative here. Our strawberry jam pairs well with any type of sandwich and you can always add tomatoes or even turkey to make this grilled cheese into a melt worthy of accolades.
What temperature do I make keto grilled cheese sandwiches at in the air fryer?
You might think that the only way to get super crispy bread on a grilled cheese sandwich is to cook on a high heat. That's not true! When you're melting cheese on bread, the best thing you can do is keep the temperature at medium so that the cheese has time to melt without burning the bread.
For a stove top, put your burner on medium heat and check to make sure it's not getting too hot. For an air fryer, cook at 360 degrees for 6-8 minutes. It's great to make a keto grilled cheese in the airfryer to save time, no need to worry about flipping it!
What can I use besides butter for grilled cheese?
There is a huge debate among grilled cheese sandwich fans over what to spread on the bread. So, what's a better sandwich spread for a grilled cheese: butter, mayo, or even oil? It's a taste preference at the end of the day. But, to be honest, we prefer butter. Why do we use butter to make a grilled cheese sandwich? Butter creates a wonderfully rich taste while crisping up the bread. We like the high fat content of butter for the keto lifestyle.
Of course, you can always make it without any extra fat. An airfryer keto grilled cheese will be lower in fat which can be good for people who need less in their diets.
Are adult grilled cheese sandwiches keto friendly?
You might think that grilled cheeses are keto friendly, but what about extra toppings that makes them for a true foodie?
Well, bacon is keto friendly and so is brie cheese. But the best part is that other healthy toppings for melts like strawberries are keto friendly! They are low in sugar and high in fiber, so they're perfect for anyone on a low carb diet. Our sugar free strawberry jam makes an easy addition to this grown up grilled cheese melt because it adds some sweet to mix in with the saltiness of the meat and cheese.
How can I turn my grilled cheese sandwich into a keto melt?
What can you add to this keto grilled cheese sandwich to make it the best melt? You can sprinkle some arugula in there if you want some greens. You can also swap the brie for a different kind of cheese if you don't have any. The best cheeses for grilled cheese are brie, monterey jack cheese, and havarti! These cheeses melt fairly well. We also suggest finding some delicious keto bread, but you can also make this into a keto quesadilla as well.
One thing you can't skip is the sugar free jam! It might seem like a strange thing to add to a grilled cheese, but once you try it you won't want to live without it. The strawberry jam makes this sandwich taste like a grilled Monte Cristo. That said, if it's the holiday season and you want to use up some of that leftover sugar free cranberry sauce and turkey, you can put these on the sandwich with brie and bacon to make it a Thanksgiving leftover sandwich.
Adult Grilled Cheese Sandwich With Keto Bread
Adult Grilled Cheese Sandwich With Keto Bread