Sugar Free Irish Cream Liqueur
A sugar free irish cream recipe made keto friendly by using our chocolate chips!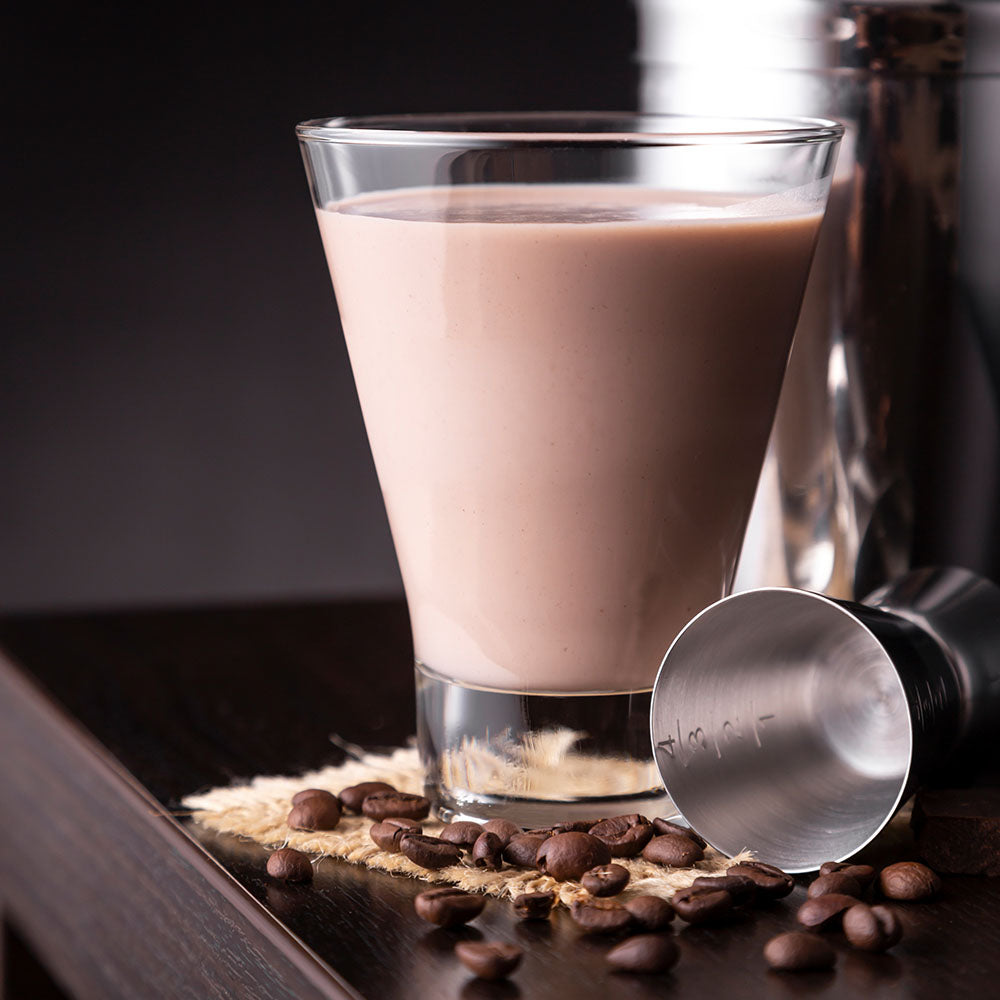 This sugar free Irish cream recipe is a copycat for Baileys™ that is keto friendly. It's the same low carb Irish cream flavor without all of the extra sugar and carbs. It's delicious served as a cold brew Irish cream or on the rocks during the holiday season. Irish cream is a popular liqueur that uses chocolate, Irish whiskey, and cream to create a subtle cocoa spirit that's sweet and chocolatey–by using low carb chocolate to sweeten our keto version of Baileys™, it has significantly lower net carbs than sweet spirits.
While traditional Irish cream cocktails are not keto friendly, this sugar free Irish cream is a perfect replacement. You'll never miss the high carbs most cocktails contain and it's a perfect winter treat when making a Starbucks™ Irish cream cold brew at home–just leave out the alcohol!
Sugar free Irish cream is easy to make, and can be stored for several days in the fridge. It's great with traditional whiskey, but it also works on its own for mocktails and beverages like coffee.
Jump to recipe sections:
How does Starbucks™ make Irish Cream cold brew?
Traditional Starbucks™ Irish Cream cold brews are a dreamy holiday drink that start with a base of cold brew coffee. Next they add in Irish Cream Syrup and top with Irish Cream cold foam. Both of these additions are full of traditional sugars and carbs. They also cost a lot. Lastly, Irish Cream cold brews are topped with a cocoa powder. While these drive-thru Irish Cream cold brews are delicious, our sugar free Irish Cream is a perfect keto option to make a yummy cold brew in the comfort of your home all year round!
Irish Cream is a recent trend for Winter months. It's not as popular as pumpkin spice, but has begun to have its own following. It's important as we make Irish cream to realize we can sweeten it without sugar to have a diet version that is great.
Is Irish Cream sugar free?
Original Bailey's™ Irish Cream is not sugar free. In fact, their Irish Cream has about 10g of sugar per 1.5 fluid ounces. Our keto Irish cream recipe has the same creamy taste, but sugar free!
There are also sugar free store-bought syrups for Irish cream. However, sugar free processed Irish cream syrup uses sucralose and has a horrible aftertaste. This is why you should make homemade Irish cream using our recipe for a better syrup and cream blend!
How to make Irish cream cold brew at home?
You can make Starbucks™ Irish cream cold brew at home by making your own Irish cream. It is easy to make homemade Irish cream and it tastes better than store bought – plus our version has only 1g of sugar and it's from the dairy! Our keto Irish cream recipe is sugar free and goes perfectly with your morning coffee. To make a cold brew at home, coarsely grind 1 cup of your preferred coffee beans and steep for at least 12 hours in 4 cups of water. Once you wake up, add ice and a coffee cup of your cold brew to a glass. Splash in our sugar free Irish Cream and enjoy!
Is Irish whiskey low carb?
Yes! Like most pure forms of alcohol, Irish whisky has 0 carbs and is a great alcoholic choice for a keto diet. A good Irish whiskey will make the flavor of your Irish cream even better, but you can totally buy any brand–this is a drink that has a heavy cocoa taste, so the quality of whiskey is not as important.
What does Irish cream taste like?
Unlike what one might assume, Irish cream does not taste like mint. Irish cream tastes like a blend of sweet vanilla and hints of chocolate flavors. Irish Cream also has a slightly milky, nutty flavor and a rich, creamy consistency that makes it the perfect compliment to a strong cold brew coffee or Irish whiskey. Irish cream is a great flavor for December and January, and it goes well in both hot and cold beverages. It is a trending flavor for 2022.
What's liqueur vs. liquor?
In the most basic sense, liqueurs are diluted and sweetened versions of liquor. Liquors are alcohols that have fermented and been distilled. This purer form causes liquor to have a higher alcohol content of 40 to 55 percent compared to liqueur, which have added ingredients and are typically 15 to 30 percent alcohol by volume. Another distinction between liquor and liqueurs is the added sweetness. Liqueurs, also know as cordials, start with a liquor base, but have added spices, herbs and sweeteners that can be served as-is. Because many traditional liqueurs have added sugar, they're typically not suitable for a low carb diet. Our keto Irish Cream recipe has no sugars and is suitable for a low carb lifestyle. The best part about this is that it's homemade so it saves you money!
Is Irish Cream gluten free?
Baileys™ Irish cream is not gluten free. That is why we advise you to consider making homemade Irish Cream. Our sugar free Irish Cream liqueur is completely gluten free! All ingredients used in our low carb Irish Cream recipe, including the Irish Whisky are celiac friendly and keto friendly.
How do you make a keto Irish cream syrup?
To make a keto Irish cream syrup, use our recipe for keto Irish cream–just leave out the alcohol. Over medium heat, stir together our sugar free chocolate chips, heavy cream, sugar free honey, instant espresso and vanilla extract in a saucepan. Stir until the chocolate chips have melted, about 2 minutes. Once incorporated, you're done! Allow the Irish Cream syrup to cool and then add into any mocktail or morning coffee.
Sugar Free Irish Cream Liqueur
Sugar Free Irish Cream Liqueur