Keto Double Chocolate Cupcakes
Keto double chocolate cupcakes are filled with sugar free chocolate hazelnut spread and topped with cream cheese frosting.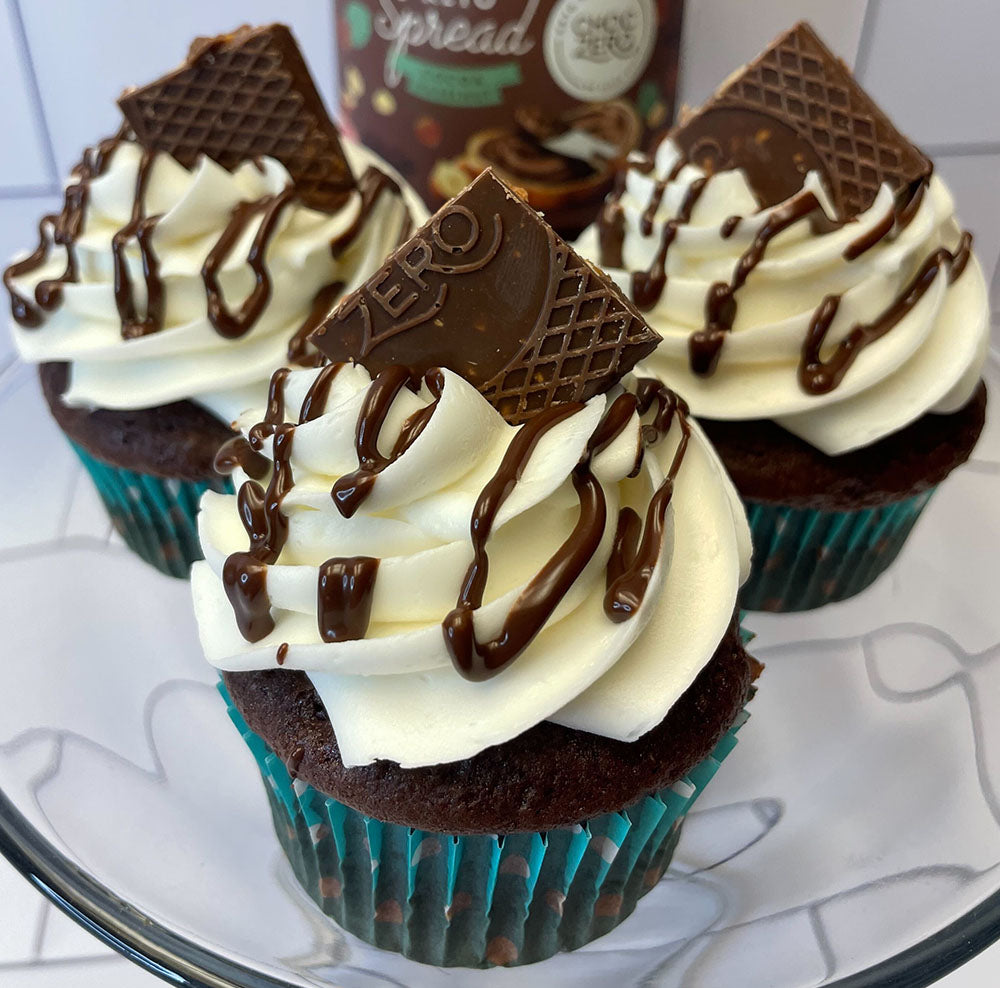 The only thing better than a keto chocolate cupcake is a keto double chocolate cupcake. What does that mean? A keto double chocolate cupcake is a low sugar chocolate cupcake that's full of our keto chocolate hazelnut spread. This moist and soft keto chocolate cupcake is not only filled with chocolate, it has a sugar free cream cheese frosting that pairs well with the richness of the chocolate. This is not a dry almond flour cupcake because the batter not only has cream cheese, but melted sugar free chocolate chips. These create a truly soft and decadent low carb cupcake that's keto friendly and low in sugar.
If you've never tried to bake a filled cupcake before, don't worry. It's so easy to make a keto cupcake with an infused filling of more chocolate. All you have to do is bake your cupcakes, let them cool, and then core out the center with a melon baller, cupcake corer, or a butter knife. Then, you add the sugar free hazelnut spread and top with keto cream cheese frosting. From there you can add even more chocolate by crumbling milk chocolate caramel keto bark on top and drizzling sugar free chocolate syrup.
These keto cupcakes are perfect for an office party or meal prepping dessert for the week. They last in the fridge for five days, so you can easily make them ahead of time and enjoy them later.
Jump to recipe sections:
Can I eat a cupcake on keto?
Yes, you can bake your own keto friendly cupcakes. If you've picked up a cupcake at the bakery and checked the nutritional facts, you probably know that they're usually filled with sugar and carbs. That said, being a keto baker means taking the classic baked goods and making them low carb and better-for-you. Keto baking is easy once you start learning how to and these low carb cupcakes with keto chocolate hazelnut filling are perfect for anyone to make!
How can you make keto cupcakes soft and moist?
Almond flour can make any keto baking project a little dry, so the trick is to add some moisture to make it soft and decadent like a bakery cupcake. We use cream cheese in the batter, along with our sugar free chocolate chips melted down into a gooey chocolate sauce. With these two ingredients, you can make keto chocolate cupcakes that have a delicate texture and taste so yummy.
How full should cupcake liners be when adding batter?
The last thing you want when baking keto cupcakes is an underfilled or overfilled cupcake liner! We suggest filling each cupcake liner with batter until it's about 2/3rds full.
How do you hollow cupcakes for filing?
The easiest way to hollow out a cupcake for filling is to wait for the cupcake to cool and then use a cupcake corer. If you don't have one, you can always use a melon baller, apple corer, or gently use a small knife to cut a hole. Once you've created a hole, you can use a piping bag to add your filling. Make sure to not overfill your cupcake.
Can you fill cupcakes before baking?
We recommend letting your cupcakes bake and then cool completely before creating a hole for filling. While our keto chocolate hazelnut spread can be baked in any dessert, it's best if it's added after the cupcake is baked so it does not mix with the batter.
How to make the perfect sugar free cupcake frosting.
A keto cupcake isn't complete without some sugar free frosting. Since this double chocolate cupcake is filled with hazelnut spread and is made with melted sugar free chocolate chips, we decided that a sugar free cream cheese frosting would make the perfect topping. We've also poured on some of our sugar free chocolate syrup and crumbled a keto bark on top just to make it so extra!
How to store low carb cupcakes.
You can store these keto cupcakes in an airtight container in the fridge for up to five days. We suggest immediately serving them otherwise.
Keto Double Chocolate Cupcakes
Keto Double Chocolate Cupcakes