Keto Thin Mints
These homemade keto copycat thin mints taste just like the real thing! Plus, they're gluten free and made with almond flour!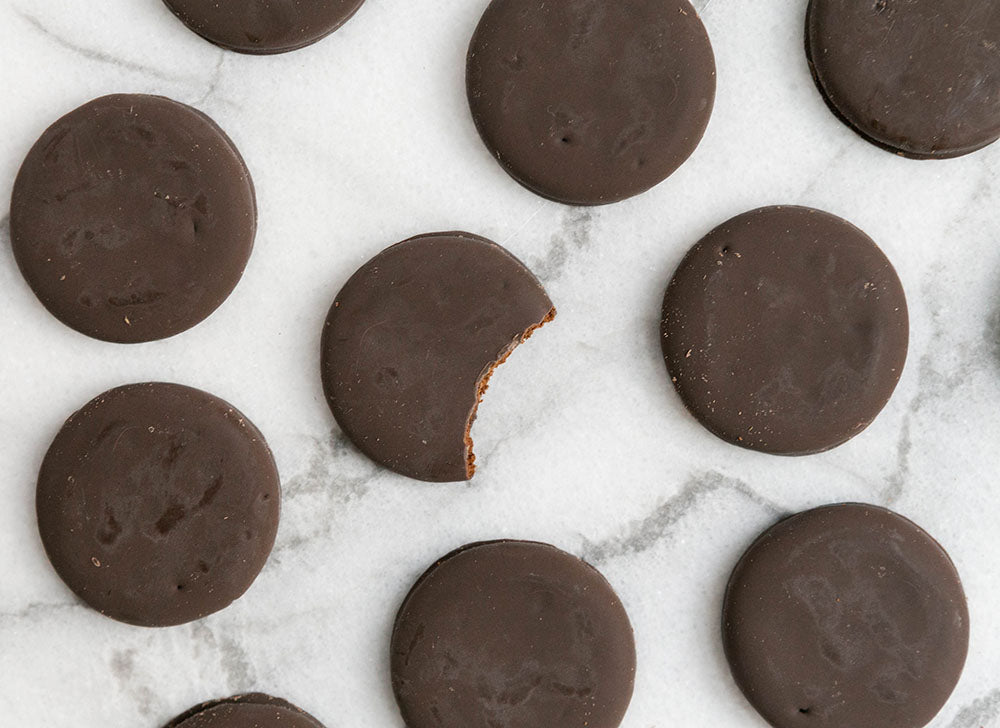 Girl Scout™ cookie season is a hard time for anyone on a diet–that's why we've got an easy homemade keto thin mints recipe that will make it easy to say no thanks to picking up a box (or twenty) of these addictive minty cookies.
Our low carb fudge mint cookies are made with almond flour and covered in a layer of our sugar free chocolate chips. And trust us, you won't be missing anything with this gluten free version of the Girl Scouts™' most popular cookie: our premium chocolate can make this iconic cookie taste even better than the Girl Scouts™' version. A high quality chocolate brings out the delicious contrast of chocolate and peppermint, a pairing that's easily one of the best in the dessert world.
The best part about making homemade thin mints is that you can make them extra special for any occasion. Drizzle some white chocolate on top of these mint cookies or try adding different types of cacao percentages to make your gluten free thin mint have a decadent taste like our 92% chocolate squares.
One thing is for sure: you can't go wrong with a good Girl Scout™ cookie copycat. This way you won't have to break your macros and can stay low in net carbs when those adorable scouts come knocking on your door. Just be sure to keep your baking aspirations in mind as you drive to the store to pick up your ingredients for this sugar free fudge cookie recipe–they might try to wave you down while you're shopping for keto friendly baking supplies! Resist the temptation and bake with us instead in a healthier way.
Jump to recipe sections:
What are thin mints?
Thin mints are the top-selling cookie of the Girl Scouts™. They are crispy, crunchy cookies that are covered in a layer of decadent chocolate. They are flavored with peppermint oil and are known for a subtle peppermint flavor that pairs boldly with dark chocolate.
Are there any keto Girl Scout
™

cookies?

Sadly there are not any keto friendly Girl Scout™ cookies. That's why we made this delicious recipe for Keto Thin Mints so that you can resist temptation when a scout comes knocking with her cookie boxes! We also have more Girl Scout™ Cookie copycat recipes to ensure that those looking for zero sugar recipes can still enjoy the nostalgia of these infamous fudge mint cookies without breaking their dietary needs.
Are Girl Scout
™

cookies okay for diabetics?

Due to their high sugar content, Girl Scout™ cookies are not okay for diabetics. The Tagalong® and Peanut Butter Patties® varieties of cookies keep both sugars and total carbohydrate lower than other flavors–but they're still a wild 13g net carbs per cookie, which is completely against many low sugar diets' strict protocols. It's better to make homemade cookies and that's why we have this Girl Scout™ cookie recipe for diabetics.
What's the difference between a Grasshopper® cookie and Thin Mints?
Keebler™ Grasshopper® cookies and Thin Mints are made in the same factory so there is not much of a difference between this grocery store cookie star and the seasonal top-selling Girl Scout™ cookie: the thin mint. Grasshoppers® have the same beloved chocolate cookie covered in even more chocolate, but unlike a Girl Scout™ Thin Mint cookie, they have a thicker layer of fudge coating on the outside making them a little more chocolatey. It's almost hard to call them a Girl Scout™ knock-off because they actually came before the Girl Scouts™ made their cookie, how's that for an interesting fact?
Can I use unsweetened chocolate to coat homemade thin mints?
We strongly suggest you do not use unsweetened chocolate to make thin mints. A big part of thin mints are their delicious chocolate exterior so it really needs a premium chocolate to help create this traditional taste profile. However, you can always use different flavors of chocolate to make your homemade thin mints! We have a variety of keto chocolate baking chips that will fit the bill: we suggest trying layers of chocolate for a special version of a keto thin mint cookie. Make one layer dark chocolate and another white chocolate, as both of those chocolate types go very well with peppermint oil.
Can I use spearmint instead of peppermint in a Thin Mints recipes?
Thin Mints use peppermint oil to create their fudge mint chocolate taste. Spearmint and other types of mint will not taste as good and may end up having an off-putting taste when combined with chocolate.
My thin mint chocolate coating seized, what did I do wrong?
If your thin mint chocolate coating has seized, then it may not have enough liquid added. Adding some more liquid such as water will help to dissolve the sugar and cocoa in the clumps. This will help it to get to a more fluid consistency again.
Should you chill your thin mint dough?
Yes, you should chill your thin mint dough before you make the cookie. In general, putting cookie dough made with almond flour in the fridge before you bake will help make a better cookie that's closer to its wheat counterpart. Gluten free cookies are sensitive to bake with and this recipe's steps will help lead you to success while making a perfect gluten free thin mint!
Are keto thin mints easy to make?
Keto thin mints are easy to make if you follow this recipe! Our cookie recipes do not take much time, and the best part is that it is super clear to follow. With this how-to make keto thin mints guide, you should come up with a low carb version of thin mints that taste just like the minty-chocolate cookie goodness you usually treat yourself to during Girl Scout™ cookie season.
Are thin mints dark or milk chocolate?
Thin mints are dark chocolate, not milk chocolate. However, you can use any type of chocolate in this recipe: white chocolate thin mints are a great alternative to a regular thin mint as white chocolate's subdued flavor lends to peppermint's spirited profile and creates a yummy dessert.
What is the best way to store homemade thin mints?
The best way to store homemade thin mints is to use an airtight container. You should freeze them for longevity, as they can last months if you choose to do so. However, if you will eat them within several days, we recommend keeping them in a cool, dry place like a pantry if you'd like them room temperature on hand. And as we mentioned earlier, our chilled thin mint lovers can keep them in the fridge until they want to eat them!
Keto Thin Mints
Keto Thin Mints