Keto Protein Waffle Without Whey
Make a carnivore waffle that's stuffed with breakfast sausage or bacon and perfect for any meat lover.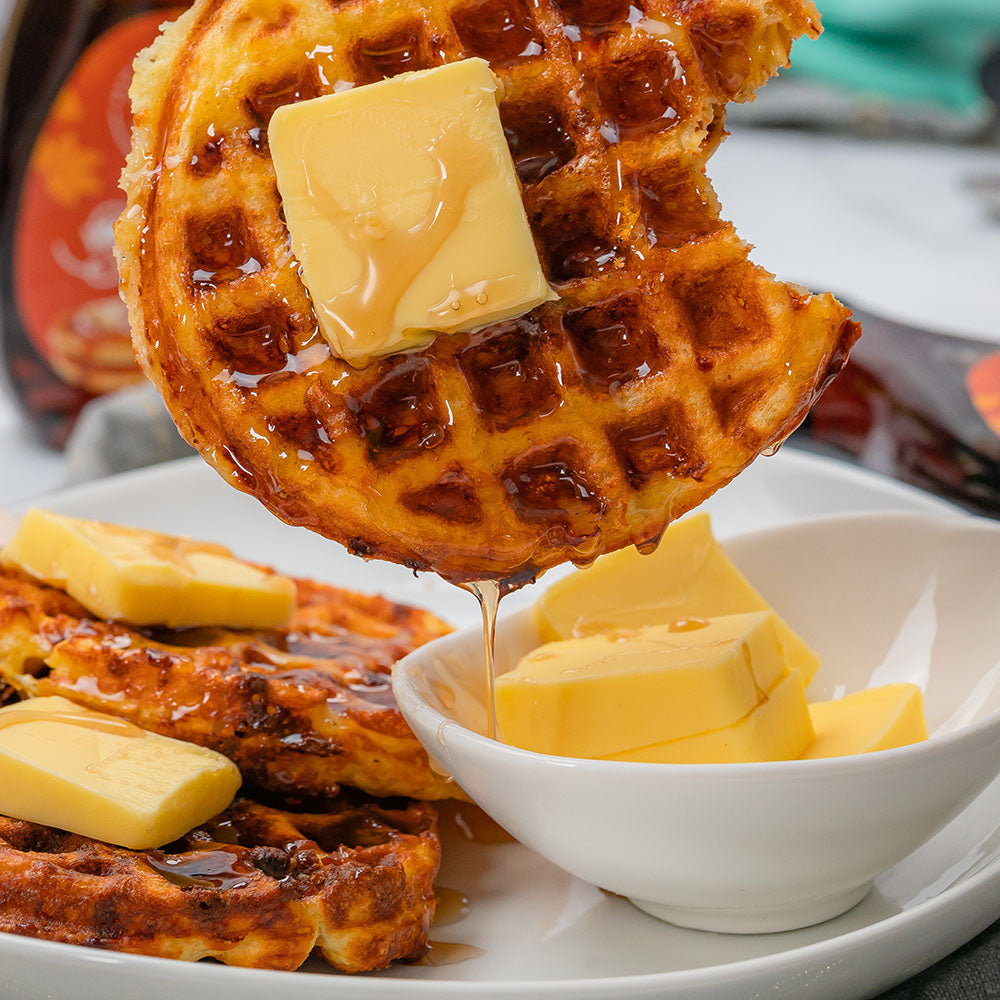 A meat lover's breakfast isn't complete without high protein, so we made these keto waffles stuffed with breakfast sausage to add some delicious natural protein to start your day off strong and with energy! It's a quick and easy breakfast recipe that takes minutes to make and can be meal prepped for the entire week. While there are keto frozen waffles like Birch Benders™, you can make your own with just a few ingredients that are healthy and fresh. You'll love the cheesy, savory taste of these sausage waffles that are totally keto friendly and low carb. What makes a waffle keto? We swap out the sugar and carbohydrates for cheese and keto friendly coconut flour. We use no almond flour to be allergy safe. This creates a "chaffle" which is just a keto way of saying a waffle made out of cheese and eggs. But, since we love having a grand slam breakfast, we decided to stuff these chaffles with meat to make them a satisfying and healthier breakfast than a plate of waffles at the diner.
If you're wondering how to eat these carnivore waffles, it's simple! Just take some of our sugar free maple syrup and pour it all over. There's nothing like the taste of waffles and sausage covered with maple syrup and this is how to make your favorite breakfast waffles keto friendly. If you don't love sausage, you can also add chopped crispy bacon to the batter or even ham. We love keto sausage balls, but you can make these protein waffles in your own style.
Jump to recipe sections:
How to make waffles keto friendly?
Classic waffles are not keto friendly due to them being high in carbs and sugar. Since carbohydrates can kick you out of ketosis, it might seem impossible to have waffles for breakfast but we like to have protein waffles as a great solution. Using protein rich ingredients, you can create a keto copycat of Belgium waffles using just a few ingredients. These are healthy waffles that will keep you full all morning instead of sugar crashing by noon. Instead of a lot of flour, you can use cheese (either mozzarella or cheddar) to create a delicious waffle that is keto friendly. Make sure not to choose a strong cheese as it will make your chaffle taste too cheesy (sorry, bleu cheese probably will not work in a chaffle).
Since we are adding sausage to these chaffles to make them carnivore friendly, you might prefer the taste of cheddar cheese paired with breakfast sausage. However, if you'd like a more mild flavor, try mozzarella cheese which doesn't have an overpoweringly cheesy taste.
What goes into a chaffle?
A classic keto chaffle consists of egg, cheese, and keto friendly flour such as almond or coconut. We decided to up the healthy fat content of these chaffles and add breakfast sausage to the mix. You can also add cooked chopped bacon or ham instead of sausage if you want. We love the flavor of sausage and eggs as a breakfast, but we wanted to have a different breakfast to change up our keto meal prep, so we recreated the breakfast in a chaffle form!
What type of protein is best for keto baking?
There's many ways to add protein to make healthy desserts. You can use whey protein powder in recipes by replacing every 1 cup of flour for ⅓ cup of protein powder. You might need to experiment with the recipe a little to get the moisture right, but it works the best with pancakes or brownies. Another great way to add protein to a recipe is to add powdered gelatin. We find that it can help make chewy chocolate chip cookies!
We know what you're thinking– how many instant shakes and how many protein shakes should you have in one day? Honestly, you don't need any of them if you have these protein waffles! Natural protein from sausage helps keep you full longer and it tastes way better than a meal replacement shake.
What is a coconut flour waffle?
You might have noticed that some keto waffles use almond flour, while others use coconut flour, while others might use a mixture of both. We like almond flour for our keto baking, but coconut flour is a great option for those allergic to nuts. We decided on coconut flour to make it more allergen friendly and also we found that coconut flour is a little drier, which means it works great with the ooey gooey cheese. Coconut flour can also add even more protein to your recipes!
Do chaffles taste cheesy?
No, chaffles don't taste cheesy. If you use a mild cheese like mozzarella or mild cheddar, you can avoid making your chaffle taste too cheesy. If you do want that savory keto meal, you can use a sharp cheddar cheese, which we think tastes delicious with sausage. Using a cheesy base can also make a yummy chaffle pizza.
How can you add protein to your keto diet?
There's lots of ways to add protein to your diet: drink protein shakes, eat foods rich in protein, and find easy snacks that are full of protein. You can also make smart, healthy choices with natural protein like this protein waffle. There's nothing more satiating than natural protein!
Can you meal prep carnivore waffles?
You can absolutely meal prep these low carb sausage stuffed waffles. They are perfect for making ahead of time to eat as breakfast or a snack all week. Just remember to heat them up in the microwave or air fryer and pour some of our sugar free maple syrup on top!
What are keto sausage balls?
We took inspiration from the keto friendly sausage balls to make these carnivore waffles. They are usually a mix of cheese and sausage to create a low carb meal that is full of protein and healthy fats. This keto friendly waffle stuffed with breakfast sausage is similar, but we put it on a mini waffle maker and created a crispy and delicious sausage waffle.
What kind of cheese can I use for chaffles?
Most chaffle recipes suggest using mozzarella cheese since it has less cheesy flavor. But, for this recipe we do like to use shredded cheddar cheese since it tastes so good with sausage. If you prefer bacon or ham for breakfast, you can use that instead of sausage and pick whatever cheese you like to make it a complete chaffle.
Keto Protein Waffle Without Whey
Keto Protein Waffle Without Whey