Keto Peanut Butter & Miso Cookies
These gluten free peanut butter miso cookies are the ultimate balance of sweet and salty!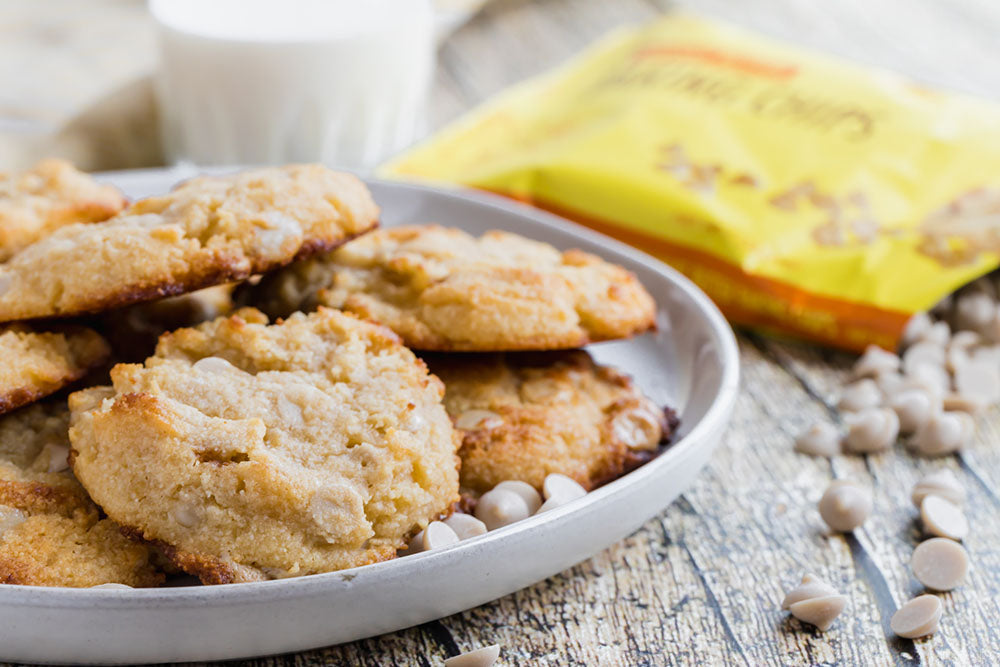 This gluten free peanut butter miso cookie recipe is a game changer. These almond flour peanut cookies are not only simple, but have all the flavor you're looking for. This is an indulgent way to use the traditional Japanese seasoning miso in a sweet and salty combination that will blow your mind.
This umami powered ingredient balances beautifully with all natural peanut butter's earthy sweetness. In addition to making them with coconut flour so they stay celiac friendly, we've also cut the sugar and made sure they are still just as sweet so they're keto diet approved too!
Whether you're having some salty cravings, or looking for something sweet, these zero wheat peanut butter and miso cookies will be the cure. Just try not to eat the whole batch in one sitting. These coconut flour peanut butter cookies are easy and an amazing recipe.
Jump to recipe sections:
Is peanut butter gluten free?
Yes, peanut butter is gluten free as well as keto friendly. However, a lot of store brands do not make celiac friendly peanut butter due to additives. Watch out for sugars too as they can sneak in, many brands like to add sugars or honey for extra sweetness.
Why do you add miso to desserts?
You add miso to desserts because it enhances flavor with a subtle contrast. It doesn't add a strong and distinctive flavor, instead it heightens the preexisting flavor of dessert recipes by adding an opposing flavor that's mild. The umami and earthy flavors that miso offers help to add another dimension to your baked goods. Once you try it your baking routine will be forever changed by the complexity and depth!
Is miso gluten free?
Miso is gluten free if it's prepared safely! Make sure to use miso paste in a clean, gluten free environment. Make sure that the miso paste does not make contact with any utensil or cooking tool that has been in contact with gluten-containing grains. You can make gluten free miso paste with beans and fermented rice. However, make sure that if you source it, it is a safe gluten free paste. Miso paste is usually available at natural food stores and at larger grocery stores.
Can I buy miso peanut butter cookies from a store near me?
It is difficult to buy miso peanut butter cookies from local stores because it's a trendy flavor that just recently became viral. Cookie stores such as Crumbl Cookies or Insomnia Cookies haven't made a flavor quite like this. But it's definitely worth making, it's so tasty!
Can you use almond meal instead of blanched almond flour for gluten free cookies?
Yes, you can use almond meal instead of blanched almond flour for gluten free cookies! You can take either of these two and swap them to make cookies in the same recipe with the same measurements. The biggest difference is that almond meal is coarser than almond flour. Almond flour is a fine texture, so the texture of the cookie will come out a little more dense and dry. When you buy almond flour, you may find almond meal and sometimes it's cheaper so it's not a bad substitute at all! Just do not use coconut flour in substitution for almond flour. If you do, it can dry out your gluten free baked goods.
Can you use crunchy peanut butter in miso peanut butter cookies?
Yes, you can use crunchy peanut butter in miso peanut butter cookies as long as it is a sugar free peanut butter. However, this will not work in our recipe, as it uses peanut butter chips and not jarred peanut butter. The creamier texture of these cookies is what we prefer anyway, so don't worry about the taste not being nutty enough!
Should I use a light miso or a dark miso for peanut butter miso cookies?
Make sure to use a light one for peanut butter cookies. This is because a dark one will overpower the nuttiness of the peanut butter cookie. A flavor imbalance will occur in your recipe, and instead of enhancing the flavor, it will ruin the other flavors of your cookies.
How do I get my peanut butter & miso cookies to get the criss cross design on top?
You can get your peanut butter & miso cookies to get the crinkle design on top naturally, but one of our favorite ways to make a design on top of these cookies is with a fork. Before putting your cookies into the oven, take a fork and press it in the middle of your cookie until there is a noticeable mark. Then, lift and press the opposite way. When they come out of the oven, they should look like traditional peanut butter cookies just like your grandmother makes!
Can you freeze miso peanut butter cookie dough?
Yes, you can freeze miso peanut butter cookie dough! However, make sure to separate into servings before doing so. Take the dough and make it into the portions you want for future cookies. Freeze the balls of dough on a dish in the freezer. Then, put them into an airtight container. Bake and consume within three months.
How do you store miso peanut butter cookies?
The ideal way to store miso peanut butter cookies is by leaving them at room temperature and consuming them quickly! If you put them in an airtight container or bag, they should stay soft and fresh for up to three days. They will taste the best and freshest the closer to when they are baked.
Keto Peanut Butter & Miso Cookies
Keto Peanut Butter & Miso Cookies