Keto Peanut Butter Cheesecake with Nut Crust
Better than any delivery dessert, this keto friendly cheesecake will blow your mind with its heavy peanut butter and chocolate notes.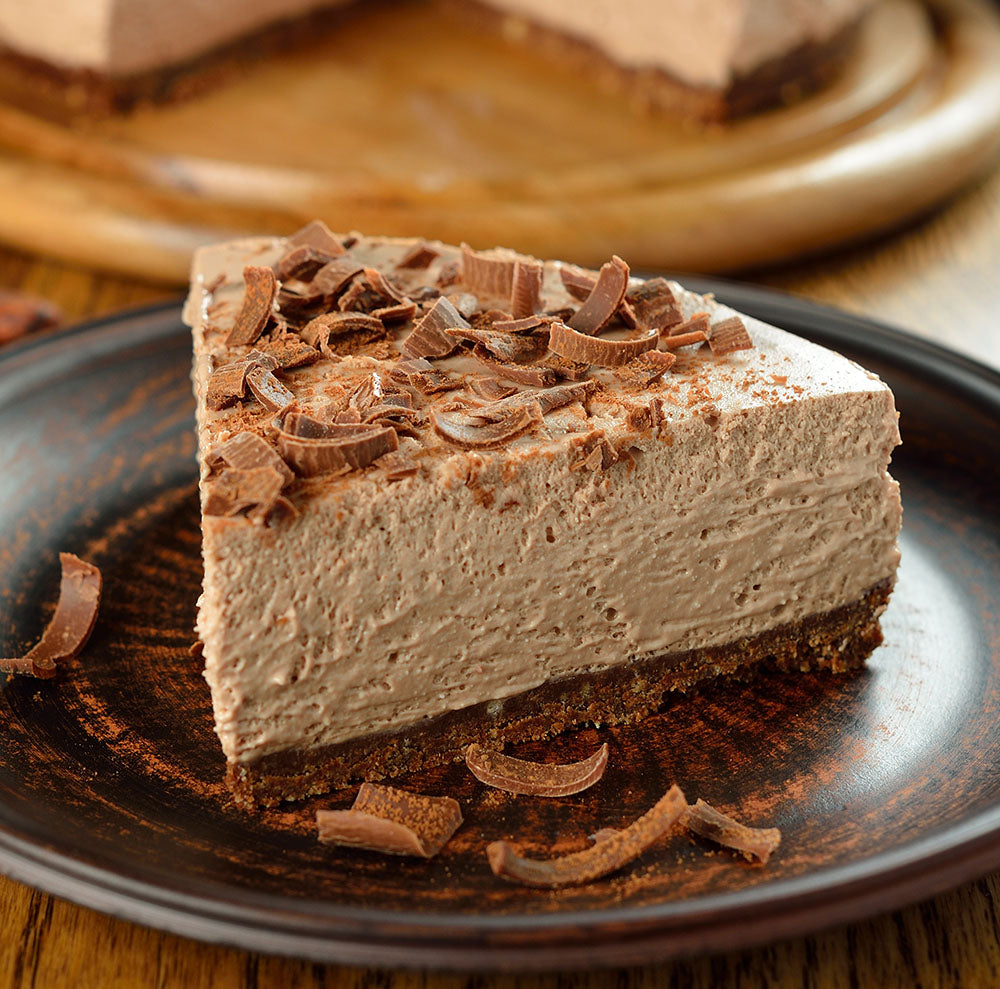 Calling anyone who loves peanut butter and easy keto desserts! This sugar free peanut butter cheesecake is a creamy dessert masterpiece filled with keto PB cups to taste just like the Reeses™ cheesecake your grandmother baked for you when you were a child. 
This particular cheesecake is baked to have a classic style with a nut flour crust that will remind you of graham crackers. By swapping to an almond base, you significantly lower the net carb count while adding protein. The added peanut butter just makes it even better!
This easy peanut butter dessert is perfect for a diabetic diet because it masks the taste of monk fruit by being a rich, creamy blend of two fat bombs: peanut butter and creamcheese. Talk about being decadent, right?
Jump to recipe sections:
Is cream cheese keto friendly?
Cream cheese is one of the easiest keto-friendly sweet and savory foods. Used in everything from sauces to cheesecakes, it's very low carb. Brands like Philadelphia cream cheese and Nancy's cream cheese are great options to use in your keto friendly cheesecake. Be sure to read nutrition labels to make sure it has no added sugar. Cream cheese's only net carbs should come from the natural dairy that it has.
If you want to make your cream cheese flavored, do not buy store-bought cream cheese. Store-bought flavored cream cheese is not keto friendly. Instead add one of our sugar free syrups or mix in our hazelnut spread to make a delicious flavored cream cheese that is ketogenic.
Can you have a graham cracker crust on keto?
There are no sugar free graham crackers on the market. Graham crackers are not recommended for a keto diet. However, you can use nut flour to make a nut crusted cheesecake crust that is gluten free and keto. Almond flour and hazelnut flour as well as lupin flour make excellent bases for keto cheesecakes due to their incredibly low carbohydrates and high protein. This recipe shows you how to make a delicious substitute for graham cracker crust that is low carb.
What is the best keto PB cup?
We're a bit biased, but ChocZero Peanut Butter Cups are keto-friendly and the perfect way to get sugar free chocolate. You can also make your own, however, we do all the hard work for you. This recipe shines using our keto cups as a topping!
Is store-bought peanut butter sugar free?
There are some natural peanut butters in store that have low sugat content. Be sure to always check nutrition labels or consider making your own if you are worried. Some brands add tons of added sugar to peanut butter which makes it not suggested for a keto diet! Our recipe uses only keto approved peanut butter.
What is a keto Philadelphia style cheesecake compared to a keto New York cheesecake?
A keto Philadelphia cheesecake is one that does not use heavy cream. Keto New York cheesecakes use heavy cream and sour cream to make their cream cheese filling extra thick and rich but this cheesecake is already rich enough thanks to peanut butter. Adding more just makes it too heavy. We suggest using New York style cheesecakes for cheesecake fluff and other no bake cheesecakes.
Keto Peanut Butter Cheesecake with Nut Crust
Keto Peanut Butter Cheesecake with Nut Crust