Keto Peanut Brittle
This peanut brittle recipe is a sugar free dupe that you can bring to your next holiday party.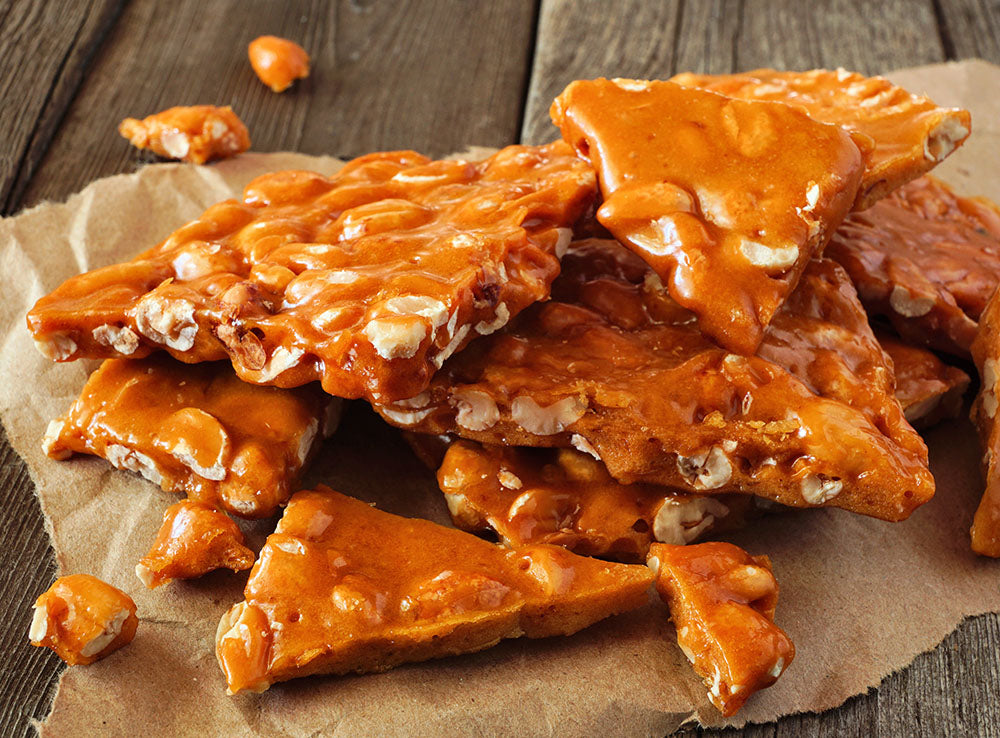 Taste the joy of Christmas and the holidays with every crunchy bite of homemade peanut brittle. Whether you're bringing a treat to a holiday potluck, or getting cozy with a Hallmark movie, this festive old fashioned treat is the perfect addition to your holiday celebrations. This sweet and salty peanut brittle is not only sugar free and keto friendly, but made with our healthy caramels that were created with real butter. That means you can enjoy the season's flavors without any of the added sugar.
While you can make this homemade candy for yourself, peanut brittle makes a beautiful edible gift. Snap the brittle into pieces and drop them in a tin for easy gifting. This is a smart option if you're not sure what to give a coworker for Christmas, or you want to bring treats to the office during the holiday season. Homemade gifts are a wonderful way to show your love during the season of joy and this sugar free treat is so delicious, they won't believe it's healthy! Why? We don't use any artificial sweeteners in this sugar free dessert.
What's the trick to making the perfect peanut brittle bark? You have to work quickly! Make sure to read over the instructions so when the peanut brittle is ready to be spread on the cookie sheet, you're ready to go. If the peanut brittle doesn't get hard and snap like you want, throw it back into the pan to get it hot and try again!
Jump to recipe sections:
Where does peanut brittle come from?
While it's unclear where peanut brittle originated from, we do know that this crunchy confection became a hit in the United States. Some folks believe that it's a recipe brought over from Ireland, others believe a candy maker accidentally poured baking soda in her confection and it became peanut brittle. No matter where it originated, folks can agree that peanut brittle is an old fashioned candy that still tastes good to this day. While your grandma's peanut brittle bark recipe would probably win awards, we hope you love this sugar free version, too.
What's the difference between peanut brittle and toffee?
Traditional toffee tends to have much more butter and milk added into the mixture. While we do make this peanut brittle with sea salt caramel, it will snap and crunch like you'd expect it to!
How can I make vegan peanut brittle?
Swap the ingredients above with just 12oz of sugar free caramel syrup or honey and ¼ cup of peanuts or pecans. Cook the syrup over medium heat until it begins to bubble and foam. Then cook until large bubbles form (about 4-5) minutes. Stir in peanuts or pecans. Remove from heat quickly and then spread over the parchment paper lined tray. Let cool and break into chunks!
Should I use a candy thermometer for peanut brittle?
You can absolutely use a candy thermometer for homemade peanut brittle. You'll be shooting for a temperature of 300-310°F to know the brittle is ready to spread on the parchment paper.
How is this a sugar free peanut brittle?
We have made sugar free brittle by using our keto friendly caramels that are sprinkled with sea salt. Our caramels are made with zero added sugar and absolutely no artificial sweeteners.
Do I need to use baking soda for peanut brittle?
Baking soda is essential for delicious peanut brittle. It creates the old fashioned crunchy texture by helping the mixture bubble up, which aerates the candy. This allows for you to have snappable peanut brittle without losing a filling over it.
How to clean candy off my pot after making peanut brittle?
Did your peanut brittle create a candy mess in your pan? Never fear! You can easily clean homemade candy off your pot by boiling water in the pan. Do not try to scrub the candy off, it'll make it worse. Boiling water will allow the candy to melt and then it can be easily poured down the drain.
How to store peanut brittle.
You can store peanut brittle in an airtight container for up to 2 months. If you want to freeze the peanut brittle, it can be frozen for up to 3 months.
Keto Peanut Brittle
Keto Peanut Brittle