Keto Friendly Nanaimo Bars
Create your own keto Nanaimo bars that are low in carbs and full of classic flavors!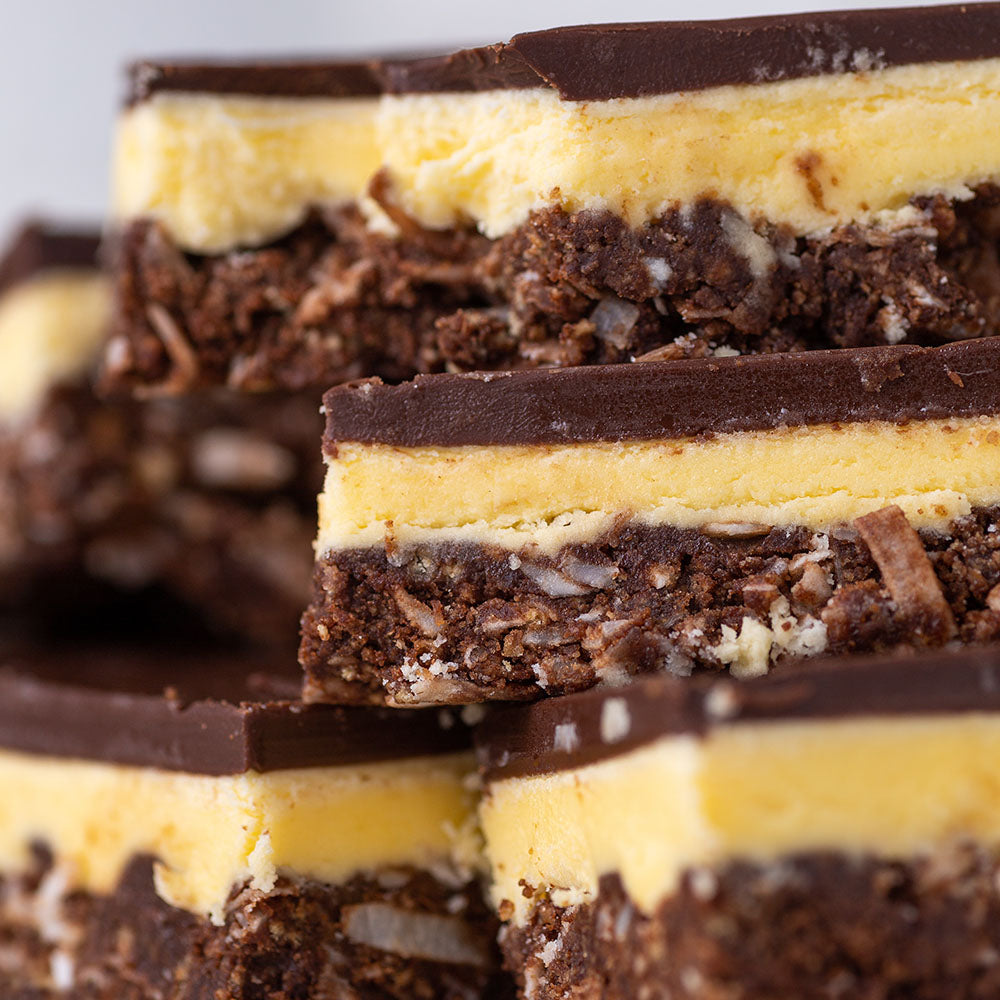 Nanaimo Bars are a no-bake Canadian classic treat, but they aren't keto friendly. We've created the best keto Nanaimo bar recipe that has all the flavors of the traditional dessert bars without gluten or a high carb count! This recipe has an authentic taste but is a healthier option for those wanting to indulge in a decadent dessert bar. This easy-to-make keto dessert bar has three sweet tiers of flavor starting with a base sugar-free cookie layer that is the perfect balance of nut & chocolate. Next up is the vanilla custard layer that adds to the creaminess of these squares. To top it off, a layer of mouthwatering keto friendly chocolate ganache. Why are these homemade Nanaimo chocolate bars healthier? We nix the traditional use of graham crackers and opt for almond flour and sugar free ingredients to ensure they're low carb. If you've ever had one of these Nanaimo dessert squares, you know just how good they are–now just imagine a gluten-free Nanaimo bar!
This delicious keto Nanaimo recipe makes 12 large dessert bars that are great for making ahead of time and storing as a sweet treat! Between the chocolate coconut cookie layer to the decadent layer of chocolate ganache, they'll be sure to cure any sweet tooth craving with zero added sugar. If you want, you can mix up the flavors and make multiple batches to have a little bit of everything. Either way, these bars are the ultimate keto treat.
Jump to recipe sections:
What is a Nanaimo bar?
Nanaimo bars are a decadent no-bake dessert that hails from Nanaimo, BC. The earliest versions of these classic dessert bars date back to 1953, but they really gained popularity in Canada in the 1980s! Extremely popular in British Columbia, these Canadian holiday dessert bars have three distinct layers, are served chilled, and can be made in various flavors. The most popular options are the classic Nanaimo bars, cappuccino Nanaimo bars, or mint Nanaimo bars! While the traditional recipe isn't keto, our healthy Nanaimo bar recipe is low carb & gluten-free. It would fit in perfect in any Vancouver Island bakery, no one would know it has zero added sugar!
Are Nanaimo bars gluten-free?
Unfortunately, Nanaimo bars are not gluten-free when made with traditional ingredients. Classic recipes call for all-purpose flour & graham crackers. Our keto Nanaimo bars use almond flour and no graham crackers making it a perfect gluten-free no-bake dessert.
What are Nanaimo bars called in the United States?
Nanaimo bars go by a few names in the USA. A common name for Nanaimo bars in the midwest is Prayer Bars. These bars have the same delicious layer of cream custard and coconut flavor in the crust! Another name is a New York special slice or a London fog bar, but we prefer to call them Nanaimo Bars to pay homage to where they were created: Vancouver Island.
What are the layers in Nanaimo bars?
Classic Nanaimo bars have three decadent layers that are full of flavor. Our keto Nanaimo bars have a luscious chocolate coconut base that made celiac friendly by using almond flour as a substitute! The second layer is the creamy filling layer which is a vanilla custard flavor. The top layer just may be our favorite part. The top layer of Nanaimo dessert bars is a thick spread of chocolate ganache, made keto friendly with our sugar free chocolate chips. While we choose to make a traditional recipe, you can also garnish it with fruit or nuts!
Where to buy Nanaimo bars?
This Canadian classic treat can typically only be found in Canada to purchase frozen but can be found in some US bakeries. Costco also has its own version of pre-made Nanaimo bars around the holiday season, but they are high in carbs & full of sugar. Since none of the store-bought Nanaimo bars is keto friendly or low carb, our homemade Nanaimo recipe is the best!
Can you make Nanaimo bars in other flavors?
You can easily make Nanaimo bars in an array of flavor options. Mint Nanaimo bars are a popular twist on dessert bar treats. This version will have the same fudgy chocolate cookie base with a minty cream layer and ganache topping. Mint Nanaimo bars are a popular choice for the holidays. Other popular holiday flavors are Irish Cream and Kahlua. For a dessert bar with an extra kick of caffeine, you can make cappuccino Nanaimo bars. To make this caffeinated confection, follow our keto Nanaimo bar recipe and add 2 tablespoons of cappuccino powder to your middle cream layer and enjoy with a morning latte.
How to cut Nanaimo bars without cracking the chocolate?
The easiest way to cut Nanaimo bars without cracking the ganache layer is to cut them when the top chocolate layer is firm. Once you spread the top chocolate ganache layer, chill for 20-30 minutes until the chocolate has nearly hardened, but is still malleable. Simply score the top of these keto dessert bars with a thin sharp knife, only going into the chocolate layer. Then return the bars to the fridge to chill. Once the bars have completely chilled, use a sharp knife to finish cutting the bars and serve!
How do I store Nanaimo bars?
Nanaimo bars are best served cold, so they are great for storing and eating later. You can store Nanaimo bars in an airtight container in your fridge for 5-7 days or freeze them for 2-3 months.
Keto Friendly Nanaimo Bars
Keto Friendly Nanaimo Bars