Keto Madeleine Cookies
Create your own delicate keto madeleine cookies that are gluten free and low carb.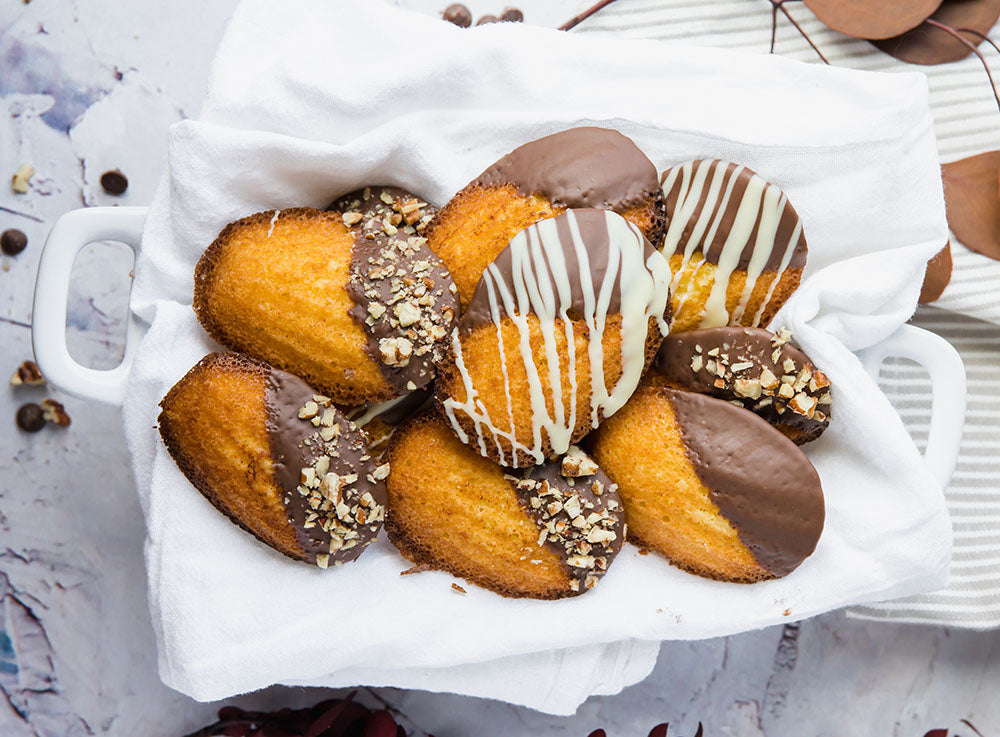 Classic French madeleine cookies are a lovely dessert, but they aren't keto friendly! We've created the best keto madeleines that keep all of the flavors of the age-old madeleine cookies, without gluten or a high carb count! This recipe has the same buttery-based taste of madeleine butter cakes and we keep them extra authentic by using a madeleine pan mold that creates beautifully scalloped shell shapes. Keto madeleine cookies are a simple, spongy tea cake that barely resembles a cookie. They're easy to make and we make this easy madeleine cookie recipe even better with a blend of almond and coconut flour for the best consistency. The vanilla based keto cake batter is made even tastier by dipping them in sugar free chocolate!
One of our favorite parts of these gluten free madeleines are all the topping variations. You can have these butter ake cookies straight from the oven, sprinkled with a sugar substitute, or you can use our recipe to dip your keto madeleines in our sugar free chocolate chips for a delectable dessert cake that's fitting for fancy tea times and classic Christmas cookie platters.
The best part about this keto French cookie recipe is that it's a sugar free and gluten free treat. Whether you have them for dessert or serve them with your morning coffee and tea, a keto madeleine is the best dessert that will always satisfy your sweet tooth.
Jump to recipe sections:
What are madeleine cookies?
Madeleine cookies, also known as madeleine cakes or French butter cakes, are delicate spongy, soft cakes baked into a signature scalloped shell shape. Madeleine cookies hail from the Liverdun and Commercy region of France as far back as the late 1700s. Traditionally served with tea or coffee, these exquisite tea cakes are made with simple ingredients, with variations including lemon or lime zest, honey and even maple. We keep our keto madeleine cakes traditional using a scalloped madeleine cookie mold, but make our madeleine cookies gluten free with almond flour.
Why are madeleine cookies a shell shape?
This history of madeleines' unique scalloped shape is a bit of a mystery, but we do know these airy sponge cake cookies date back to the French Napoleonic era, about 1790. The legend has it that pilgrims moving through that era would wear shells, the symbol of St. James, and thus the shell shape of madeleines was born.
Are madeleines a cookie or cake?
The simple answer is both! French madeleine cookies are soft baked goods with a cake-like center and a crispy exterior shell. Most recipes will refer to them as cookies, but they are a spongy-cake texture which makes them a hybrid. We love these cake cookies because they make us feel like regency era duchesses when sipped with tea!
How do you make madeleine cookies?
Classic madeleines are actually a simple baking batter. For the best keto madeleines, we use simple low carb ingredients like almond flour, egg, monk fruit sweetener and butter. Using these simple ingredients keeps the madeleine recipe traditional and airy. Simply butter your madeleine shell mold and sift together your dry ingredients in a bowl. In a separate bowl, beat the wet ingredients together until well combined. Fold the dry ingredients into the wet, but be careful not to overmix. Spoon the batter into the molds and bake at 375°F for 10 minutes. After cooling, use our sugar free chocolate chips to decorate.
Do you need to use a madeleine cookie mold?
Madeleine cookies are most notably shaped like shells. They are scalloped with unique ridges and lines. For our keto madeleine cookie recipe, we kept to tradition and used a standard madeleine baking pan, but you can make this recipe in any mold or pan you'd like! If you don't have a madeleine cookie mold, you can use a muffin pan and make madeleine muffins or a mini tart dish.
Are madeleine cookies gluten free?
Most traditional French madeleine cookies use an all-purpose flour that isn't gluten free. Our keto madeleines use a blend of coconut and almond flour to add a nut element to the flavor and make them a celiac safe madeleine cookie. Going low carb doesn't have to mean you miss out on delicious French cookies!
What are some madeleine cookie toppings?
Although keto madeleine cookies are delicious all on their own, madeleine cookies are the perfect cookie to jazz up with toppings. One of the most popular toppings is chocolate dipped. Just melt some of our sugar free chocolate chips and dip half of each keto cookie into the melted chocolate. Once all of your madeleine cookies are dipped in chocolate, place the cookies on the pan and set them in the refrigerator for 30 minutes. Want to take it a step further? Add coconut flakes, freezer dried raspberries or sprinkled nuts onto your chocolate before setting. If you're looking for a simple topping, sprinkle a powder monk fruit sweetener on your keto madeleines when they're still warm from the oven.
How do I store madeleine cookies?
Since madeleine cookies are softer they are best stored in a glass airtight container. They are best served warm out of the oven but will last up to 3 days if stored properly in the fridge. You can even freeze them!
Keto Madeleine Cookies
Keto Madeleine Cookies