Sugar Free Honey Ham Glaze
This no sugar Baked Honey Ham recipe has only four simple ingredients! It's the perfect choice for any special occasion like Easter or Thanksgiving.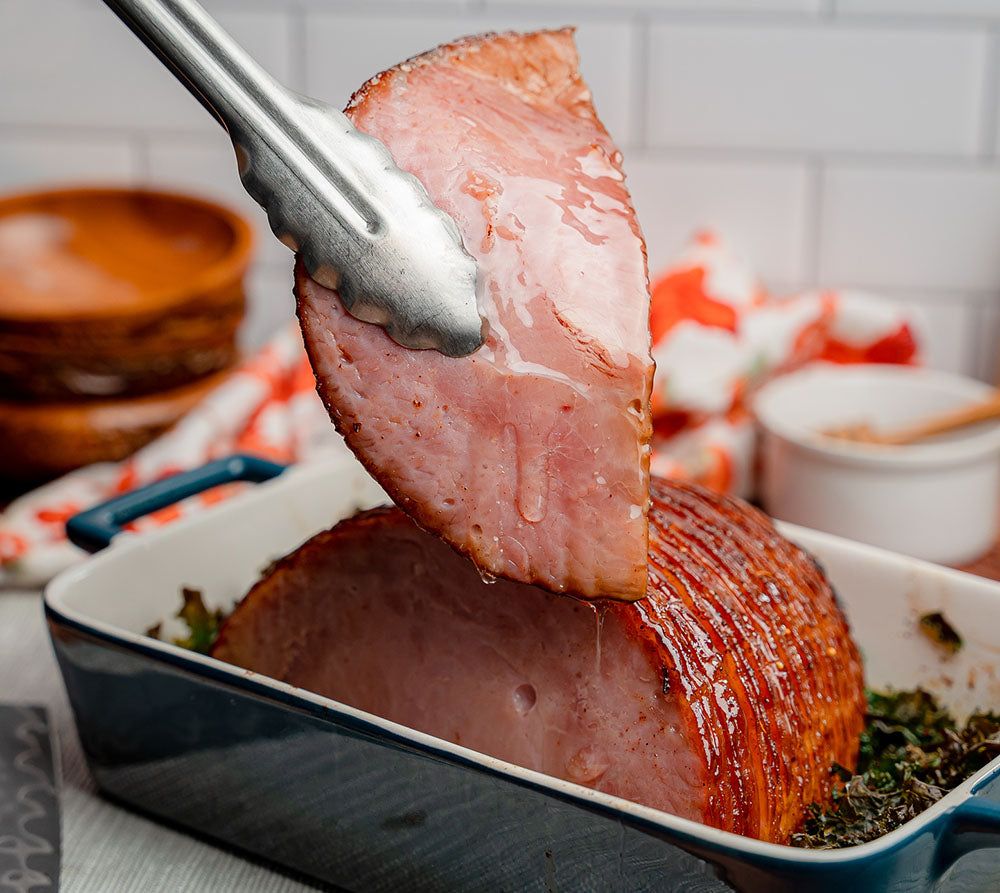 This keto glazed ham recipe is about as simple as it is mouthwatering, which means it must be extremely easy! (Spoiler Alert: It is!) Perfect for special occasions like a holiday dinner, you'll be the star of the feast with this sugar free glazed ham. It will make you feel like a professional low carb chef without the four hour long grocery trip–and you won't be serving your guests with any artificial sweeteners usually contained in store-bought glazed ham.
Made with only four ingredients, this zero sugar Baked Honey Ham recipe is also keto friendly. Plus, it's made with low glycemic sugar-free honey as its sweetener so you won't have to deal with sugar alcohols or any prep work. It really is a simple and delicious recipe! And don't worry, if you're unfamiliar with making foods lower in sugar: we will be answering how no sugar honey is sugar free, as well as your meatiest ham inquiries, like how to make it the most moist ham dinner you've ever tasted!
In case you're wondering–yes, glazed ham is the perfect main course for Easter dinner! It's the perfect dish for gatherings since it can be served hot or cold, spiral ham can be served cold for an Easter brunch or you can serve it fresh out of the oven for a sugar free main course that's warm and delicious with low carb sides.
Jump to recipe sections:
What is the best honey to use as a glaze on baked ham?
The best honey to use as a glaze on baked ham is our sugar free honey, of course! Why? Because it's a great way to get the same delicious taste as a typical honey glazed ham without all of the added sugar. Honey glazed ham is deceptively full of carbs and sugar because of its glaze, but we don't want that stopping you from being able to enjoy this delicious meal! So whether you are going sugar free or simply want to try something new, this is the perfect option for any ham cook.
How do you keep a honey baked ham moist?
The best way to keep a honey baked ham moist is to make sure to pour water at the bottom of whatever pan you bake it in. Then, tent the ham with foil before baking. To do this, simply take a large piece of tin foil and fold it in half, then place the foil loosely on top of the ham. The reason why is because this secures the moisture from the water while the ham bakes, causing it to become more tender and juicy as it bakes. It is worth doing these extra steps for the finished product!
Is baked ham keto friendly?
Yes, honey baked ham can be keto friendly. In fact, most meats are keto friendly naturally, and contain low carbs. However, all store-bought ham is processed heavily with sugars and contains sugar in its glaze. It's ruining healthy and great food! That's why we've made a sugar free glaze that has low net carbs to make sure you can enjoy baked ham while on any low carb diet. This way, we can keep the carbs and sugar low! Yay!
How long will honey baked ham keep in the refrigerator?
Honey baked ham will keep in the refrigerator for about five days. We recommend that you do not exceed this amount of time. If you would like to keep it for longer, be sure to stick your honey baked ham in the freezer, that way it can stay good for up to six weeks! But be sure to thaw your ham before serving if you do decide to freeze it, for about 24 to 48 hours. Once thawed in the refrigerator, consume within two days.
Why do we eat ham on Easter?
Ham is eaten on Easter because it's practical and in season for Spring. Traditionally in the past, lamb was the more prominent Easter dish, but ham is always available: pigs are slaughtered in the Fall, so they are cured and ready for consumption in the Spring. This recipe is the perfect way to bring together family and friends for a wonderful evening of sharing food and showing off your fantastic cooking skills!
Is honey baked ham gluten free?
Honey baked ham is not typically gluten free because most packaged hams have additives such as wheat into their glaze to keep it shelf stable. That's why we've made our keto glazed ham which is gluten free due to using zero wheat in the recipe. This way those who are gluten free can still have the same fun in the kitchen as everyone else. Gluten free cooks can enjoy themselves just as much, if not more now that our honey is sugar free, too!
How do you make a brown sugar keto glaze?
Brown sugar isn't keto friendly. To make a brown sugar glaze that's keto friendly, you would add 2-3 tablespoons of a brown sugar substitute. This will give your ham a brown sugar flavor which pairs well with the honey in the glaze, creating a more traditional ham taste for your dinner. Feel free to try both with and without to see which you and your friends like better!
What's the best way to use leftover ham from Easter?
We suggest using your ham leftovers in a homemade soup. We prefer leftover ham soup to be cheesy ham soup–chunks of ham mix really well with broccoli and cheddar cheese as well as onions. You can find delicious recipes on Pinterest for using your leftovers after Easter in soups and chowders!
How do you thicken or thin our sugar free glaze?
One quick and easy way to either thicken or thin your glaze is to apply heat. If the glaze seems too thick, place it in a saucepan over low heat, stirring until it is of a thinner consistency that will be easier to brush onto your turkey. On the other hand, if your glaze is too thin, heat the mixture over low to medium heat until it gently bubbles and evaporates a bit, stirring constantly (so it does not burn) until the liquid has reduced a bit and reaches the desired thickness.
Sugar Free Honey Ham Glaze
Sugar Free Honey Ham Glaze