Crumbl Galaxy Brownie Cookie Keto Copycat
Make your own gluten-free Crumbl cookies at home with this keto chocolate ganache filled cookie recipe.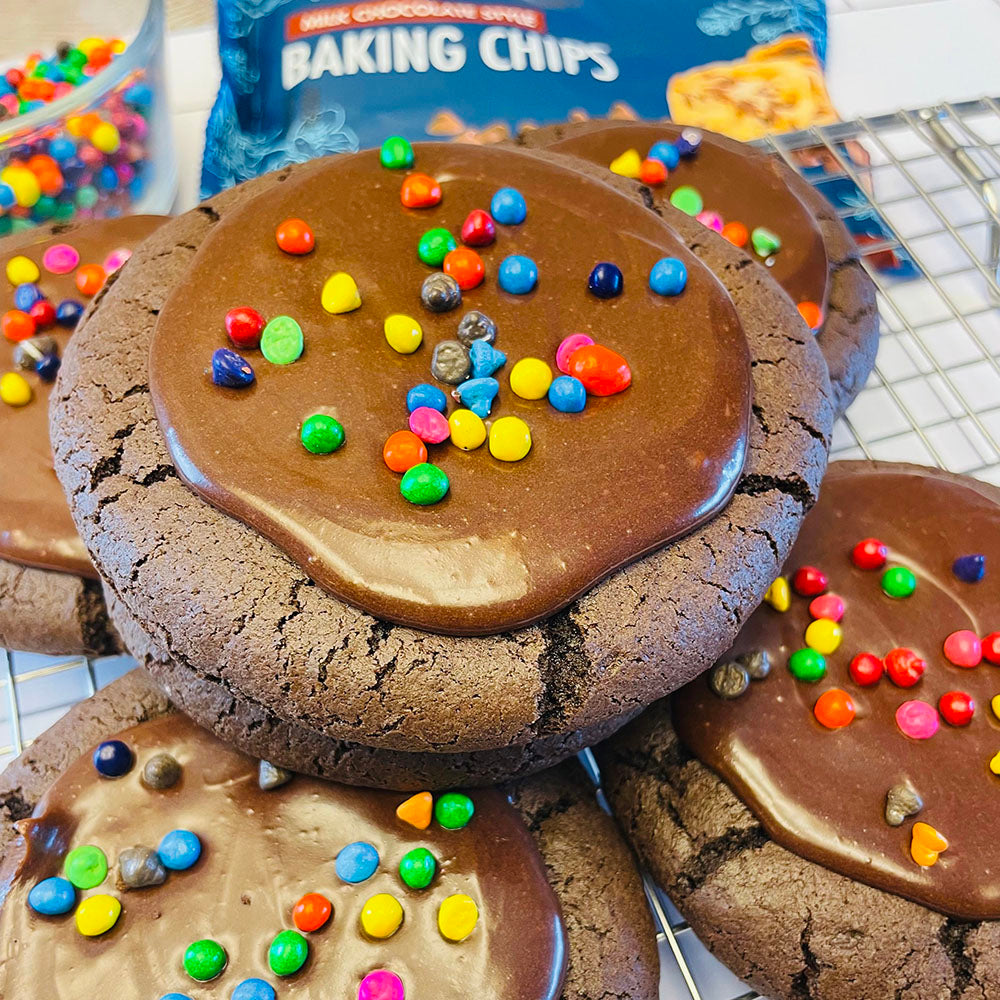 Crumbl Cookies are the new kids on the dessert block, but they don't have any keto options for us. That's why we've created a Crumbl Cookie copycat recipe that's a gluten-free brownie thumbprint cookie with ganache filling. It's just as yummy and decadent as a Crumbl Cookie, but it's healthier for you and much cheaper to make at home. Skip expensive delivery cookies that are full of sugar and instead make your own keto brownie cookies at home for much less money. For this recipe, we will be making Cosmic Brownie Cookies that are keto friendly. These giant chocolate cookies are filled with even more chocolate and topped with rainbow sprinkles. It's a chocolate lover's dream and they're super fun to make for the kids as well.
This delicious cookie recipe makes 12 giant cookies that are stuffed with ganache icing. What is ganache? It's melted chocolate mixed with heavy cream to create a beautiful chocolate sauce like you've never seen before! If you want, you can also use our keto hot fudge sauce as the brownie cookie filling. Either way is totally delicious and a decadent keto treat.
Jump to recipe sections:
What are Crumbl Cookies?
Crumbl Cookies are a dessert company that create unique cookies every week! They're delicious, but full of carbs, sugar, and calories. They also do not pass the celiac sprue test. Not to mention, these cookies are very expensive compared to the ones you can make at home– especially if you get them delivered by UberEats™! While these cookies are great as a once and a while treat, we decided to make a keto version of their ganache filled cookies so they can fit into your daily macros. These healthy Crumbl dupes will delight you!
Does Crumbl Cookies have keto options?
No, Crumble Cookies do not have keto options. These cookies are not keto friendly because they have a lot of sugar and carbohydrates. Both of those combined can kick you out of ketosis easily. Even if you are not on a low carb diet, Crumbl Cookies are not a healthy dessert. Crumbl Cookies have artificial ingredients and additives. They are also not freshly made like our homemade cookie recipe is.
That's why we've created a better-for-you recipe of their Cosmic Brownie cookie. This giant thumbprint cookie is exactly liek Crumbl's cosmic brownie cookie only it is full of sugar free chocolate chips that have been melted with heavy cream to create a delicious keto ganache icing that is gluten-free.
How much do Crumbl Cookies cost?
Crumbl cookies are not cheap compared to homemade cookies. They run about $4 per cookie, but that's not factoring in the delivery fee if you decide to get them on DoorDash or UberEats™! You can make your own Crumbl cookies at home with this recipe for cheaper and with way less sugar--they'll also be GF!
How can I make a healthy Crumbl Cookies recipe?
So, if Crumbl Cookies tend to be overpriced and full of sugar, how can you make them at home cheaper and healthier? First things first, you don't want to compromise on taste. That means using our sugar free chocolate chips for the ganache filling. These keto friendly chocolate chips are dark and luscious, so melting and mixing them with heavy cream makes a ganache icing you wouldn't believe is homemade! If you're running low on time, you can also use our keto hot fudge sauce as the filling.
Next, we make the cookie dough out of a mix of almond flour and lupin flour. Lupin flour is great for baking keto cookies because it brings moisture to the dough and tastes delicious in chocolate batter. Lupin flour is our favorite way to create chewy keto cookies, which are perfect for giant ganache filled chocolate cookies. Finally, we added the traditional Cosmic Brownie sprinkles to the top, but you can make your own keto sprinkles or buy sugar free sprinkles if you wish.
What are Cosmic Brownie cookies?
If you're unfamiliar with Cosmic Brownie Cookies, they are based on a Little Debbie™ snack that are small, chewy brownies covered in chocolate ganache and rainbow sprinkles. We loved them as kids, but we didn't love the sugar rush that came with them. Crumbl Cookies made their own version of Cosmic Brownies in a cookie form that are brownie cookies covered in ganache and sprinkles. We loved that concept, so we made a keto friendly Crumbl copycat recipe we think you'll love, too.
What flour is best for keto baking?
Almond flour was long considered the best flour for keto baking: it's gluten free, it holds up very well in baked goods, and it's good for you with its low carb properties. However, lupin flour is rapidly becoming a better option if you want your sugar free cookies to have a similar texture to real wheat flour. Lupin flour comes from the lupini bean which is a legume related to a peanut. It is rapidly gaining popularity amongst keto dieters and gluten free nutritionists because it is a better healthy flour to cut out wheat. Low in net carbs and more fluffy in texture than almond flour, lupin flour is the best flour for keto baking. Our cookie recipe has some lupin flour added to make these cookies extra fluffy. You'll never know they're low carb!
How can I make keto ganache icing?
You can easily make keto ganache icing with just two ingredients. Simply take our sugar free chocolate chips and melt them down. Then you mix the melted sugar free chocolate with heavy cream to create a delicious chocolate ganache.
How to decorate brownie cookies.
You can decorate your ganache stuffed chocolate cookies with candy coated chocolate sprinkles. You can also create your own sugar free sprinkles, or buy some if you would like. We suggest using the traditional Cosmic Brownies sprinkles if you want the picture-worthy look, but otherwise you should absolutely just use our sugar-free chocolate chips or a sprinkle that is low in net carbs.
Crumbl Galaxy Brownie Cookie Keto Copycat
Crumbl Galaxy Brownie Cookie Keto Copycat