How to Make Keto Corn Dogs
Corn dogs can be keto friendly when they're sweetened with our honey! We also include steps to make them a cheesy Korean corn dog!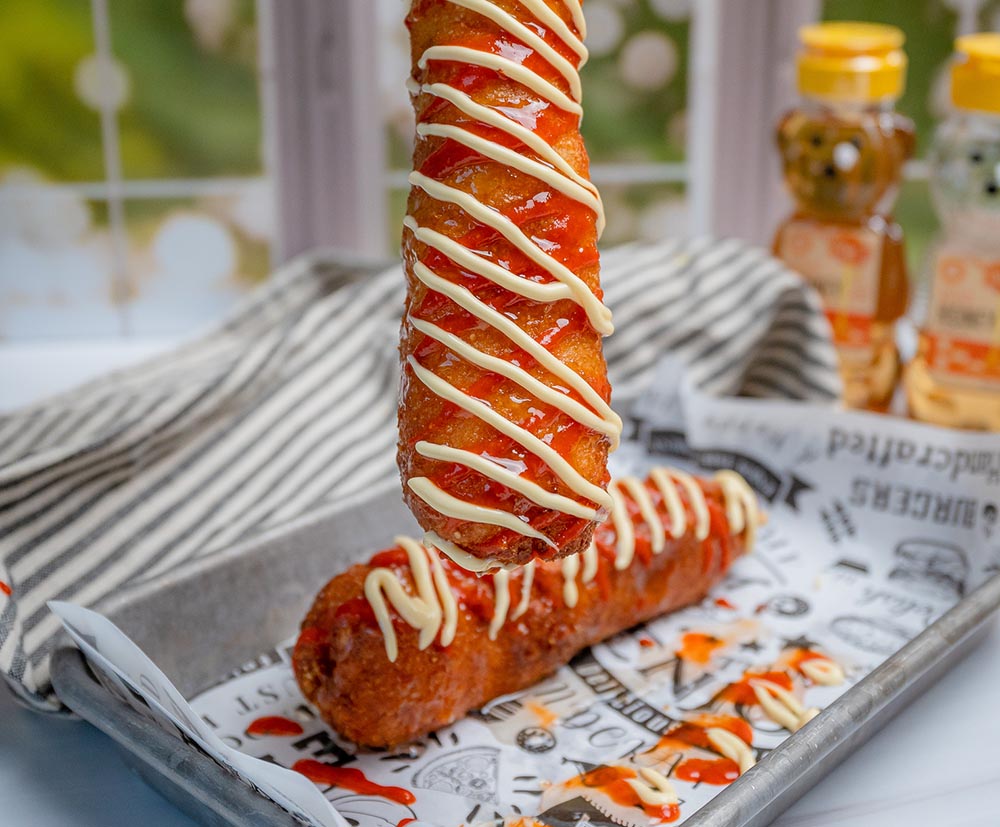 Keto corn dogs are sure to be the star of your next low carb picnic! This junk food is popular with kids and adults alike, especially at carnivals and the county fair, so it's time to have a healthier version of gluten free deep fried corn dogs.
A low carb corn dog is quite easy to make. All you have to do is create an almond flour batter to replace the normally high carb corn crust–making it a very easy swap from unhealthy to gluten free! The key to this keto corn dog is to sweeten it lightly with a sugar-free honey (link product) so it can taste like honey cornmeal batter that Disney™ and other parks use for their hand dipped corn dogs and other snack foods.
The best part about this recipe is that you can also use it to make a Korean corn dog. A Korean cheese dog is a delicious street food in Asia that is half hot dog and half cheese then deep fried in a sweet batter. By cutting your hot dog into two, you can replace the extra space with mozzarella cheese and have an extra cheesy corn dog that's still gluten free and low in net carbs. Korean corn dogs are easy to make and are great when covered in zero sugar honey and sriracha sauce for a bit of a kick!
Classic Korean corn dogs are the ultimate street food hailing from Seoul. Made with hot dogs, sausages, fish cakes, rice cakes or just cheese and covered in a thick yeast dough or rice batter and panko breadcrumbs. These corn dogs are topped with condiments that range from mayo to sriracha and then sprinkled in sugar for a touch of sweetness. You may have seen Korean corn dogs featured in K-Dramas or on Tik Tok, but this delicious street food is gaining popularity in large cities in the United States as well. Until they're made widely popular, we always think a homemade keto recipe is always best!
Korean corn dogs have about 43 g net carbs, that's a lot so we've reduced it to under 4g with this recipe. We've made our Korean corn dog recipe even better by using a gluten free almond flour batter to create a fluffy, thick hot dog and cheese shell that has a similar consistency to a yeast batter, but is a lot less time-consuming. To make this a low carb Korean corn dog version of the street classics, we've also skipped on the panko, and table sugar and used our sugar free honey to add sweetness to the savoriness of the snack.
Fun street food like Korean corn dogs are hard to find without a ton of sugar or carbs, but they can be keto friendly! With a few tweaks and customization of toppings, you can enjoy gluten free Korean corn dogs in the comfort of your home.
Jump to recipe sections:
What is a Korean corn dog?
Korean corn dogs are a traditional street food that originated in Korea in the 1980s. Called hasdogeu in Korea, or Korean cheese corn dogs, they're made with hot dogs, fish cakes, rice cakes, or just cheese, coated in batter, deep fried, and then sprinkled with sugar and ketchup, mayo, or mustard. The batter and toppings are what sets Korean corn dogs apart from American corndogs. Traditional American corn dog recipes call for a cornmeal batter, whereas Korean corn dog batter is typically a yeasted dough, rice flour, and panko. We've made our gluten free Korean corn dog using a homemade batter with almond flour and skipped the panko breadcrumbs.
Are corn dogs keto?
Traditional corn dogs are not keto friendly. Corn dogs are typically made from a cornmeal batter or a cornbread mix like Jiffy™, which is high in carbs. Even frozen corn dogs that you'll find in the grocery store are not only 20 grams of carbs or more, but they have a high sugar content. Our keto Korean corn dogs use almond flour to keep it not only low carb, but gluten free.
Are Korean corn dogs gluten free?
Most Korean corn dogs that you'll find at a street vendor are not gluten free because they're made with a yeasted wheat flour and panko breadcrumbs. We've kept our Korean corn dogs gluten free by using celiac friendly almond flour and no panko!
How to make a corn dog without yeast?
If you're keeping with a traditional Korean corn dog batter, you'll use a yeast dough & panko as the batter. The yeast dough helps street vendors coat the dog and cheese quickly and ensures a fluffy bread like texture. While yeast dough is keto, we find using active dry yeast to make dough can be time consuming and requires a bit more finesse when you're coating your skewers in batter. Our low carb corn dog recipe uses a simple almond flour dough that makes for a perfect puffed, golden brown corn dog. It also makes coating the corn dog as simple as dipping in and out.
What cheese is in a Korean corn dog?
Most Korean corn dogs use mozzarella cheese as a primary ingredient. If you're not a fan of mozzarella, you can use anything from pepperjack to cheddar, or even a dairy free cheese alternative if you can't have dairy. We chose to keep our gluten free Korean corn dog as authentic as possible and use mozzarella cheese.
What are Korean corn dog toppings?
One of the best parts of Korean corn dogs is the way you can customize them to your liking! Street vendors in Korea will have toppings that include anything from ramen noodles and french fries to condiments like mayo and a sugar sprinkle.
To make the best Korean corn dog recipe, we use mayo, sriracha and our sugar free honey instead of sugar to add the sweetness, but keep them keto friendly. Other options that we love are homemade teriyaki sauce, wasabi, or honey mustard using some more of our bee free honey! If you're looking to add additional crunch, pass on the panko and coat your batter with crushed pork rinds before frying.
Can you make corn dogs in an air fryer?
We use a deep fry method for our homemade keto corn dog recipe, but you can absolutely air fry them! Make sure you spray the try of your air fryer with oil and air fry your corn dogs at 350 degrees for 10 minutes, flipping halfway through baking. Remove when the corn dogs are golden brown.
How do you make mini corn dogs?
To make mini Korean corn dogs is simple! You'll use our same gluten free keto corn dog recipe ingredients, but you'll cut make smaller bite-sized hot dogs and cheese sections. To do this, cut your hot dog in four pieces and use a matching size piece of mozzarella. Skewer your hot dog & cheese with a toothpick rather than a large wooden skewer and fry as normal. Top your delicious mini Korean corn dogs with mayo, sriracha and our sugar free honey and serve.
How to Make Keto Corn Dogs
How to Make Keto Corn Dogs