Air Fryer Jicama Fries
You can make these jicama fries super quick using an air fryer! It's a great keto side dish for any meal.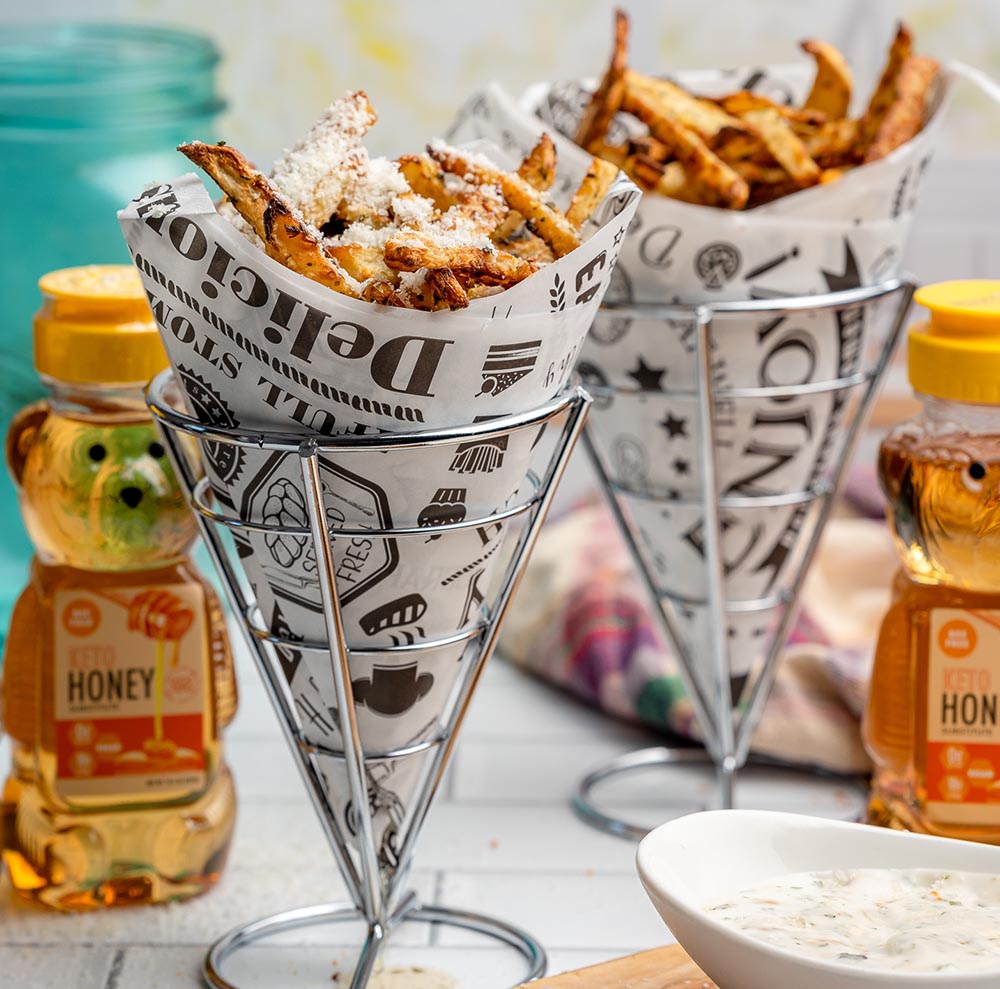 Keto is hard when the cravings hit, and that's why we've made the ultimate keto french fry recipe. What do you eat on keto when you're craving french fries? After all, fast food chain french fries are just so good, and so hard to let go of. But our air fryer jicama fries recipe is a great dish that includes savory flavors of traditional french fries without the potatoes and we even incorporate our sugar free honey to add a touch of sweetness that would be right at home at a country fair.
Have you ever tried fries made with vegetables besides potatoes? This keto french fry alternative is a salty and savory snack that can be made with pre-sliced jicama strips, which can be found at most grocery stores. Vegetable fries, more commonly known as veggie fries or veggie strips, are crispy-edged slices of root vegetable that is fried like a potato, but not as starchy. You can always try turnip or parsnip as well if you cannot find jicama.
The creamy, firm white flesh of raw jicama becomes more mushy, like the inside of a french fry when cooked. The crisp texture is achieved by frying, and we'll explain how to achieve this crisp-but-tender fry by using an air-fryer!
Jump to recipe sections:
What is jicama?
Jicama is a root vegetable that tastes most similar to a potato. It has a mild and starchy flavor, and has a dense, hard feel to it. It can taste a bit sweet, but contains a low sugar and carb content.
Is jicama allowed on keto?
Jicama is allowed on keto! One cup of jicama contains 5 net carbs. Because of that, it's a great low carb replacement for potatoes. As a bonus, it's also a great source of fiber, containing 6 grams of fiber per cup.
Do grocery stores sell jicama pre-sliced?
Yes, grocery stores do sell jicama pre-sliced! In the produce aisle, most grocery stores will have them in a plastic bag near other vegetables. If you have been to that store prior, try to find it near other root vegetables like turnips and potatoes.
What spices can I use on keto jicama fries?
You can use any spices to season the jicama fries! Some spices that are commonly used on jicama fries are salt, paprika, cumin, and garlic salt. Replace garlic salt with garlic powder if they taste too salty after seasoning, or reduce the amount of salt used/avoid salt.
Does jicama taste like potatoes?
Jicama does taste like potatoes, because they both taste very mild and starchy, and have a similar hard consistency. You can use jicama instead of potatoes for a low carb substitute, since they taste and feel similar to each other.
Can you replace jicama with another keto vegetable in this recipe?
Yes! You can replace jicama with another keto vegetable in this recipe by using rutabaga and parsnip. You can make rutabaga and parsnip fries by following the recipe and simply replacing the jicama strips with strips of rutabaga and parsnip. Make sure to cut them into approximately the same length and width for best results.
Are McDonald's fries keto friendly?
No, McDonald's fries are not keto friendly. That is because they are made with potatoes, which are naturally higher in carbs due to them being a starch. These jicama fries are a good substitute for potato fries because they are made with jicama, which is naturally a lot lower in carbs.
How do you store keto french fries?
You can store keto french fries by placing them in an airtight container. To maintain freshness, we recommend placing them in the fridge, where they can last up to five days. However, fried foods are best enjoyed right after making, so we recommend making the portion you plan on eating when making this recipe! You can reheat these fries by throwing them in the airfryer at 350°F for 8 minutes. If cold, reheat in 2 minute intervals until desired texture and temperature.
Air Fryer Jicama Fries
Air Fryer Jicama Fries