Keto Friendly Dessert Pizza with Fathead Dough
Make your own low carb dessert pizza with our sugar free hazelnut spread and fresh berries.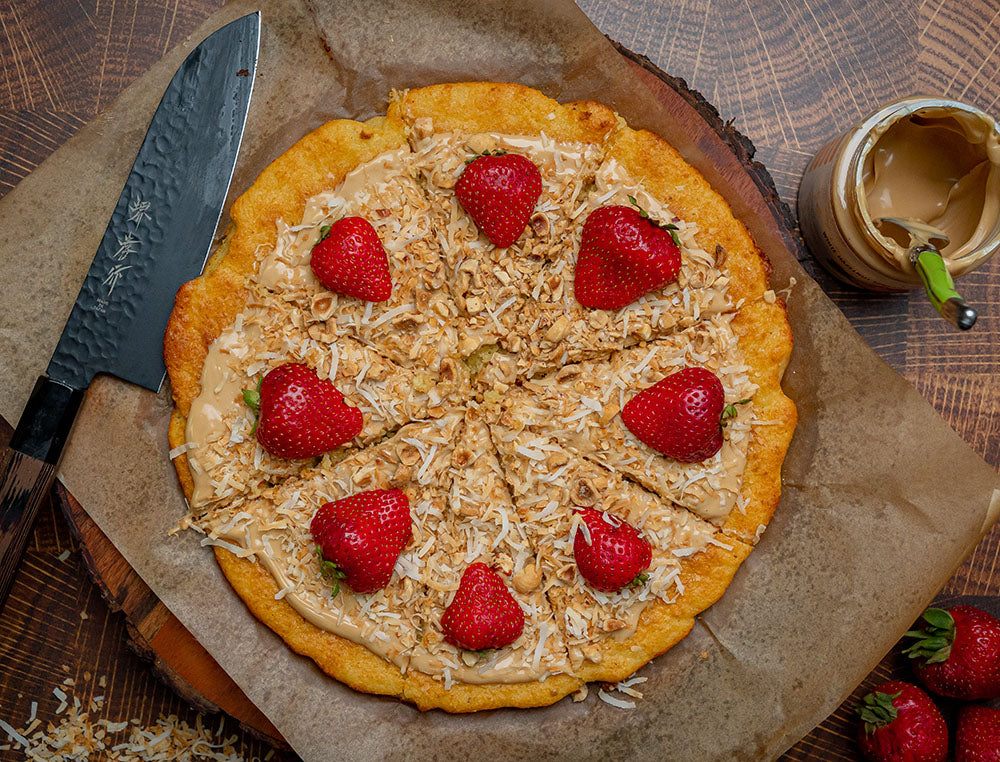 Did you know you can make pizza for dessert? That's right, you can make a sweet pizza with chocolate, berries, and other toppings that are perfect for an after dinner treat. Most dessert pizzas are not healthy because they have a lot of carbohydrates and sugar, so we've made a healthy version of the dessert pizza with chocolate and strawberries. We use sugar free Nutella™ as the "sauce" with toppings like shredded coconut and berries. You can always change up the sweet toppings for other berries or more chocolate (we won't judge) and customize this treat to your taste. What we love about this dessert pizza is that it's completely keto friendly because it's made with low carb ingredients including the pizza crust.
It might seem impossible to have pizza on keto, but you can make your own pizza crust using fathead dough. This means taking keto friendly flour such as almond or lupin flour and adding in some cheese so it will rise without gluten. This brings the carbohydrate count down without compromising taste. Do fathead dough crusts taste like cheese? No, if you use a mild cheese like mozzarella, you can make keto friendly dough that's perfect for dessert toppings. No cheesy taste included.
Jump to recipe sections:
Can pizza be dessert?
Yes, you can make pizza for dessert! There are cinnamon dessert pizzas and also Nutella™ dessert pizzas. For this one, we chose a delicious chocolate hazelnut spread that's sugar-free and great for any dessert project you want to add chocolate to. This is a healthy dessert pizza that anyone can enjoy.
How to make dessert pizza.
You can make a dessert pizza by taking pizza dough and then decorating it with dessert toppings after baking. While some dessert pizzas can be fully made and baked in the oven like sweet cinnamon pizzas, this one is assembled after baking the crust. Once your pizza has baked and cooled, you can spread on sugar free hazelnut spread and any other toppings you might want.
What kind of keto pizza crust can I make?
You can make keto pizza crust using healthy fats like cheese and gluten free flour. While it might be easy to buy some pizza dough at the grocery store, it's a little tricky if you're on the keto diet. Regular pizza crust is full of carbohydrates which will kick you out of keto and are not gluten free. That's why you should make your own keto pizza dough, which is also known as fathead dough.
This is a mixture of gluten free flour such as almond flour or coconut flour (or both) and mozzarella cheese so that your pizza dough rises without the gluten! You can use the pizza crust recipe seen here for any keto pizza you want to create, even a regular pepperoni pizza.
What toppings do I put on a dessert pizza?
While you might put pepperoni on a regular pizza, you wouldn't want that for a dessert pizza! For this dessert pizza, we use sugar free Nutella™ for the sauce. For cheese we use shredded coconut, and for pepperoni, we use strawberries! That way it looks will mimic a savory pizza, but it will be sweet as can be. Of course, we made this dessert pizza keto friendly and much more healthy than a regular Nutella™ pizza that would be full of sugar.
Are dessert pizzas healthy?
No, most dessert pizzas are not healthy. They are decorated with sugary ingredients and the crust is full of carbs. We've decided to make a healthier version of the dessert pizza using keto friendly fruit as decorations, along with our sugar free hazelnut spread.
How to store your dessert pizza.
Store your keto dessert pizza in the refrigerator in an airtight container for up to five days.
Keto Friendly Dessert Pizza with Fathead Dough
Keto Friendly Dessert Pizza with Fathead Dough