Gluten Free Black Forest Cake
This zero gluten black forest cake is a delicious chocolate sponge cake, perfect for celebrations like a birthday or graduation!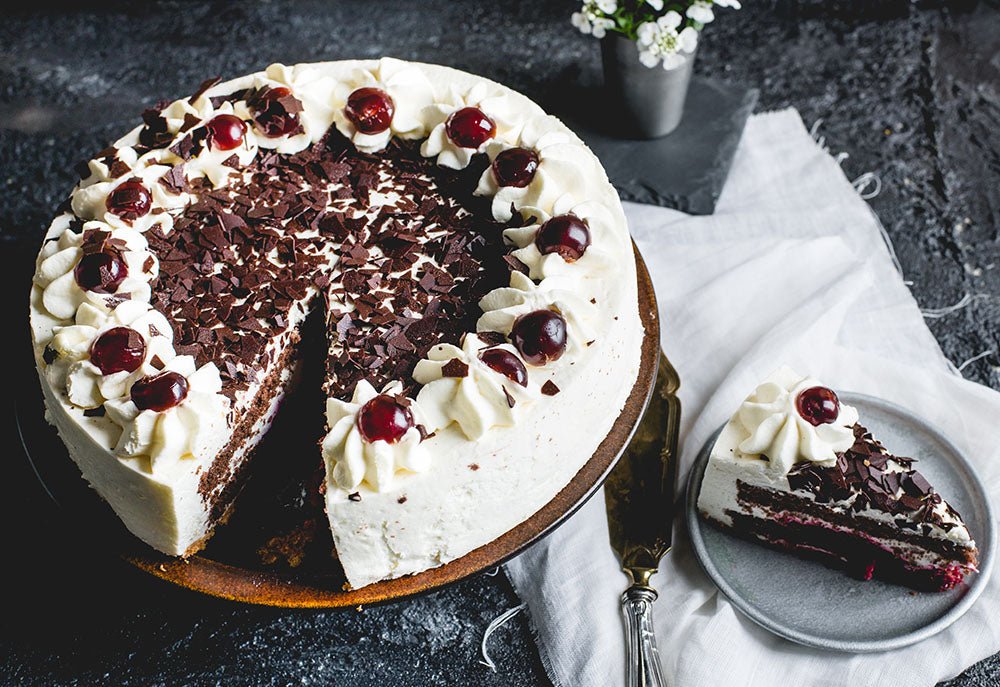 A gluten free Black Forest cake recipe that's easy and keto friendly–sign me up! Topped with fresh cherries (you better not be lazy and use canned ones, they have tons of added sugar!), one of our favorite fruits, this almond flour chocolate cake is not only aesthetically pleasing but super fun to eat. You'll have to resist plucking those cherries off! This recipe will show you how to make a delicious chocolate dessert that's layered with low sugar cherry jam and a delicious sugar free chocolate icing.
Of course, you should know that making an authentic Black Forest cake while on keto is difficult because cherries are not low carb. Technically, cherries and most stone-fruit are not approved for the ketogenic diet. Well, lucky you: that's where our sugar free cherry jam comes in to replace kirsch! Packed with flavor, this gluten free cake filling will be the perfect pairing to the layers of chocolate sponge cake. Eaters are instantly pulled into the glorious world of creamy, cherry filled goodness that this cake lives in–without breaking their net carb macro limit for the day.
We'll also be sharing our best tips and tricks to have this zero sugar dessert at your next celebration. Plus, we'll give you the rundown on how to store your cake once it's complete if somehow there are leftovers. From decorating to making the most delectable cake filling while doing it all in a keto friendly way, we've got all of your questions covered. It'll be sure to take the cake!
Jump to recipe sections:
What is in a Black Forest cake?
A Black Forest cake is a chocolate sponge cake that is typically also layered. In between the layers there is a cherry jam or filling, as well as whipped cream. On the outside, these traditional German cakes are usually decorated with more of the whipped cream, whole cherries to top the cream, and chocolate shavings.
What is the difference between a chocolate cake and Black Forest cake?
The answer to the difference between a chocolate cake and Black Forest cake is a bit more complex than this, but essentially, Black Forest cake is a chocolate cake! However, Black Forest cakes contain two crucial components. Firstly, cherries are either used in the filling or the batter of the cake. Because of the filling, these cherry cakes have layers, whereas chocolate cake doesn't need to. The second ingredient is whipped cream which is also contained in the filling. Black Forest cakes also tend to be lighter, whereas chocolate cake can come in all sorts of forms and consistencies. This cherry-filled cake can often be spongy in texture, and has a balanced overall flavor with all of the different components in it.
What is in the filling of the Black Forest cake?
The filling of a Black Forest cake consists of a cherry jam and whipped cream. In this gluten free cake recipe, we will be making a cherry filling recipe that can stay keto friendly that contains our sugar free cherry jam. To those who are curious how cherries can fit into a keto diet, we will discuss later on how to keep this recipe keto friendly!
What can I substitute for kirsch in Black Forest cake?
In terms of a substitute for kirsch in Black Forest cake, we recommend making a cherry jam-like filling instead of using kirsch. You can still make a Black Forest cake this way, and we used a sugar free cherry syrup by using our zero sugar jam–it's a great way to still get that rich, robust cherry flavor in your cake while keeping it low sugar. The cake also uses maraschino cherries most often, however fresh cherries can be used as well. It just will not have as much of a pop of flavor or be as sugary sweet as maraschino cherries.
What is the origin of the Black Forest Cake?
The origin of the Black Forest Cake is a little complicated. Black Forest Cake is indirectly named after the Black Forest (Schwarzwald) mountain range in southwestern Germany. The reason it is not fully named is because rather than the range itself, the cake is named after Schwarzwälder Kirsch. Schwarzwälder Kirsch is a specialty liquor from that region and is distilled from cherries.
What is the difference between white forest cake and Black Forest Cake?
The difference between a white forest cake and Black Forest Cake is that a white forest cake contains layers of vanilla cake, while a Black Forest Cake contains layers of chocolate cake. Besides that, both recipes are pretty much the same, including fillings and toppings.
Are cherries keto friendly?
Typically, cherries are not keto friendly. However, you can choose to consume a half-cup of cherries. This way, it is still possible to have cherries, whether it be in a sauce, jam, drink, or on its own, and stay in ketosis. However, as a result of this, carbs must be severely limited in order to compensate for the carbs from the cherries. We would recommend that if you do choose to enjoy cherries while staying keto friendly, that you do not exceed about one quarter of a cup of the fruit.
Where can I get a gluten free Black Forest cake near me?
You can get a standard Black Forest cake near you at a grocery store or bakery. Unfortunately, however, if you go to a local bakery or grocery store, the cake will most likely not be gluten free, and be made with ingredients full of sugar and carbs. Additionally, store bought cakes tend to have been sitting out for a while, which can cause them to dry out or be made in a rushed manner and with lesser quality ingredients.
Can you freeze Black Forest sponge cake?
Like most cakes, you can freeze a Black Forest sponge cake. But it doesn't mean you should! This cake does not keep very long, because instead of a frosting or icing typically found on cakes, cupcakes and cookies, this particular layer cake contains whipped cream in it! Because of that, it can lose its shape and flavor. We recommend not storing this cake in the freezer at all, and if you have leftovers, store it in the fridge and consume it within 1-2 days.
How do I decorate a Black Forest cake?
Although there are a few fixed set of ingredients that typically make up a Black Forest cake, that doesn't mean that you can't still get creative within the recipe. For example, Black Forest cakes usually contain whole cherries as a topping, and you can create the topping in a variety of ways. Most often, bakers will make multiple swirls of cream around the top of the cake along the border, and place a cherry on top of each swirl. However, you can do one long border of cream along the sides, write out a short message or word onto your cake, or even draw a picture! Then, you can stick cherries on it. There's endless possibilities! Also, some really intense foodies make actual chocolate bark to be a 'tree' trunk! This can be done to make your cakes even more serious and leveled up. You can also make chocolate bark shapes of any kind using molds, and can use our keto baking chocolate chips to help!
Gluten Free Black Forest Cake
Gluten Free Black Forest Cake