Keto Friendly Cornbread Using Baby Corn
Make a batch of easy gluten free keto cornbread using low carb baby corn and sugar free honey.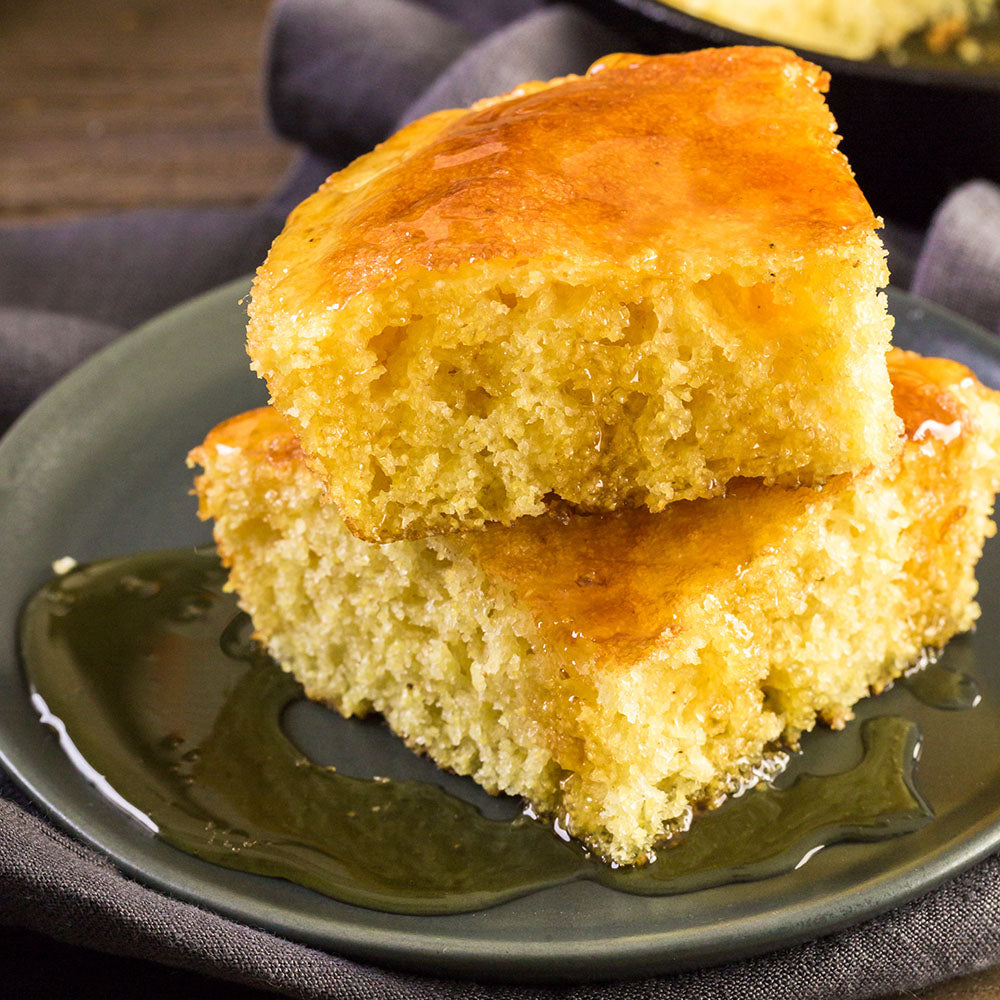 Keto cornbread is the best side dish for all Southern cooking. This easy low carb cornbread recipe uses real baby corn and almond flour to make your gluten-free cornbread moist and full of authentic flavor instead of using extract! This is the perfect companion for chili and soups. The secret ingredient in our recipe is keto friendly baby corn: did you know you can have corn on the keto diet? It's true, baby corn is simply corn that has not matured yet, and as such it has significantly less sugar content and is low in net carbs. While many traditional cornbread recipes use cornmeal that is high in carbohydrates, most ketogenic alternatives tell cooks to use corn extract; unfortunately, corn extract is expensive and doesn't add an authentic, real corn taste that you crave. This is why we use baby corn in our keto cornbread recipe to make the best sweet cornbread around that's sugar-free.
Unlike traditional southern style cornbread that is full of sugar, we only use our sugar free honey to sweeten our cornbread. This gives it a classic taste that all cornbreads have with a fraction of the sugars. This is the best healthy cornbread recipe around since it fits all diets and lifestyles looking to reduce sugar intake. You can even drizzle more on top for an extra explosion of honey flavor because it has 0g of added sugar!
Jump to recipe sections:
Is Jiffy™ cornbread safe for keto?
Jiffy™ cornbread is not keto friendly, it is high in carbohydrates and not a healthy cornbread option for many diets. Our keto cornbread is a great homemade alternative. It uses our sugar free honey to sweeten instead of sugar and then gets its natural corn taste from keto friendly baby corn, making it low in net carbs! It also uses almond flour to make it a gluten-free cornbread. In addition to not being keto friendly, box mixes of corn bread tend to be dry and crumbly, whereas our homemade recipe makes for moist celiac friendly cornbread that is full of buttery flavor.
Can I make gluten free cornbread without wheat?
You can make gluten free corn bread with almond flour to keep it wheat free. We do not suggest using coconut flour since it will absorb liquids and has a tendency to dry out quicker than nut flours. To have a moist crumble, we recommend almond flour for this cornbread recipe as almond flour is the best choice for low carb baking and gluten free cooking.
Is baby corn keto friendly?
Baby corn is keto friendly! Unlike its sugar laden and carb heavy counterpart, baby corn is picked before it matures causing it to be low in carbs, starch and sugar. Beyond its keto friendly properties, baby corn is minimally processed and free of harmful chemicals that's found in mature corn. Another reason to use baby corn in this keto cornbread recipe is the lower cost compared to using a corn extract which most cornbread recipes use. In addition to the extracts not always being non-GMO, they are very expensive and have a fake corn taste. Our all natural low carb cornbread has the best taste compared to real southern homemade cornbread.
What is Mexican style cornbread?
Mexican style cornbread is a spicier cornbread, often used in casseroles and for those who like more heat in their cooking. You can make this recipe a little spicier by adding in jalapeno & cheddar to make some low carb jalapeno cornbread for your next chili meal. All you need to do is make the recipe as normal, but add in 1 minced jalapeno & 1/4 cup of shredded cheddar.
How can I use cornbread in breakfasts?
Our keto cornbread can be made into delicious keto cornbread french toast with just a few additional steps. After making a batch of the cornbread and letting it cool, cut the cornbread into 4 slices, then cut each slice in half lengthwise. In a bowl, combine 2 eggs, 1/2 cup of heavy cream, 1 tsp of vanilla extract & 1 tsp cinnamon. Dip each slice of cornbread into the mixture and heat on a skillet until golden brown. Top with our keto friendly honey and enjoy!
How do I make keto cornbread muffins?
If you have cornbread muffins on your mind and want to keep them low carb, simply double the recipe and divide among a lined 12-cup muffin tin. This will make twelve keto cornbread muffins without using any wheat or cornmeal!
What is southern style cornbread?
Traditional southern style cornbread uses white or yellow cornmeal to create a buttery, cakelike texture and is sweeter than northern style cornbreads. Our keto sweet cornbread has the same creamy, moist texture as a southern style cornbread, but uses keto friendly baby corn and almond flour. We also add in some of our sweet keto bee-free honey to sweeten the recipe up and make it taste just like you remember!
What do southerners eat with cornbread?
Cornbread dressing with sausage is a traditional southern side dish that's great with gravy! Southern stuffing uses crumbled cornbread, celery, onion and sage for a perfect savory side. Cowboy cornbread casserole is an easy southern recipe that includes, beans, ground beef, cornbread batter and taco seasoning. Want to make it keto? Add black soy beans. If you're looking for a simple, yet classic cornbread pairing, our recipe is a great companion with a big bowl of hearty keto chili!
Keto Friendly Cornbread Using Baby Corn
Keto Friendly Cornbread Using Baby Corn